A Vancouver time travelogue brought to you by Past Tense.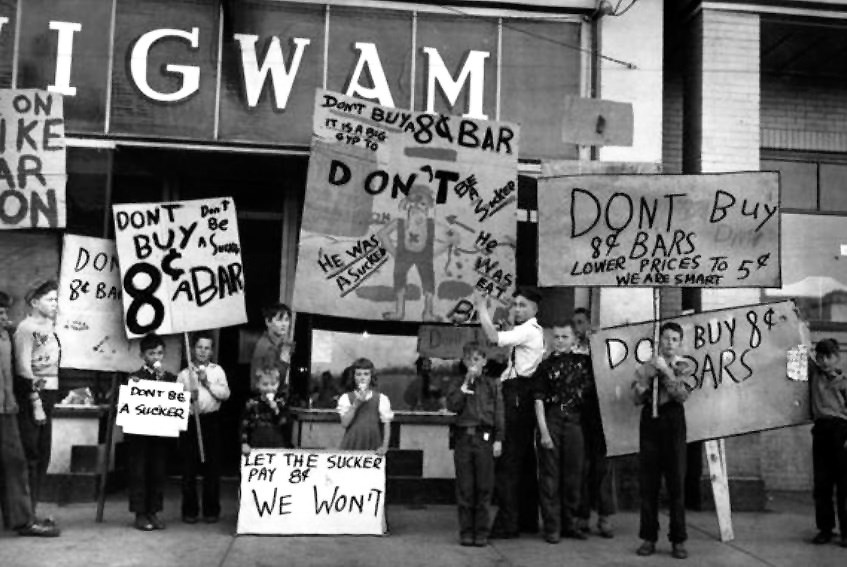 In April 1947 the price of a chocolate bar in Canada skyrocketed from a nickel to eight cents, apparently caused by a sharp increase in the price of cocoa beans. Kids in Chemainus on Vancouver Island were the first to raise a stink by picketing their local candy store. Ladysmith followed (pictured), and in no time at all the campaign spread across the country. Children in Fredericton reportedly pooled their resources and made huge batches of homemade fudge to get them through the crisis. In Victoria, kids managed to shut down the provincial government by storming the legislature over the issue, and in Burnaby, a bicycle parade was held that blocked traffic on Kingsway for two hours. Retailers complained that sales of candy bars plummeted by 80% almost overnight.
Just when the protest was at its height and victory seemed within reach, the thrill-kill Toronto Telegram published an editorial claiming the campaign was just another Communist conspiracy and that these kids were dupes of Moscow, as if affordable chocolate bars would signal the first stage of a proletarian revolution. "Communist youth organizers," alleged the Telegram, "have been instructed to use every possible means of developing and encouraging the chocolate bar agitation."
The intense anticommunism at the time meant that support for the protest withered almost instantly. In Vancouver for example, the 2500-member Sat-Teen Club withdrew its support under pressure from city officials, police, and the clergy, stating that "mob demonstrations and strikes are not consistent with the ideals of the club."
Was it a Communist conspiracy? Norman Penner, the head of the National Federation of Labour Youth - the main coordinating body of the national campaign - was the son of a founding member of the Communist Party of Canada who went on to become a prominent Marxist historian of the Canadian left. But despite such associations, it's unlikely anyone in Moscow influenced or even knew about the strike.
Source: Photo from the Vancouver Sun, 26 April 1947