A Vancouver time travelogue brought to you by Past Tense.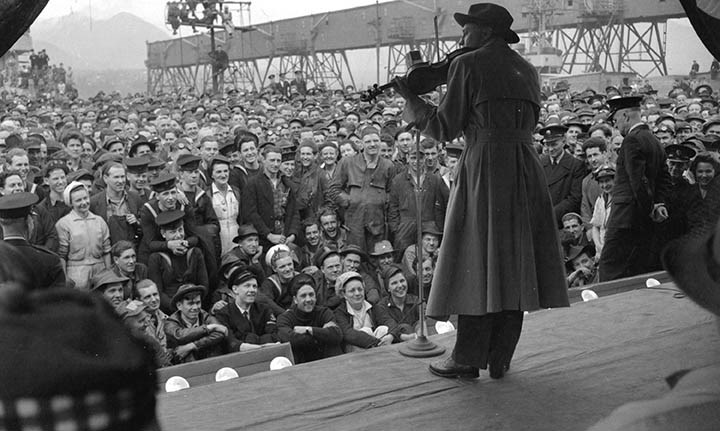 Jack Benny was a vaudevillian, radio, and television comedian. His connection to Vancouver began in 1922 when he was touring the Orpheum circuit with the Marx Brothers. During their week-long engagement in Vancouver, Zeppo Marx invited Jack to dinner at a friend's place in the East End. When the host's fourteen year-old daughter, Sadie Marks, was playing the violin, Jack rolled his eyes, whispered to Zeppo, and the two rudely left during her performance. Ironically, playing the violin poorly later became a signature in Benny's comedy routines.
Jack and Sadie met again years later in California, and they ended up getting married. Sadie eventually joined Benny's stage act as Mary Livingstone. The two returned to Vancouver many times. During WWII, they broadcast their radio show from the Forum as part of a war bond drive. This photo shows Benny entertaining employees at the Dominion Bridge Company in Burnaby. Benny and Livingstone were back in Vancouver in the 1970s to help with the campaign to save the Orpheum Theatre.
Source: Photo by Jack Lindsay, City of Vancouver Archives #1184-522