A Vancouver time travelogue brought to you by Past Tense.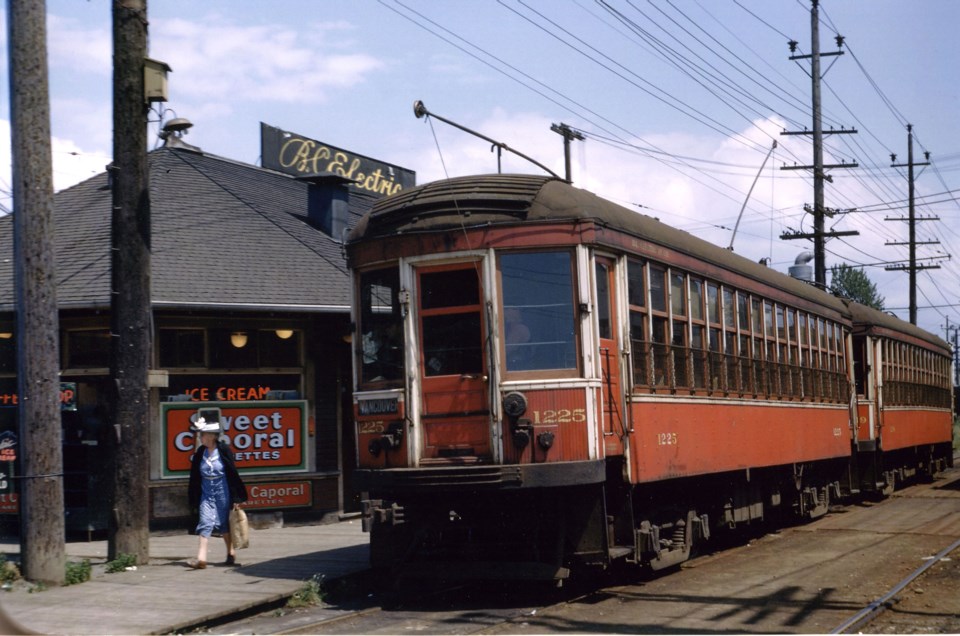 Interurban trains operated in the Lower Mainland from 1891 until BC Electric Railway Co. (BCER) dismantled its rail system in the 1950s. The last streetcar ran in 1955 in Vancouver and the last interurban ended service in Steveston in 1958.
Interurbans were basically large and powerful streetcars that carried people and freight between cities. They were extremely popular and connected the numerous communities of the Lower Mainland. By the late 1940s, it was clear that the system required a massive and expensive overhaul following years of depression and wartime neglect. However, business and political leaders were aggressively restructuring cities around the private automobile at the time and so BCER launched a "Rails to Rubber" campaign to transition to diesel buses.
This particular car, BCER 1225, was snatched up by a museum in California after being decommissioned. In 2005 it made its way back to BC and has been undergoing an extensive rehabilitation with the end goal of returning it to service on the original BCER tracks in the Fraser Valley next year.
For more on Lower Mainland interurban history, see The Buzzer Blog.
Source: Photo by John Koschwanez, via the Fraser Valley Heritage Railway Society