On Sunday, the City of Vancouver's head archivist, Leslie Mobbs, was sporting a healthy 'stache (in the spirit of Movember?), as he described the legacy of Mike Collier and Vancouver's Yaletown Productions to an audience at the Vancity Theatre.

The facial hair was fitting because there were plenty of 'staches in Collier's earliest works: short films made in Vancouver at the tail end of the 60s, while he was still an SFU student. For the next four decades, Collier's Yaletown Productions film company created award-winning nature documentaries, industry documentaries, ad spots, TV shows, and even a feature film (a comedy!).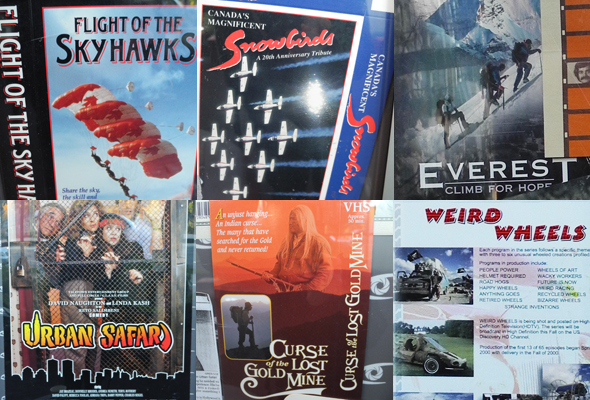 As he introduced the collection, Mobbs said that film is the most accessible of historical records, because we respond so easily and naturally to it. Take, for example, one of the official Expo86 TV ads:
(Note: I've tried to line up the YouTube embed below to start at the 7:31 mark, @ the Expo86 ad.)
If that didn't get your pulse racing... then you don't have a pulse. I love that ad.
And that's just 30 seconds.
For just over two hours at a celebratory screening on Sunday, a packed house watched excerpts of documentaries about grizzly bears, timber wolves, and moose; of mountain climbers, military skydivers, and Snowbirds; of weird weddings (including a nude Wreck Beach ceremony), weird homes, and weird wheels; and a series of private and government-commissioned advertorials on resource investment and construction and infrastructure projects, resource investment, and even the Vancouver Stock Exchange.
As a whole, the collection forms a history of one of the pioneering companies that settled "Hollywood North," and a major acquisition for the City of Vancouver's Archives.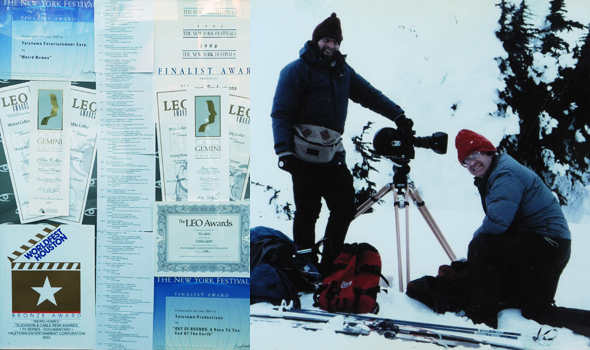 Over the last two years, Mike Collier's four-decade Vancouver-based career in film and TV production has been 'downloaded' (i.e. moved in cardboard boxes) to the City of Vancouver Archives, and as part of its Vancouver125 & digital archives initiatives, preservation and digitzation of the fond has begun. Some of the works have been made available online already.
After watching the two-hour reel, it's obvious that weather has played a big role. Whether it's a mountain flyover, or tracking animals through the wilderness, Collier seems to have spent a great deal of time outdoors, capturing amazing B.C. natural wonders and some of the urban wonders of the '80s, such as the building of B.C. Place and the inflation of the old roof! (See Stadium time lapse [uncut] - 1983)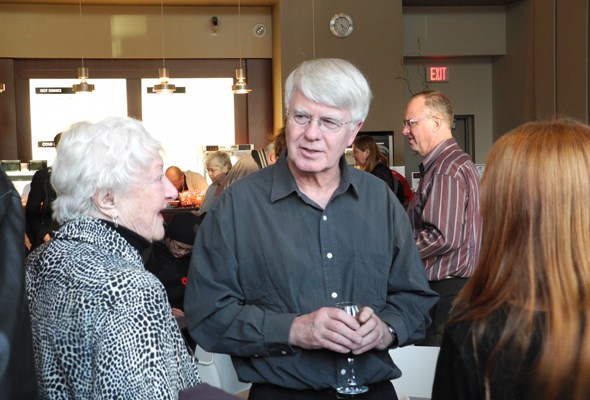 Collier, who spoke at the screening (formally and, in the photo above, informally), said the weather actually played a big role in his film career right at the start.
He was an unhappy SFU science student in 1967 when the alterna-university began offering an experimental student film workshop led by Stan Fox. There were only 20 spots in the program, and Collier thought it would be a long shot for him to be accepted, but he was desperate for an 'out' from his science stream.
The day before registration opened, there was a winter storm. The roads going up to SFU were almost impassable. Collier managed to make it up that night, before the roads were closed, and was the first (and only?) student in line at 7 a.m. the next morning.
The instructor told Collier not to bother submitting an application. He was in: Anyone who would come up in a snowstorm to register for the class was obviously dedicated enough.
"I wonder how my life might have changed if it hadn't snowed that day," Collier said.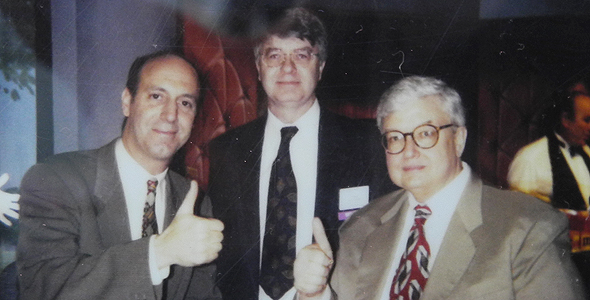 And the man is Siskel-and-Ebert-approved, as this crop from an old Polaroid proves.
So maybe next month when we get our first slushfall, and your class (or work) is cancelled, you can curl up with your laptop and peruse the works of Yaletown Productions, brought to you by the Vancouver Archives, and Greater Vancouver's ongoing inability to navigate inclement weather!
So, to get you started, here's a list of what's online now (in small resolution, but watchable!)
Edited:
Raw footage:
Vancouver postcard raw footage - 1984 (silent):