A Vancouver time travelogue brought to you by Past Tense.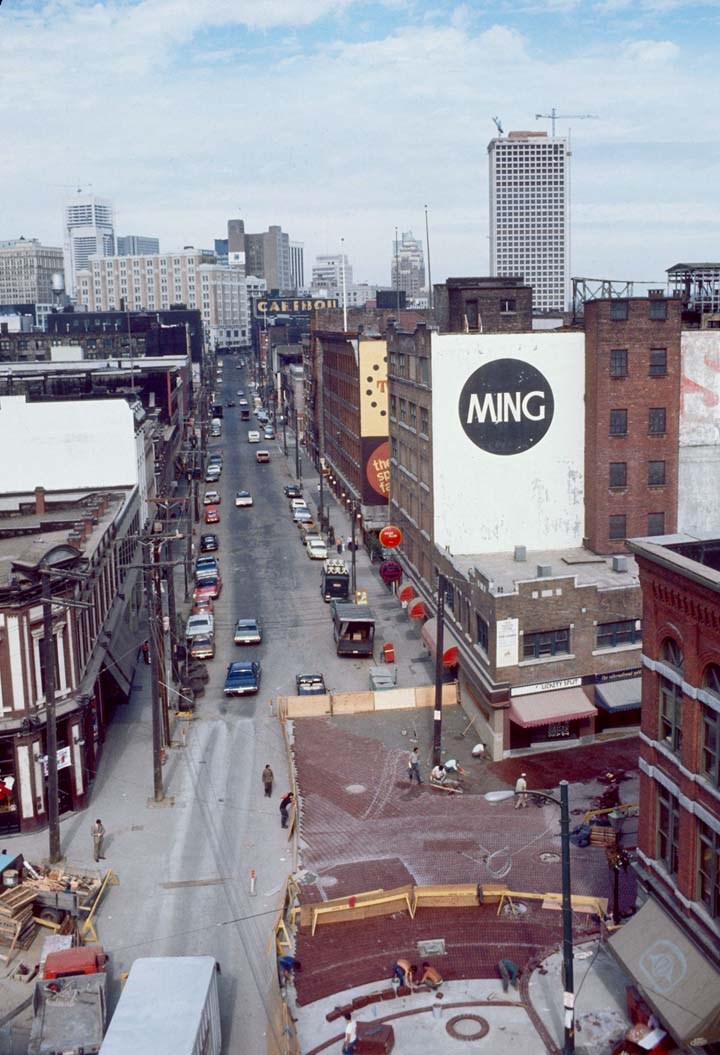 In the late 1960s, community activists mobilized to block a major freeway proposal that would have decimated Chinatown, Strathcona, and Gastown. After the scheme was scrapped, many of the activists turned their energy towards preserving and renovating these areas as an alternative to demolition, and the city's modern heritage movement was born.
A heritage committee of the Community Arts Council of Vancouver led very popular "Gastown Revisited" walking tours that highlighted the squalor, history, and architecture of the neighbourhood. The tours effectively conveyed the importance of conserving Vancouver's built heritage and generated public support.
At the same time, a group of developers led by Larry Killam was buying up and renovating buildings in Maple Tree Square, starting with the Byrnes Block (a.k.a. the Alhambra Hotel) on the southwest corner of Carrall and Water streets. Inspired by San Francisco's Ghirardelli Square, "Larry the Landlord," as Killam became known, commissioned the statue of Gassy Jack and created Gaolers Mews (the original jail was actually down the street) for some added historical cachet.
The City finally got on board after Art Phillips and his new TEAM civic party swept into power in 1972. The major renovation that followed saw Gastown's asphalt and sidewalks replaced with red bricks, old-fashioned bollards were added to separate pedestrians from motor traffic, and the cobble-stoned Blood Alley was created out of a portion of Trounce Alley. The final piece was the faux-Edwardian Steam Clock built by Ray Saunders and installed at Water and Abbott streets to conceal a steam vent. Along with Chinatown, Gastown was designated a heritage area.
Although the heritage flourishes added in the 1970s lack authenticity, the transformation of the area into the old-timey neighbourhood we know today is itself part of Vancouver's history.
Source: City of Vancouver Archives #780-736