A Vancouver time travelogue brought to you by Past Tense.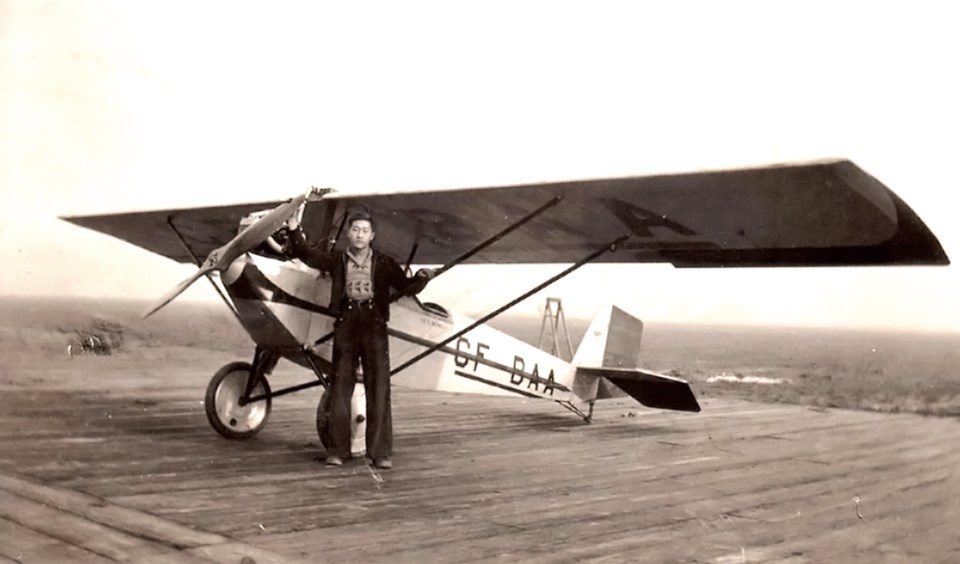 Inspired by a 1935 Popular Mechanics article, 17 year-old Van Tech student Robert Wong sent away for instructions to build a Pietenpol Air Camper, a single-seat airplane made out of plywood, metal, and fabric and powered by an automobile engine. Robert was an aspiring aviator and planned to use the DIY plane to accumulate enough flying hours to qualify for his commercial pilot's licence.
With help from his 14 year-old brother Tommy, Robert built the 17 foot-long plane in sections in the small apartment they shared with ten other family members at 124 Market Alley. The completed sections were too large for the apartment and had to be kept in the hallway. To power the plane, the boys bought an old Model "T" engine from an auto wrecker for $25. The boys enlisted their mother and her friends to sew the fabric onto the wings.
After a year of toiling, the Wong brothers hauled their aircraft down to the Boeing plant on West Georgia Street where they assembled the sections. RCAF Flight-Lieutenant Johnson deemed the plane structurally sound and gave it a CF-BAA designation. The next step was to truck it to the airport on Sea Island. The boys christened their masterpiece "Sky Scout" and took it on its inaugural flight in 1937. Sky Scout cost only $2/hr to fly and remained operational until 1945.
After graduating from high school, the Wong brothers sold Sky Scout and moved to Ontario. After the war, they opened a flight training school on Toronto Island, the largest such school in Canada at the time.
Source: Larry Wong, "Tommy Wong," The Chinese Canadian Military Museum