A Vancouver time travelogue brought to you by Past Tense.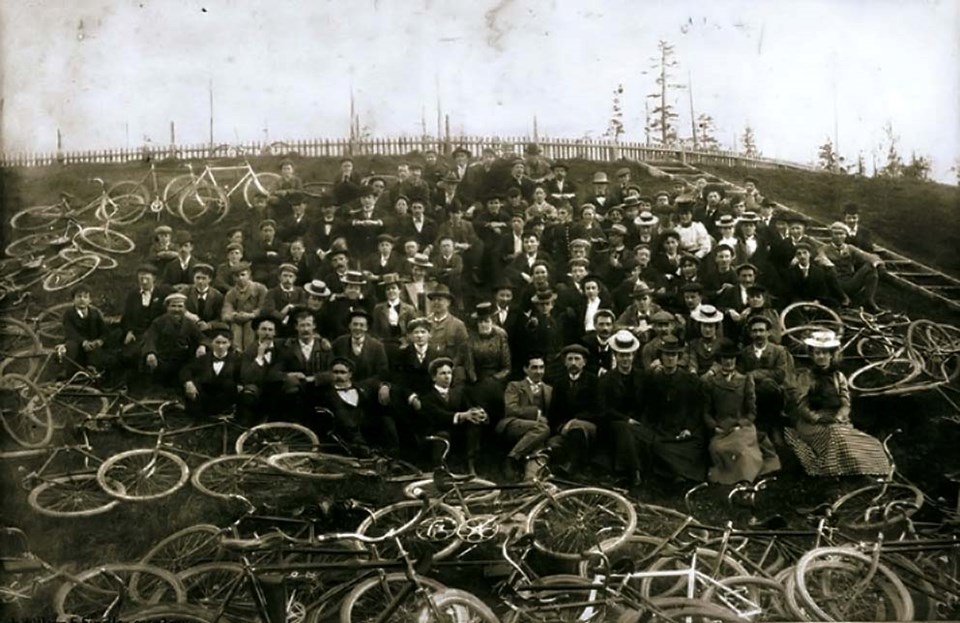 Terminal City Cycling Club, Friday 12 August 1892
Major JS Matthews, Vancouver's first archivist, included the following notes with this photo:
At Vancouver Water Works Reservoir, beside the Park Road, a short distance south of Prospect Point. It was a circular embankment creating a large pool of water. It was demolished in October 1948, levelled, and a picnic ground created. The club held occasional "tides"; this is one of them. Over fifty bicycles, known as "safety" type, to distinguish from the dangerous old high wheel, are shown here, and over 100 cyclists.

The buglers, one in uniform, controlled the ride with recognized calls. Here there are seventeen ladies, but some may not have ridden; very few ladies rode, and those who did, rode "ladies' bicycles". The automobile had not been invented, and it is observed that several herein appearing were in later years, among the earlier motorists of Vancouver. As witness, F.R. Begg, the Starks, C.A. Ross, Matt Barr, & others.

The greatest problem was where to go. The roads where any existed – were so rough and uneven. Grandview was a clearing; Point Grey Road, North Arm Road (Shaughnessy), Westminster Road (Kingsway) were slits in the forest, Burrard street ended at St Paul's Hospital, and Davie street was a winding trail which led into the West End clearing and lost itself. Cinder bicycle paths – about four feet wide – were beside the wood plank sidewalks on Georgia, Seymour, Third Ave, Westminster Ave, and Powell Street, but for four or five blocks only. The Park Road, paved with white calcinated shells from the Indian midden, was an ideal place to ride.
Source: City of Vancouver Archives #Sp P18, via the Vancouver Park Board on Facebook