A Vancouver time travelogue brought to you by Past Tense.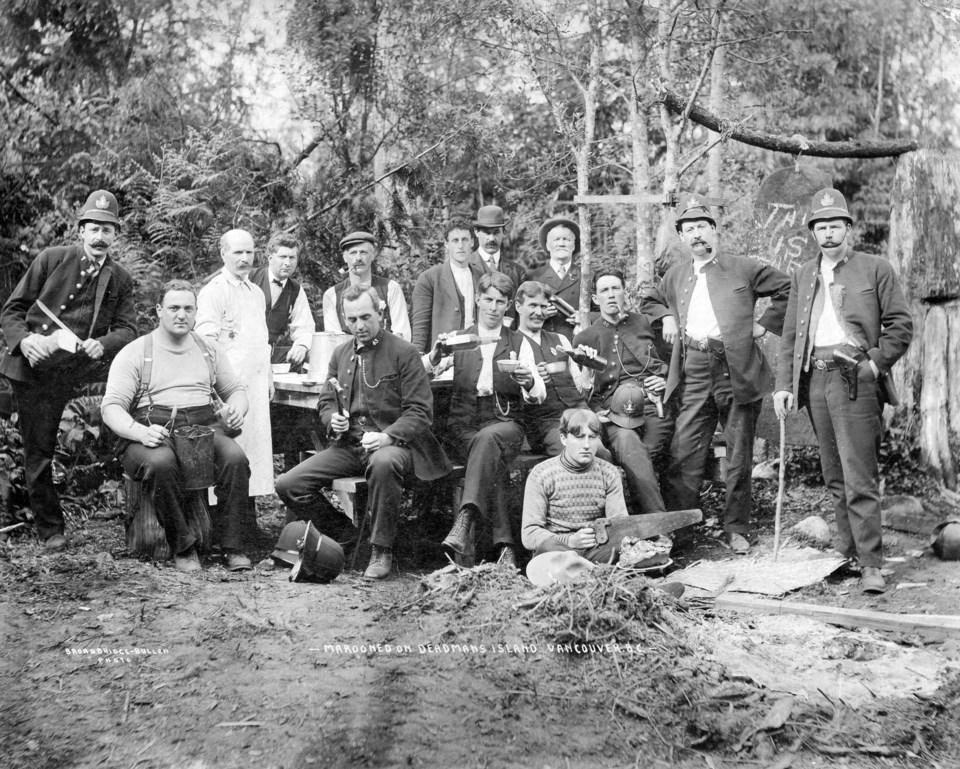 In 1899, industrialist Theodore Ludgate persuaded the Dominion government to lease him Deadman's Island to build a sawmill. What Ludgate got instead was a multi-year legal battle with the City, which claimed that the islet was part of Stanley Park and not a separate federal military reserve.
Ludgate was determined to build his sawmill despite the City's protests. He announced that he would send a crew of 50 men to start work on the island on 24 April 1899. If the mayor tried to stop him, he said, "it would be a sorry day for Vancouver … and if the policemen try and stop me they are trespassers, not I, and a huge mass meeting will be called at once of citizens, who will request Mayor Garden and the Council to resign as misrepresenting the city's interest." Ludgate was buoyed by the fact that his lawyer, "Fighting" Joe Martin, was not just a fellow Liberal, but also served as the Attorney General of BC.
Mayor Garden was equally determined to prevent construction on the island. He warned that a contingent of police would spend the night on the island and arrest Ludgate and his men as they arrived to start work. If Ludgate resisted arrest, "violence will be used."
As promised, the mayor himself and about 30 police were on the island the next morning and arrested Ludgate and his crew after Ludgate picked up an axe and began chopping. Ludgate was unable to force the mayor and council to resign over the issue, and so continued his fight in the courts.
The case was finally decided by the Privy Council in 1911 in Ludgate's favour, and the police contingent that had been guarding the island since 1909 (pictured) were reassigned. Ludgate cleared all the trees off the island, but by then his company had gone bust and the sawmill plan was dead. The City kicked all the squatters out in the 1920s, but failed to make any improvements, so the island lay barren until the feds took it back during WWII and built naval reserve base HMCS Discovery, which it remains today.
Driving the Battle of Deadman's Island were homeowners in the West End – then the toniest neighbourhood in town – who vociferously opposed any industrial use for the island as that would spoil their scenic vista of the North Shore and cause their property values to plunge. It's unlikely that Deadman's Island will be reunited with Stanley Park anytime soon, as it is part of the Musqueum First Nation's land claim in the area.
Source: Photo by Broadbridge-Bullen, City of Vancouver Archives #St Pk P330