A Vancouver time travelogue brought to you by Past Tense.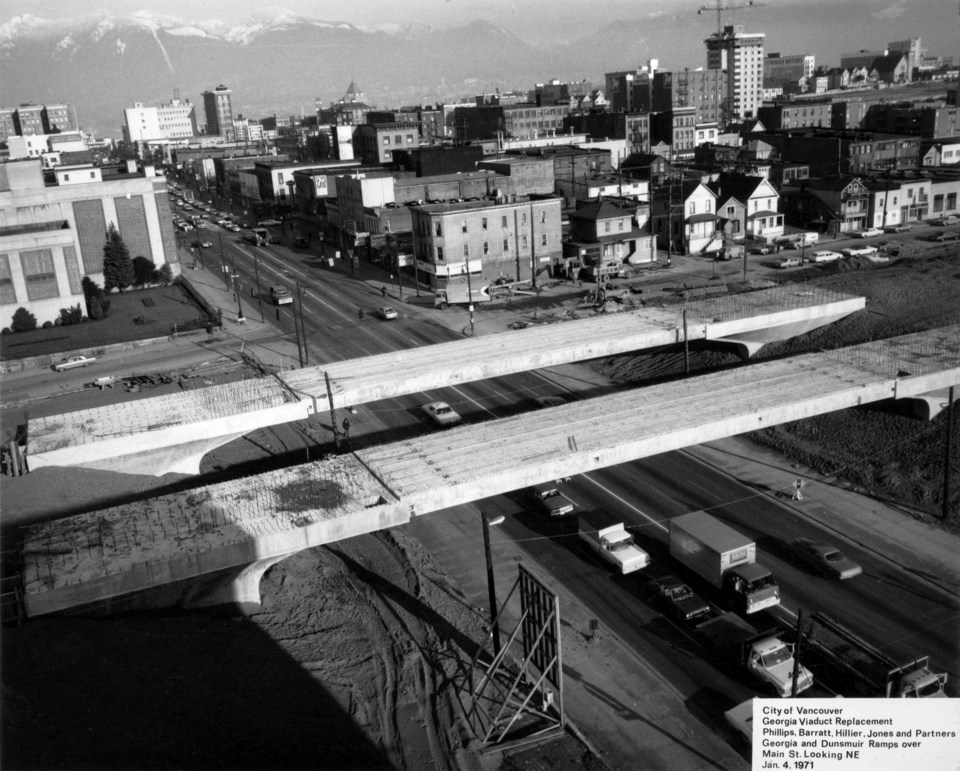 The now apparently doomed Georgia and Dunsmuir Viaducts replaced the old Georgia Viaduct that was built in 1915. The original purpose was to connect the east and west of downtown by providing a route over what used to be part of False Creek and a rail yard. The new viaduct initially served the same function but was also conceived as part of an ambitious freeway plan that would have wiped out much of Strathcona, Chinatown, and Gastown. Fortunately, neighbourhood activists made enough fuss that the rest of the project was permanently shelved.
Another legacy of the viaducts is that they obliterated what was left of Hogan's Alley, which ran between Union and Prior, just east of Main Street (on the right in this photo). Hogan's Alley was home to a lot of black Vancouverites and became notorious in the years before WWII for its speakeasies and gambling dens.
One of the more popular spots in the area was Vie's Chicken and Steakhouse, where people like Duke Ellington and Louis Armstrong would hang out when they came through town. Taken from the Cobalt Hotel, this is the only known extant photo of Vie's. It was at 209 Union Street, the first house east of Main on the north side. It's now a parking lot, but the small brick building beside it (which Vie's used for storage) survives and now houses the Jimi Hendrix Shrine because Jimi's grandmother once worked at Vie's.
Source: Photo by Campbells Studio, City of Vancouver Archives #216-1.23