When Lex Nicoleta made her initial TikTok outlining the "Coastal Grandmother" aesthetic, she had no way of knowing she was unlocking a craze that had been resting within the hearts of Millennials and Gen Zs, just below the surface.
Since her video was first published, the coastal grandma vibe has amassed over a billion views on TikTok and global Google searches have increased 334% in the past week with people seeking out interior design inspiration. Most recently, director Nancy Meyers, who Nicoleta called the queen of the Coastal Grandmother along with Diane Keaton, posted about the trend on Instagram.
Meyers' films like Something's Gotta Give, starring Keaton, and It's Complicated, with Meryl Streep, often feature casually elegant older women who live in beautiful coastal homes.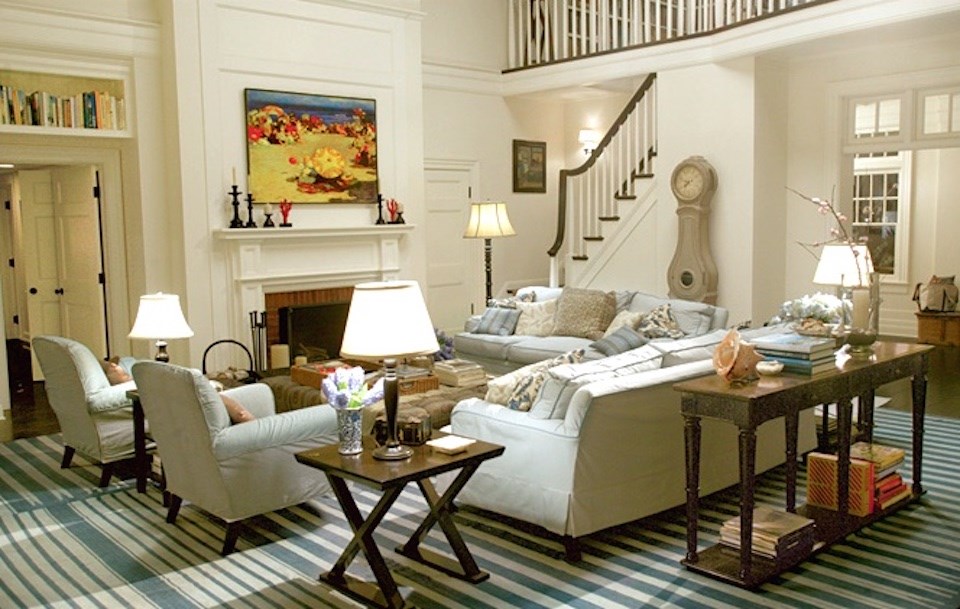 Nicoleta has made subsequent videos outlining the Coastal Grandmother aesthetic and lifestyle with movie recommendations, outfits, music, recipes, and of course, interiors. She has a Pinterest board and Spotify playlist dedicated to the topic.
Here (with the help of Secret Linen Store) we have broken down the components of the trend and rounded-up suggestions of where you can find them in Vancouver to help achieve your optimum level of coastal grandmother-ness.
Keep it neutral
If grandma lives by the beach the colour palate should reflect that, starting with sand as the base and building from the ground up. Shades of beige, cream, ecru, and sandy brown should abound and then add pops of blue and pale yellow throw pillows, blankets, art and vintage trinkets.
The Cross in Yaletown screams coastal grandmother with stunning natural wood and wicker pieces like the Hampton accent chair and then french bistro tableware with vintage blue and white motifs.
Keep it cozy
When adding the pillows and blankets the cozier the better, layer them up to the point where a crotchety old grandfather could spontaneously appear and complain about the amount. When you have enough, repeat with candles.
Olive + Wild on Main street has a vast selection of pillows, throw blankets, and textiles with big woven baskets to put them in. Plus, they have an assortment of pillar candles in various accent colours. Pair this with a white cashmere sweater and you're set.
Keep it flowy
From long linen curtains to sundresses, wherever possible try to create the illusion of a light breeze coming off the ocean. If you can incorporate a minimal pattern like stripes, polka dots, or delicate florals, even better.
Little White House in Langley fits this concept immaculately, same with the Monika Hibbs home store. But for those who can't make the trek, the best place to look in Vancouver would be vintage or thrift stores, focusing your search on the light and flowy materials.
Keep it floral
Fresh flowers are crucial for the coastal grandmother, preferably in season and picked up from the local farmers market or, bonus points if they come from your own garden. Pair the flowers with a beautiful antique vase with a blue and white pattern and Nancy Meyers would be proud.
For the times in between growing seasons, Parliament Interiors has partnered with Kermodi to make stunning plant arrangements that are high impact and low maintenance so your home is always effortlessly bursting with life.
Keep it balanced
The tricky part of the coastal grandmother lifestyle is striking a balance between clutter and chaos. The coastal grandmother kitchen and living room look lived in yet pristine, eclectic yet organized. The best way to achieve this is by first not going overboard with knickknacks and focusing on pieces you really love and second by having ample storage in the form of ottomans and sideboards.
CF Interiors is a great place to look for large-scale living room pieces that match the coastal grandmother aesthetic and decor at the same time. These sand dollar wall-mounted art pieces are great because they keep the vibe without adding clutter on surfaces.