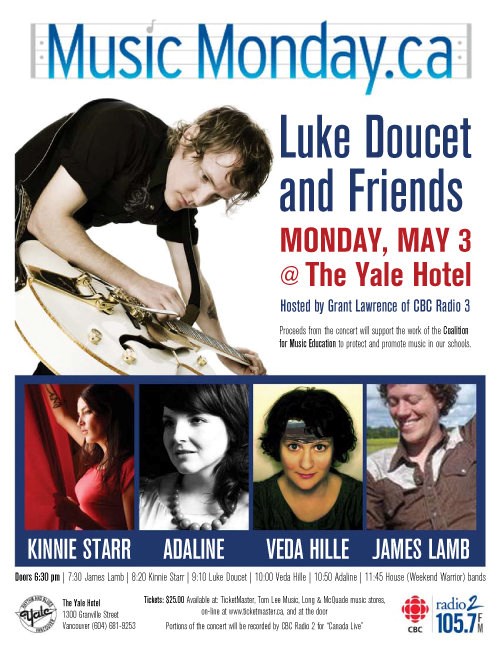 The first Monday of May has been declared Music Monday and school kids from across the province will step outside and sing "Sing Sing" by Serena Ryder...this happened in Vancouver at 10am. Did you hear it?
Why? You might ask. The Music Monday website says it: is to celebrate the galvanizing power of music in Canada and demonstrate how that power is rooted in school music programs. We are creating an event that can be used as a platform to inspire public celebration, awareness and discussion every year. We want to provide a tangible demonstration of how music programs shape young lives and the fun young people have in making music.
In support of this cause, there is a fundraiser concert happening in Vancouver tonight at the Yale. James Lamb, Kinnie Star, Luke Doucet, Veda Hille and Adaline will be performing. If that lineup doesn't make you want to go out and support, I don't know what would.
Grant Lawrence from CBC Radio will be hosting the evening and portions will be broadcast on Radio 2's Canada Live.
Tickets are still available...on Ticketmaster, at Tom Lee, Long & McQuade or at the door. Doors open: 6:30 / Show begins 7:30.