The very first workout outfits were actually birthday suits. The word gymnasium comes from the Greek word gymnos, which means "naked." The term made sense at the time: Greeks, as early as the sixth century BCE, trained while completely nude.
A lot's changed since then.
Fitness fashion has evolved from three-piece suits and full dresses to engineered sportswear thanks to the advances in science, textiles, and people's unrelenting desire to be as comfortable as possible while working out. In tennis, for example, we've seen women go from wearing lace-up corsets to Serena Williams' Wakanda-inspired catsuit. And while workout clothes are designed for functionality, that hasn't stopped them from stealing spotlights and influencing mainstream fashion trends—seriously, who can forget Lycra and leg warmers?
Today, the line between activewear and streetwear is blurred more than ever with the "athleisure" market anticipated to reach $257.1 billion by 2026. Workout wear giants like Adidas, Lululemon, Nike, Puma, and Under Armour lead the industry with high-end exercise gear. North America represents the biggest fitness fashion market in the world.
To honour the ever-changing world of workout styles, Stacker curated a gallery of 50 game-changing fitness looks. The gear—from waffle trainers to eco-friendly fabrics—span the last half-century and come from a variety of reputable sources and news articles. Click through the slideshow to take a nostalgic trip through the wide-ranging, sometimes embarrassing, workout outfit trends of the last 50 years.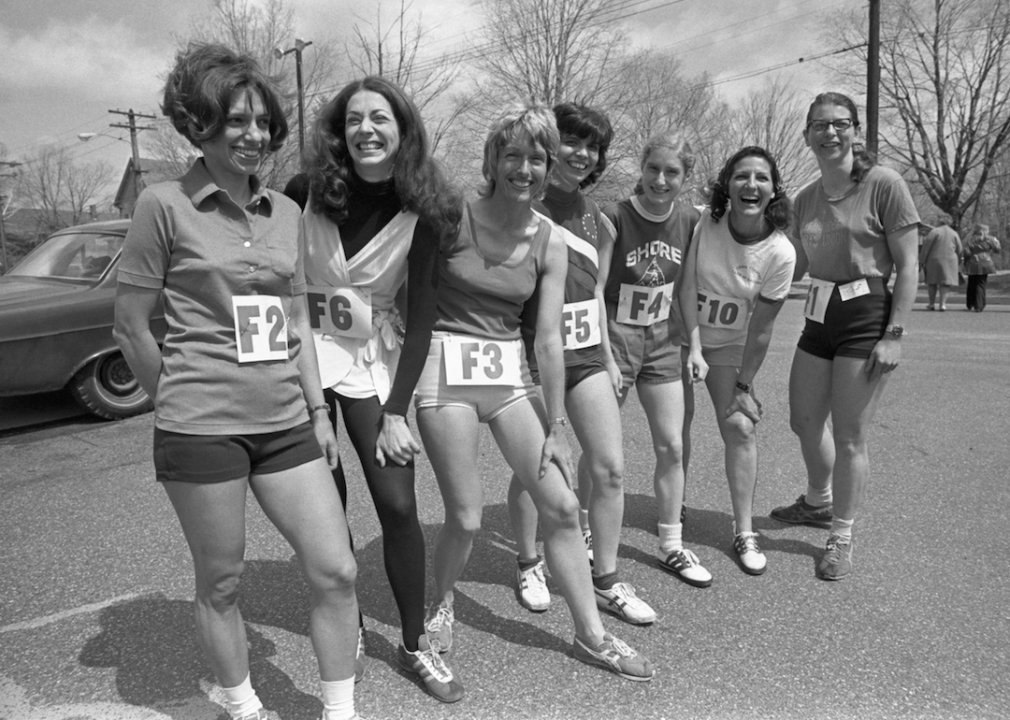 Bettmann // Getty Images
Women run the Boston Marathon in men's sneakers
It wasn't until 1972 that women were finally allowed to compete in the Boston Marathon. It was a big moment for sports equality, considering the first woman to compete in 1967 had to hide in the bushes before the start of the race. In '72, all eight women who started the race finished. Nina Kuscsik (left), a mom of three children under 6, was the first woman to officially win the Boston Marathon.
The women who competed wore simple clothes and men's running shoes. It wasn't until 1978 that Nike released the first female-specific running show.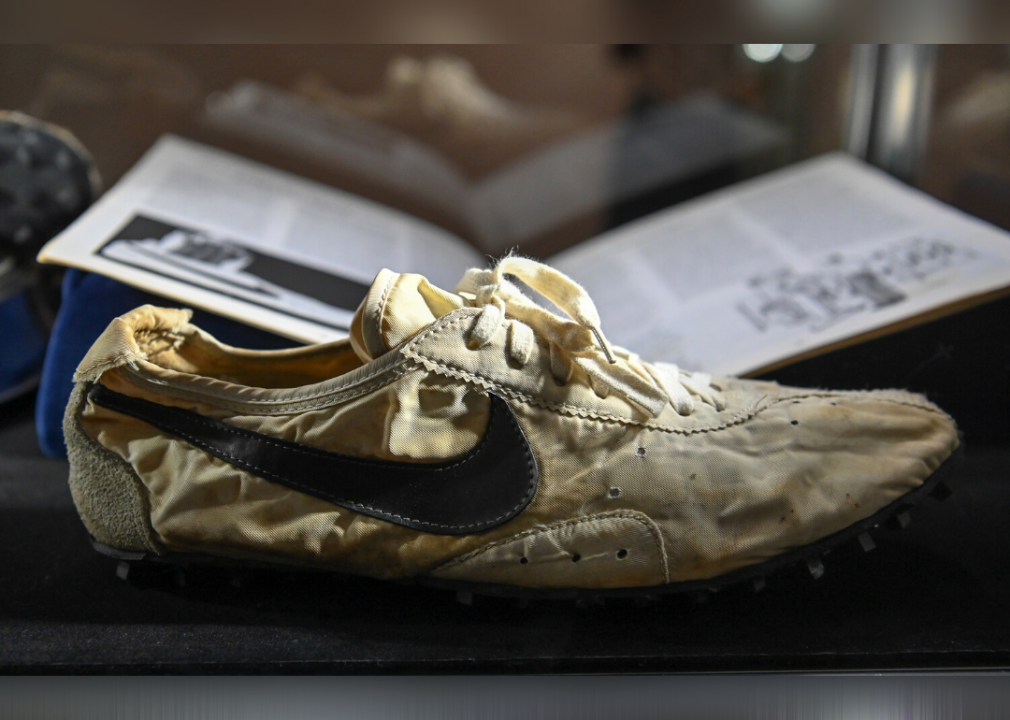 Dia Dipasupil // Getty Images
Waffle trainer
The need for speed has always been the motivation behind the advancements in fitness footwear, from Reebok adding spikes to the bottom of shoes in the 1920s to the founder of Nike, Bill Bowerman, craving lighter and faster shoes for the athletes he was coaching at the University of Oregon.
In 1974, Nike introduced the most iconic evolution of the running shoe: the "waffle trainer." The lighter traction was created by pouring latex into a waffle iron and, thanks to the rise in popularity of jogging as exercise, runners everywhere started buying the specialized running shoes.
The famous waffle sole is still used today but the waffle iron was retired.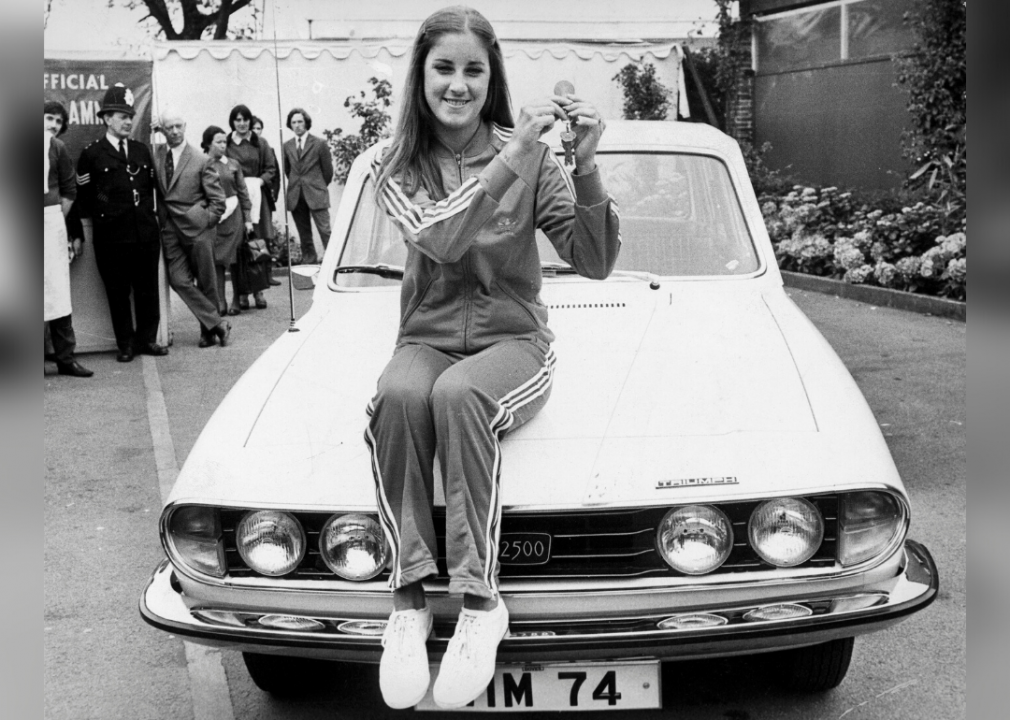 SSPL // Getty Images
Tracksuits
A tracksuit is not only a practical outfit, but it's also a classic fashion statement. While the tracksuit got its official start on the track when American sprinters John Carlos and Tommie Smith were seen wearing the outfit at the Olympic games in 1968. Now, tracksuits can be seen on everyone from soccer moms to A-list celebrities.
Most suits are comprised of a zip-up jacket and coordinated pants. The classic version, as seen on tennis star Chris Evert in 1974, was made by Adidas in 1967 in collaboration with German soccer star Franz Beckenbauer. As jogging took off in the '70s, the tracksuit went mainstream and became the go-to outfit for amateur athletes thanks to its utilitarian qualities.
[Pictured: Tennis legend Chris Evert in an Adidas tracksuit in 1974.]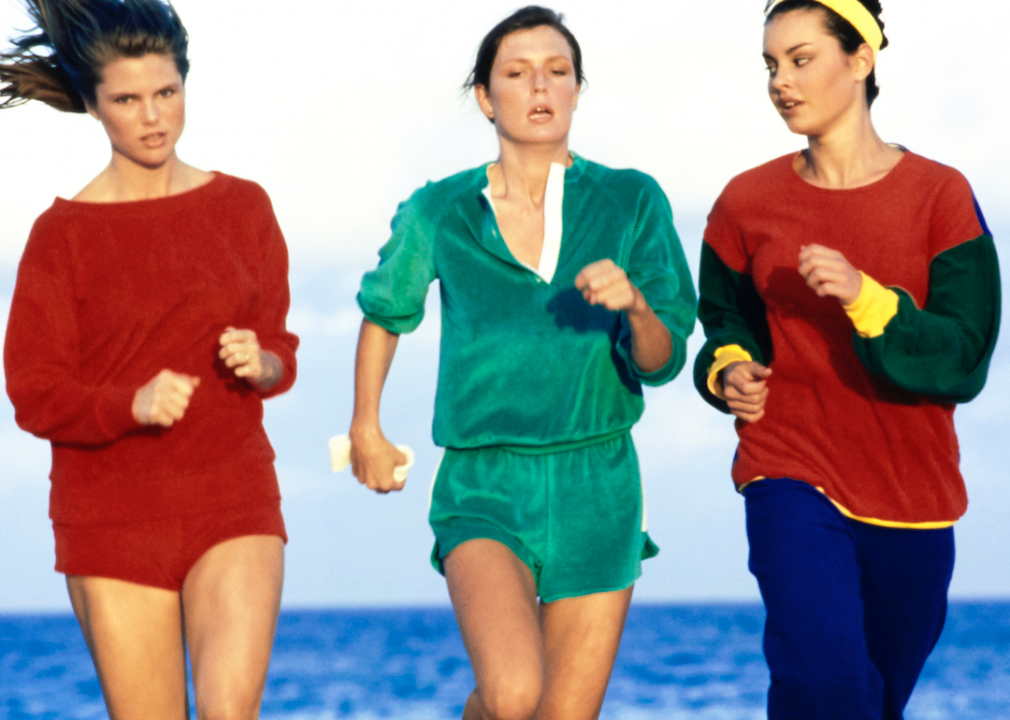 Arthur Elgort/Conde Nast // Getty Images
Velour
The tracksuit has gone through many iterations and materials, but none is as recognizable as velour. Velour, which has the look and feel of velvet but is made of cotton, was at the height of popularity in the late 1970s. The advent of the cozy velour didn't just make the tracksuit a comfortable piece to wear while working out; it was equally good to wear around the house.
Velour tracksuits had their resurgence in the '90s and 2000s thanks to the likes of Juicy Couture and celebs Paris Hilton, Jennifer Lopez, and more rocking the look. Thankfully, we haven't seen the all-velour tracksuit in some time.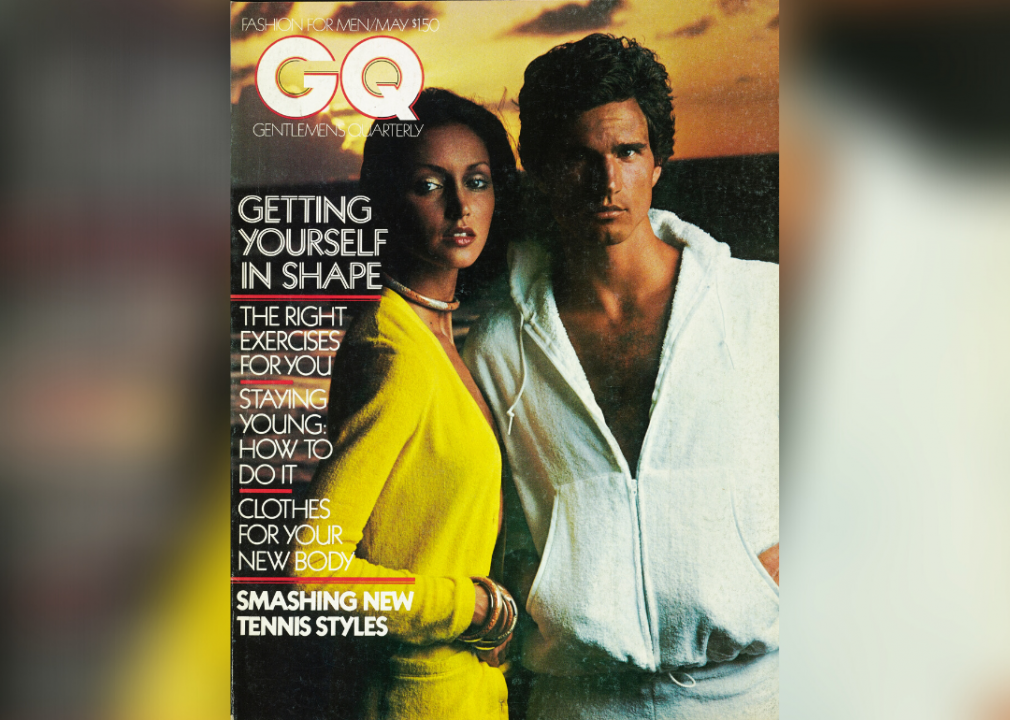 Barry McKinley/Conde Nast // Getty Images
Terry cloth
Terry cloth was another popular workout outfit material in the '70s. It was predominantly seen in sports apparel like the tracksuit thanks to it's lightweight and moisture-absorbing properties. But it became a staple in the fashion world too, with designers incorporating it into jumpsuits, dresses, and accessories. It's still used today in sweatshirts and other casual wear.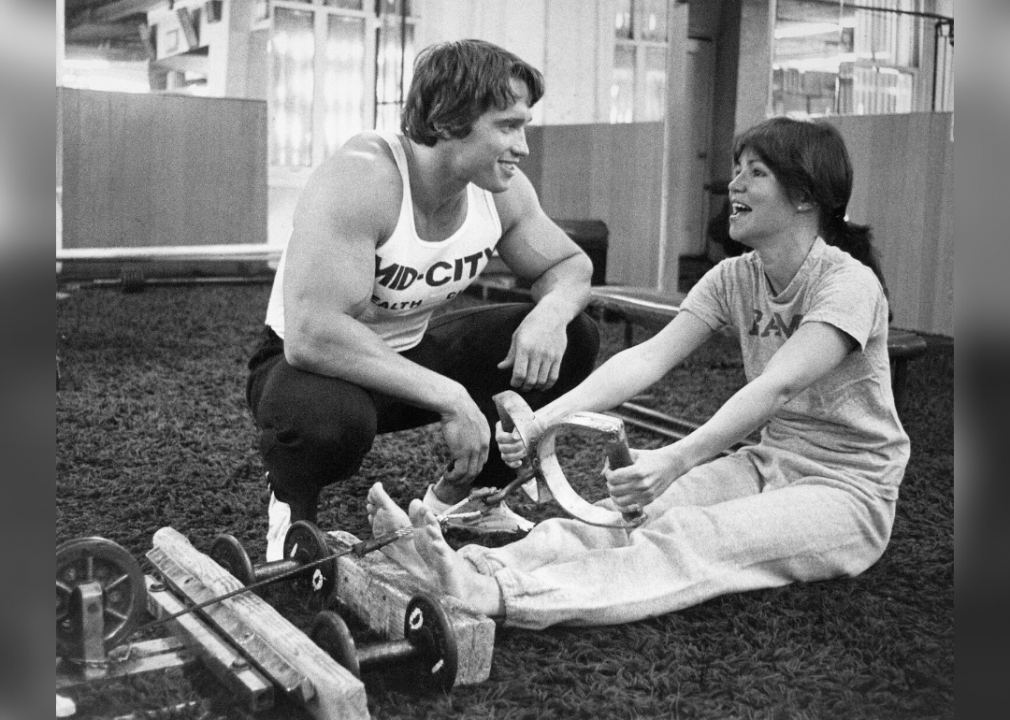 Bettmann // Getty Images
Muscle tank top
Also in the '70s, America would see the rise of bodybuilding thanks to the likes of Arnold Schwarzenegger and the documentary "Pumping Iron." The male physique was now something to be celebrated—not hidden under a full tracksuit.
"Pumping Iron" made bodybuilders into celebrities. It also managed to turn unremarkable gym clothes like sweatpants and tank tops into something stylish. The muscle tank top became a gym clothing staple with its loose fit and sleeveless design that didn't restrict arm movement.
[Pictured: Actress Sally Field being trained by bodybuilder Arnold Schwarzenegger on the rowing machine in 1976.]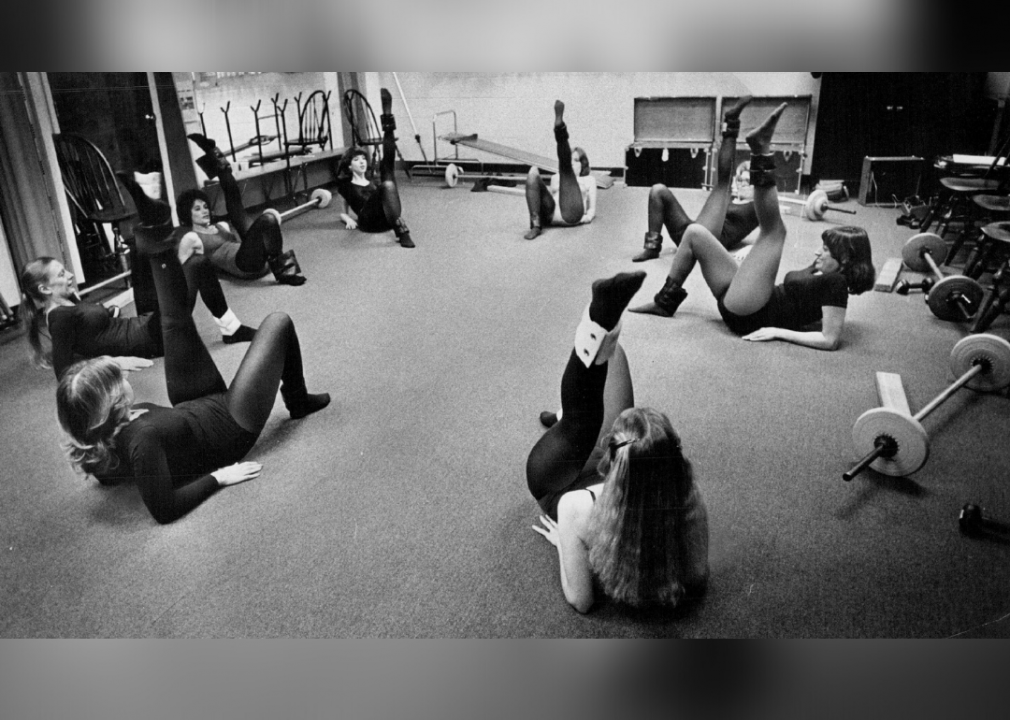 The Denver Post // Getty Images
Leotards
Fun fact: Leotards are named after French acrobat Jule Léotard, who designed the tight-fitting outfit to give him unrestricted movement during his daring act. Up until the 1970s, leotards were usually only worn by performers. Eventually, the plain-coloured onesies would become popular exercise wear in schools and fitness centres.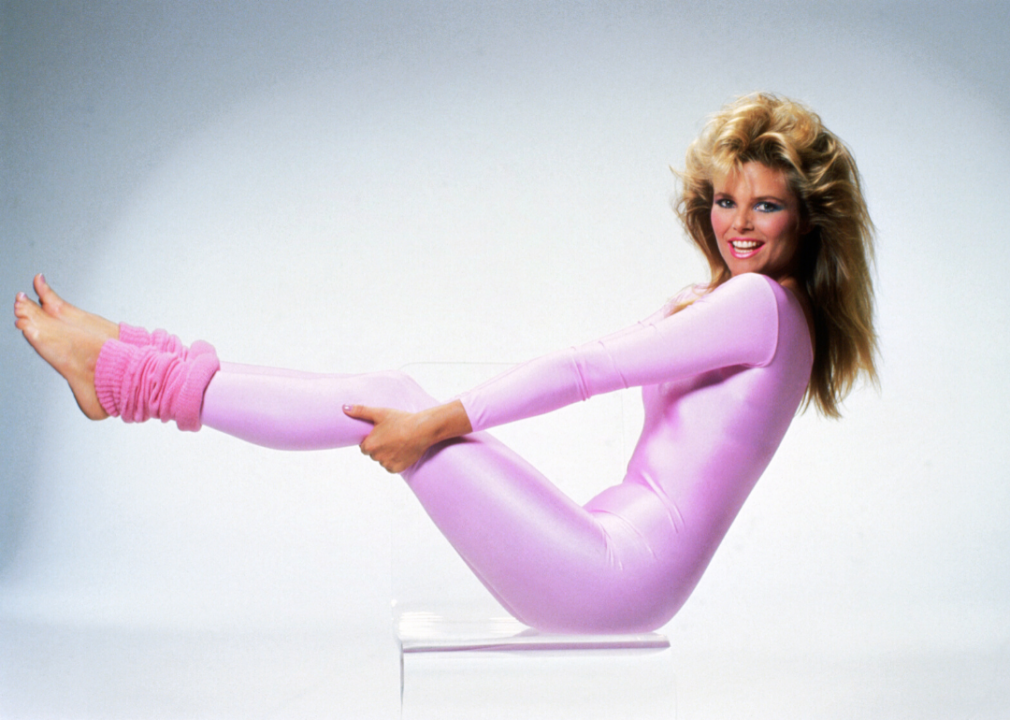 Bettmann // Getty Images
Spandex
A textile fabrication called Lycra, patented by DuPont in 1959, introduced the world to spandex. The fabric was first popularized as sportswear in the 1968 winter Olympics when the French ski team wore bodysuits made of the material. And although leotards in the '70s were mostly made of polyester, Lycra was gaining in popularity.
The material was incredibly stretchy and form-fitting, and by the '80s it was the go-to workout fabric, from bicycle shorts to unitards. The fabric became so popular by 1987 that DuPont struggled to keep up with demand. While the unitard didn't last too long, spandex remains the prevailing material in exercise clothing.
[Pictured: Christie Brinkley works out in a pink spandex unitard.]
Bettina Cirone/Images Press // Getty Images
Fashion inspired by celebrity trainers
If one person has influenced at-home fitness above all others, it's Jack LaLanne—otherwise known as the Godfather of Modern Fitness. With his hit television exercise program "The Jack LaLanne Show," which ran on TV from 1951 until 1985, LaLanne became a household name. Over the course of his lengthy career, he changed how America works out and eats. He's the one who started green juice and those cable machines you still see at the gym.
LaLanne's flamboyant style (note the all-red spandex unitard) made him the first celebrity trainer.
[Pictured: Jack LaLanne leads a class circa 1982 in New York City.]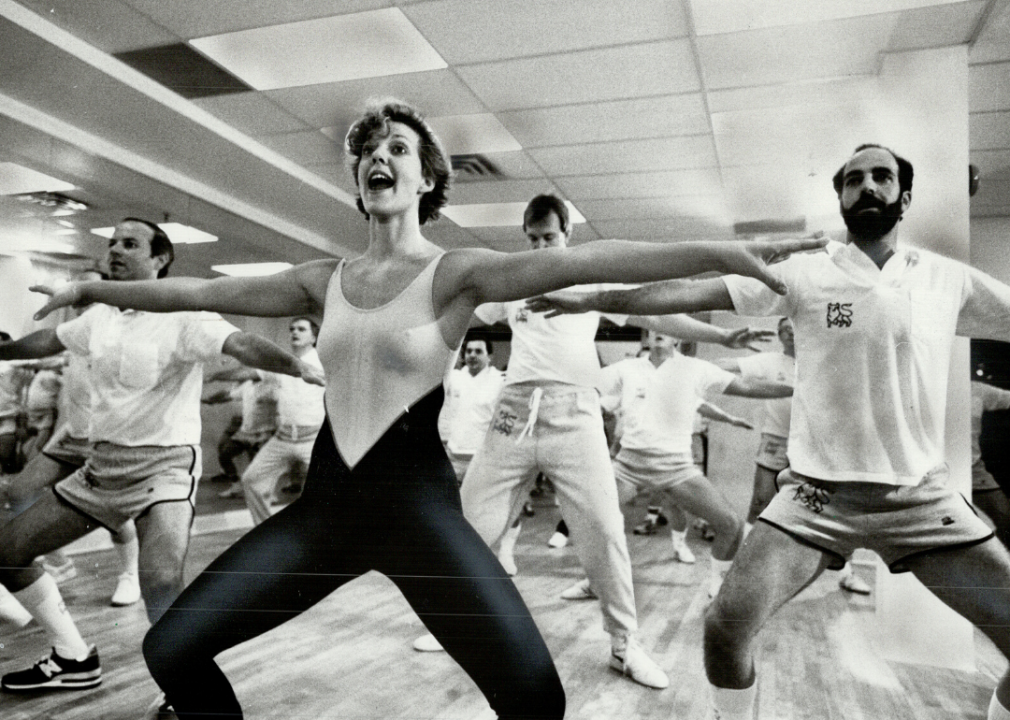 Pat Brennan/Toronto Star // Getty Images
Dance aerobics
Dance aerobics defined the '80s. People were obsessed. From Jazzercise to step aerobics, the high-energy classes with a synth-heavy soundtrack were adored by all. And the styles worn to these classes—from spandex tights and leotards to legwarmers—became iconic.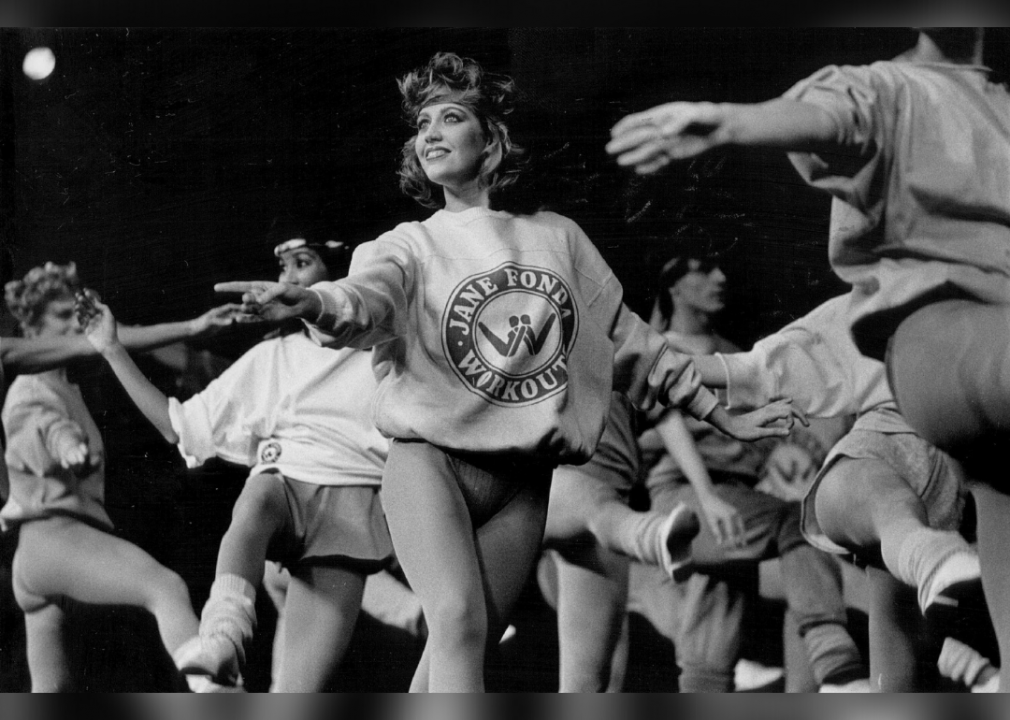 The Denver Post // Getty Images
Jane Fonda
Jane Fonda capitalized on the aerobics craze of the early '80s by creating at-home workout tapes that have sold a whopping 17 million copies to date. Her line of workout wear featured leotards, oversized sweatshirts, and leg warmers, essentially dictating the exercise looks we equate with that decade.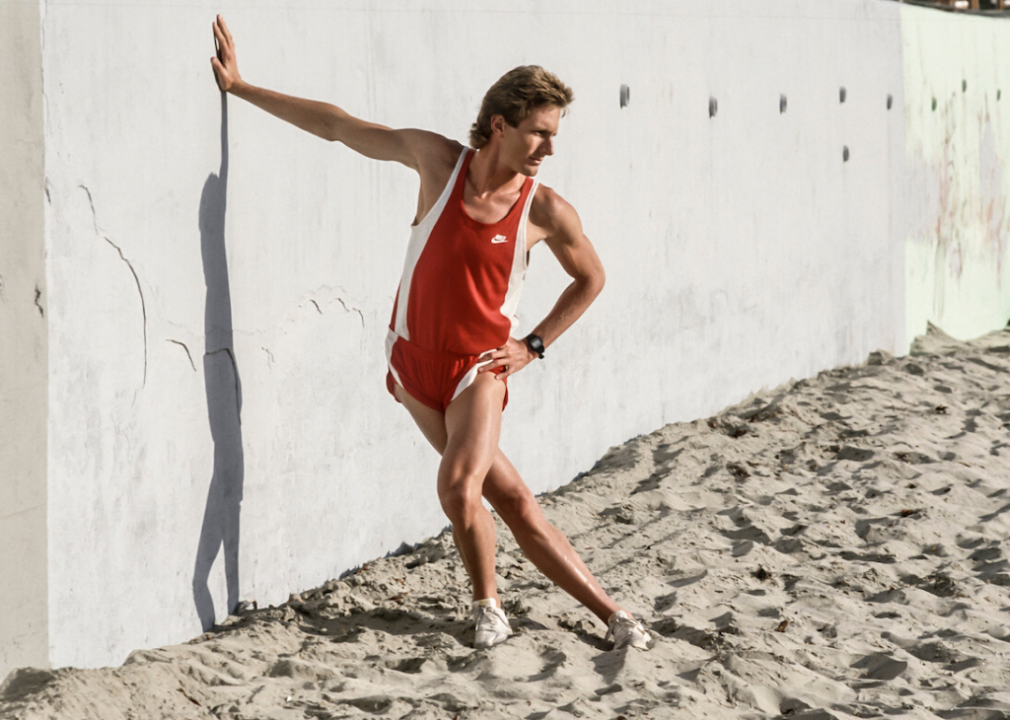 David Madison // Getty Images
Triathlon gear with a focus on function
When it comes to triathlons, function has always taken precedence over fashion. The first Ironman race was in 1977 after a debate about who was toughest: swimmers, cyclists, or runners. Today's outfits are designed to transition seamlessly from activity to activity. But back in the '80s, people generally had an outfit for each section of the race. When it came to running, whether that was in a triathlon or just a jog around the block, the classic singlet and loose but short shorts, as seen on triathlete Mark Allen, were the classic outfit.
Education Images/Universal Images Group // Getty Images
Leg warmers
Leg warmers were originally worn to keep dancers' muscles from cramping. But just like aerobic wear in general, leg warmers became a fashion trend in an of themselves. Their popularity was in part due to the film "Flashdance," which came out in 1983 and made the dance outfit look beyond cool. Everyone wanted to look like Jennifer Beals. Soon the trend could be seen everywhere from work out classes over leggings to the streets with mini skirts or with a matching scrunchie.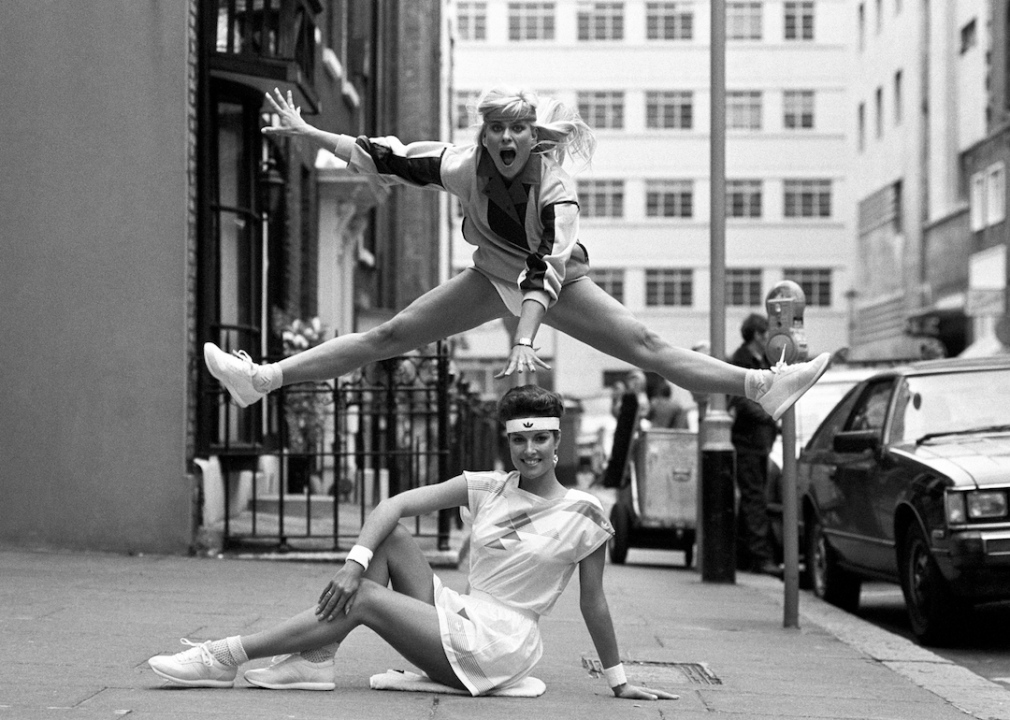 PA Images // Getty Images
Preppy workout outfits
While spandex and leg warmers might be the most memorable workout outfit trends of the '80s, more conservative, preppy exercise staples like tennis skirts, cable-knit cardigans, and button-down polos were popular among wealthy American teens.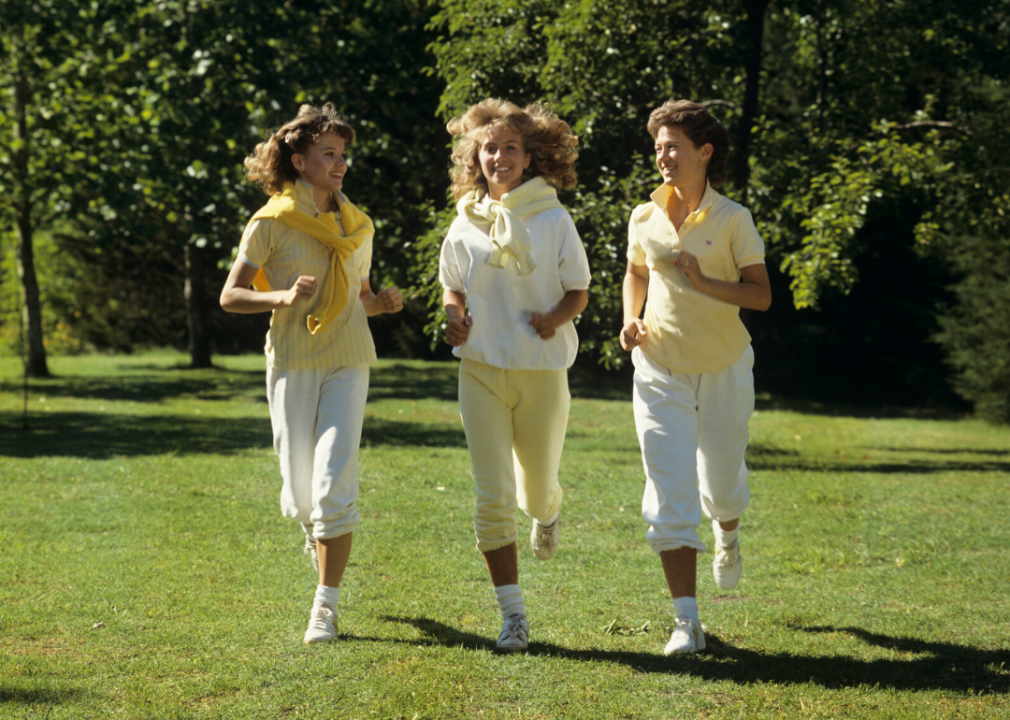 ClassicStock // Getty Images
Pastels
The preppy trend was dominated by pastel colours and wrapping sweaters around your shoulders. Preppy fashion was linked with traditional and conservative styles of dress. While it got its roots in 1950s Ivy League fashion, pastels were perfectly suited for upper-middle-class '80s workout gear.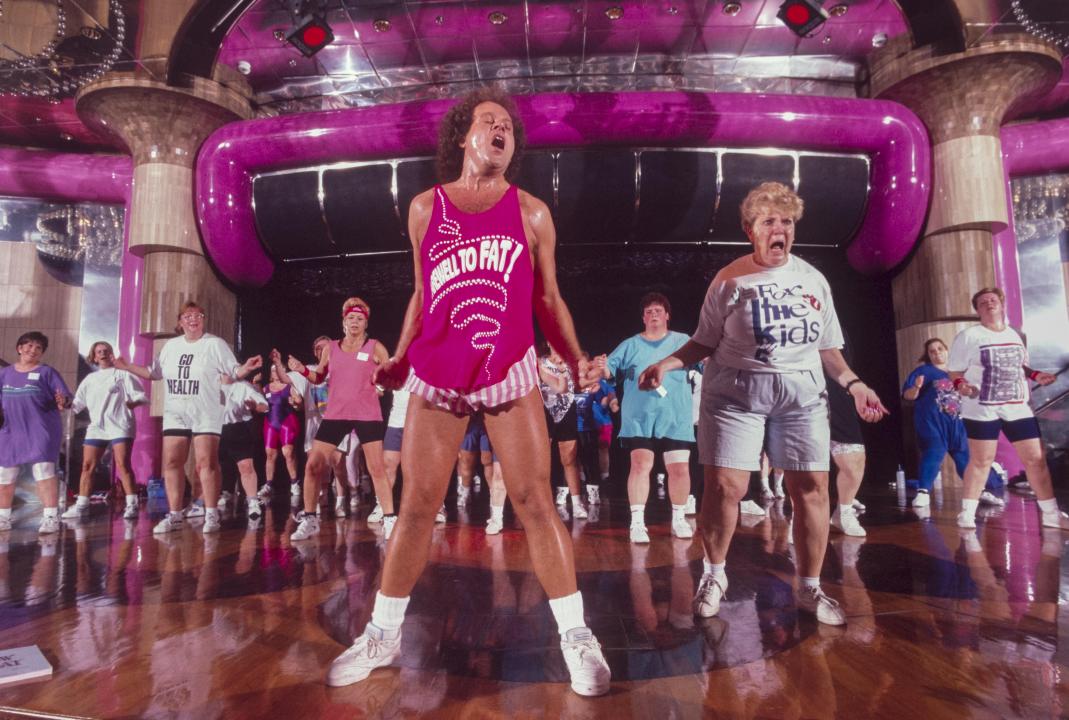 Evan Hurd/Corbis // Getty Images
Richard Simmons
Richard Simmons' wild outfits make him an unforgettable workout fashion influencer.
The short shorts and loud tank tops with motivational quotes plastered across them were a staple of his and—along with his big hair—rendered him instantly recognizable. Today you'll still see workout tops emblazoned with motivational and empowering quotes.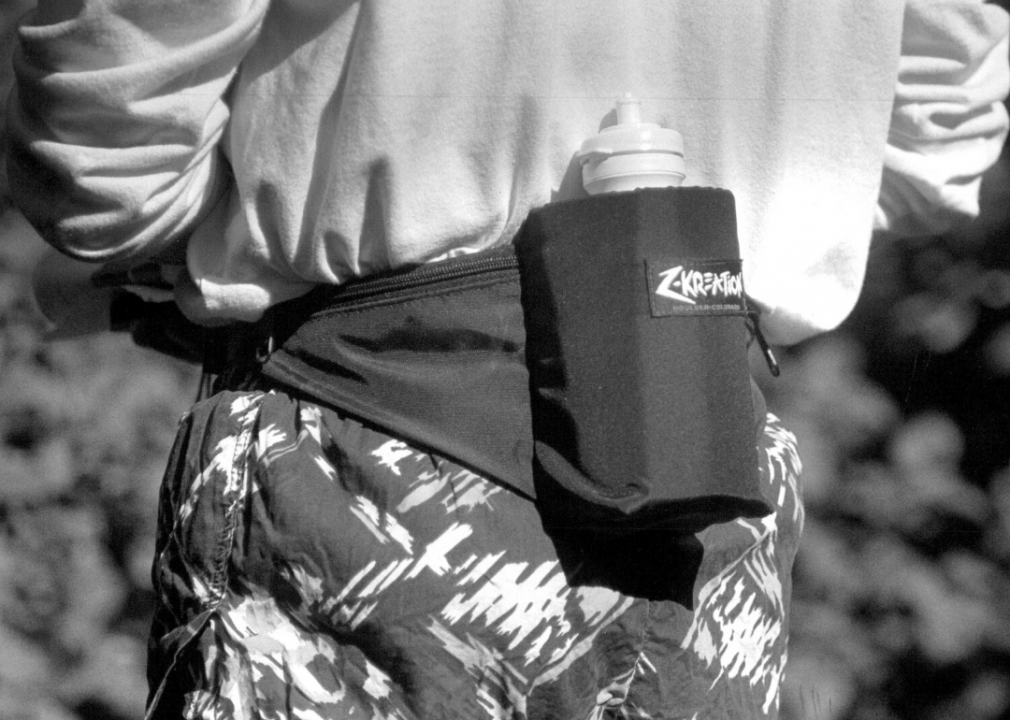 Lyn Alweis/The Denver Post // Getty Images
Fanny packs
Fanny packs—or bum bags in some parts of the world—were invented in the '50s for cross-country skiers to carry their supplies and lunch. The bag belts enjoyed a major surge in popularity in the '80s with runners and tourists due to their convenient and hands-free carrying abilities. The neon colours made them a fun accessory rather than just a practical bag.
Love them or hate them, fanny packs have resurfaced again—although this iteration sees them being worn more as a crossbody bag than a fanny pack.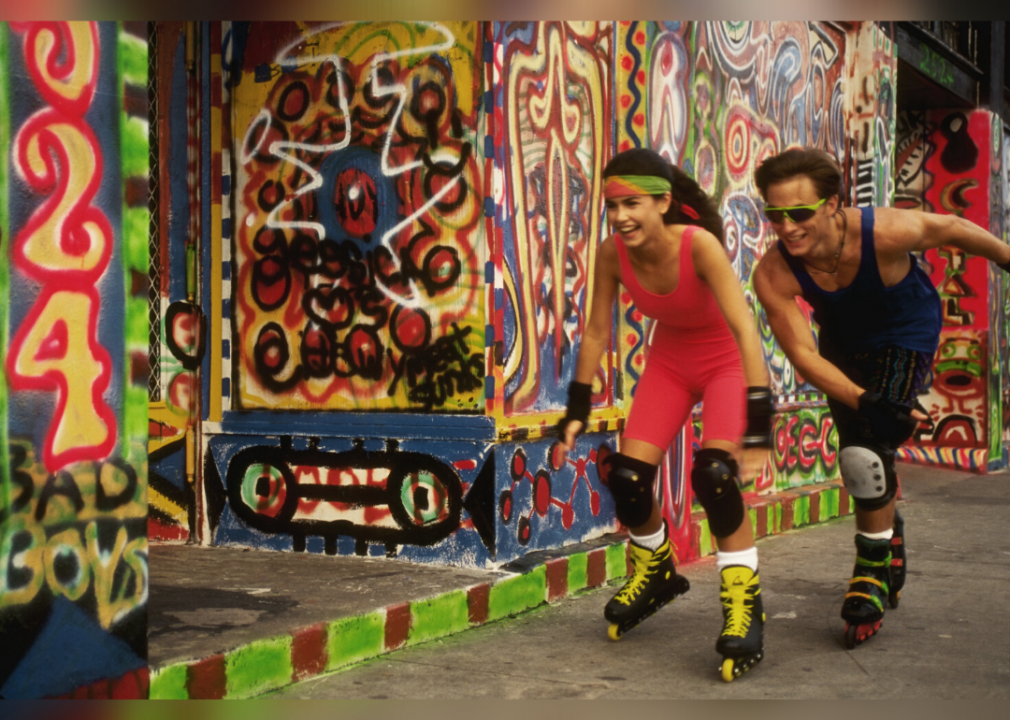 Steve Chenn/CORBIS/Corbis// Getty Images
Rollerblades
Two Minnesota brothers in 1980 found an old in-line skate and thought it would be perfect for off-season hockey training. Soon, hockey players, as well as alpine and Nordic skiers, were cruising around during the summer on rollerblades. By the '90s, inline skating was a great American pastime with its own unique style—including neon accents, spandex shorts, and tie-dyed fabric.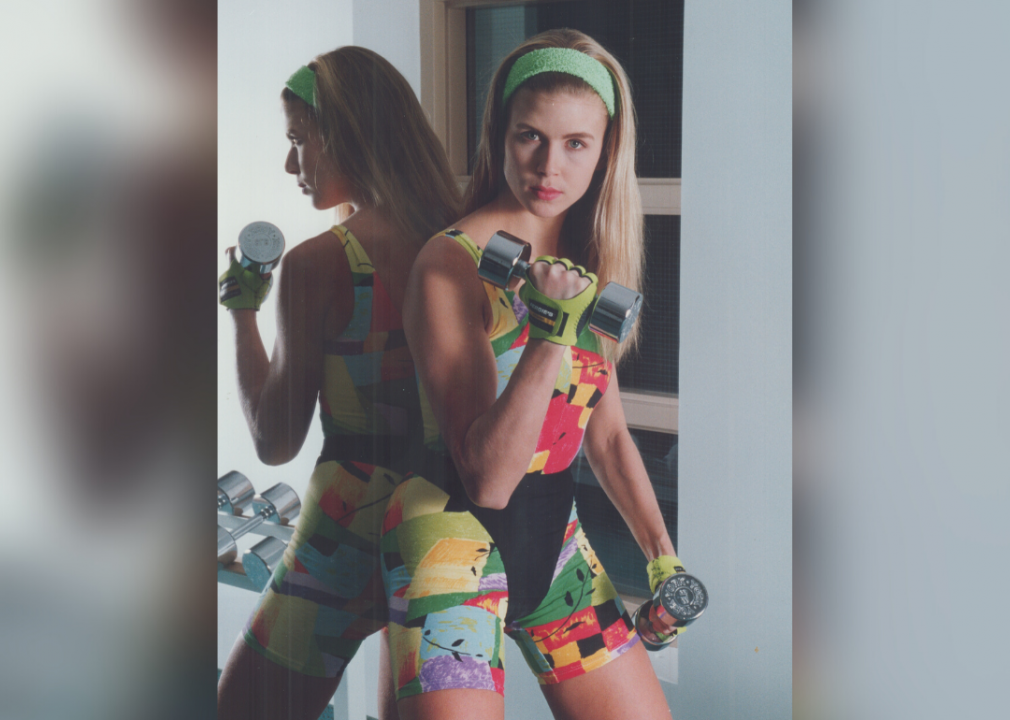 Andrew Stawicki/Toronto Star // Getty Images
'90s spandex
The spandex leotard of the 1980s evolved in the next decade to be a combination of bicycle shorts and leotard. While the '80s came with a healthy share of bold colours, the '90s became louder with patterns. Of course, neon accessories like workout gloves and headbands made of terry cloth were still pervasive.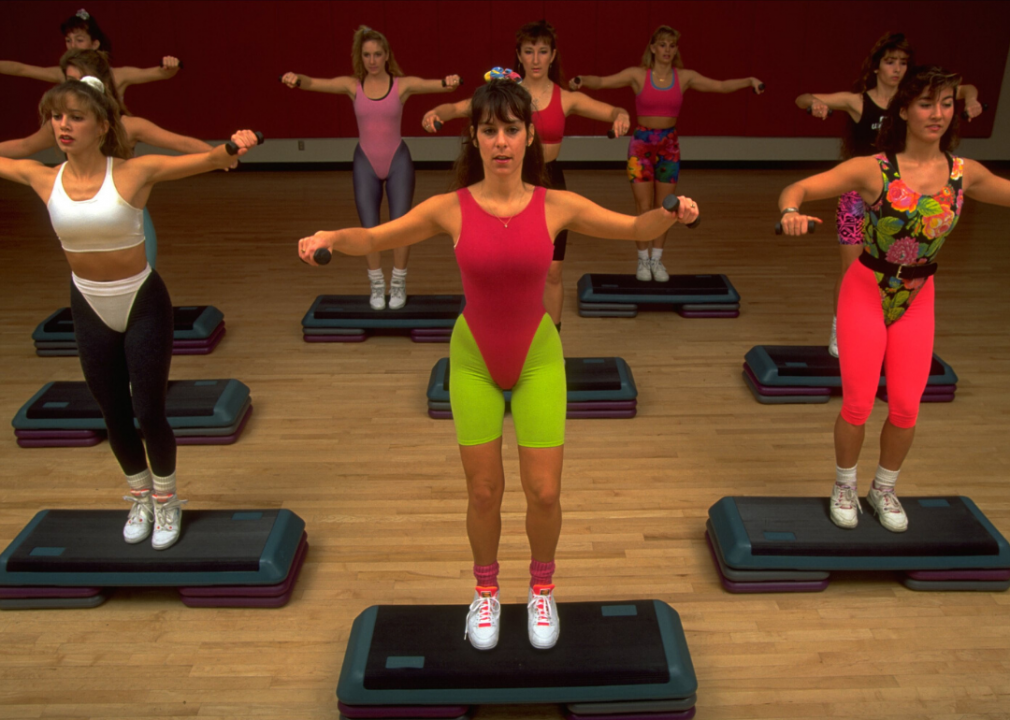 MIKE POWELL/ALLSPORT // Getty Images
Step aerobics
Step aerobics was developed around 1989 by Gin Miller after she sustained a knee injury. Her doctor told her to step up and down on a milk crate to strengthen her injured knee. From that exercise, Miller developed a low-impact alternative to high-intensity dance workouts. Step aerobics gear mirrored that of the dance aerobics trends of the '80s, with spandex tights and leotards worn over the tights. Leg warmers were upstaged by thick socks.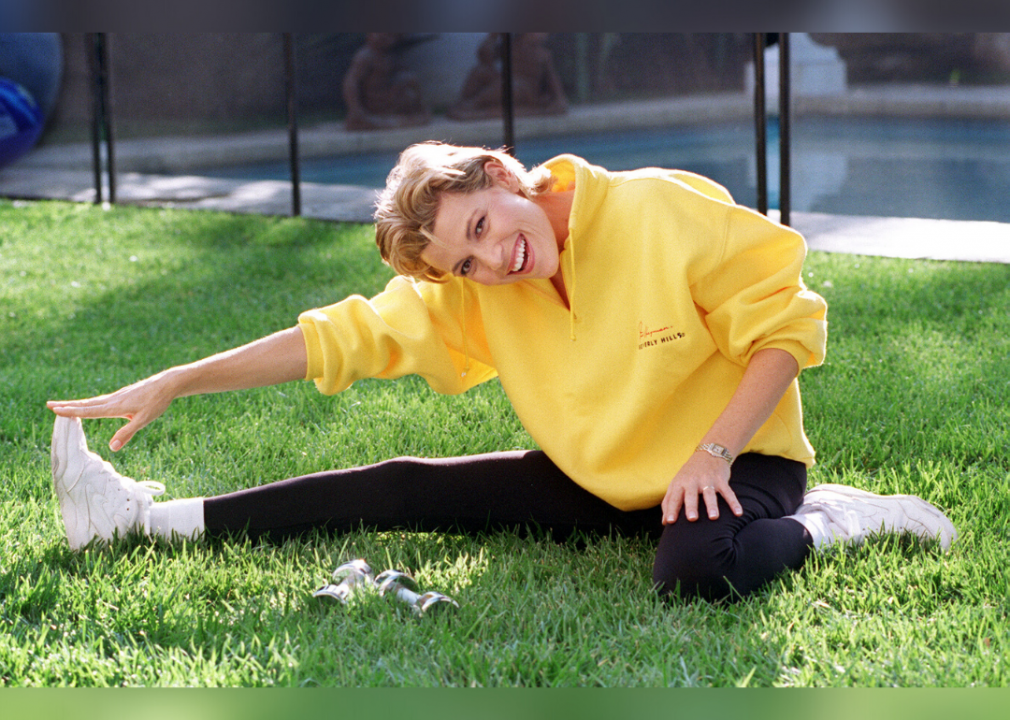 Patrick Downs/Los Angeles Times // Getty Images
Polar fleece
While polar fleece got its origins in the late '70s when Malden Mills Industries, an American textile manufacturer now called Polartec, experimented with polyester for its outdoor apparel potential. Patagonia in the early '80s introduced fleece to the sportswear market; by the '90s, fleece was an outdoor staple brands like Gap and L.L. Bean were incorporating into much of their inventory. The fabric was lightweight, dried quickly, and was relatively inexpensive. This made it appeal to sportsmen and also made it exceptionally trendy. Fleece is still commonly used today, with demand up for recycled polyester fleece as the material is not biodegradable.
[Pictured: TV personality Vanna White stretches before a workout.]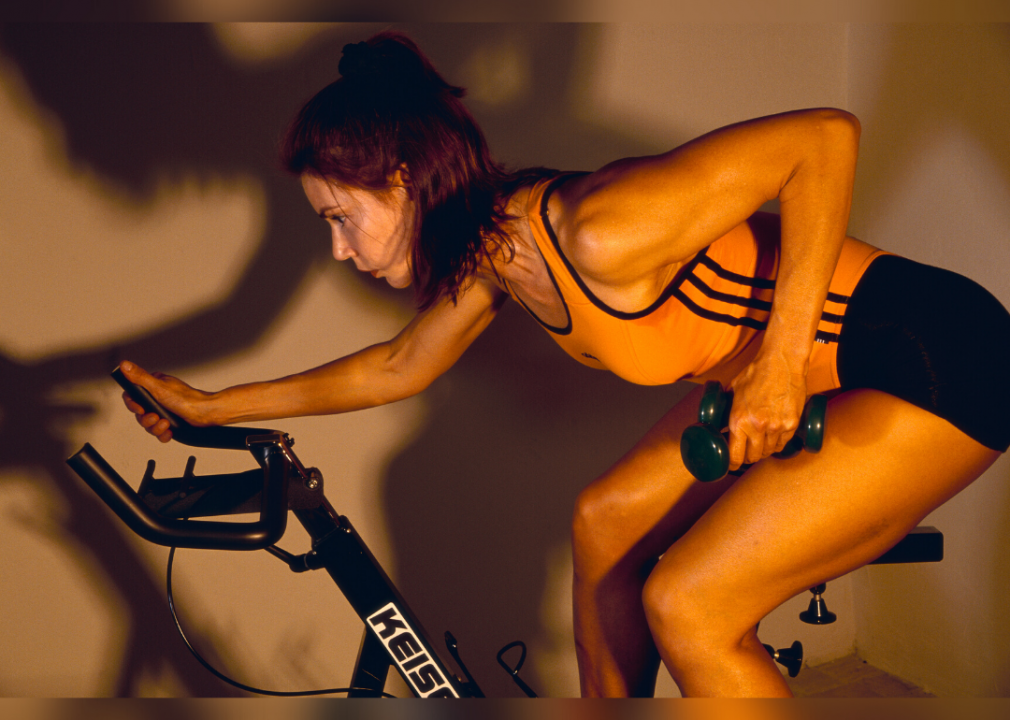 David Butow/Corbis // Getty Images
Spinning gear
Indoor cycling, or spinning, has been one of the most popular group exercises for the last four decades. Rolling Stone in 1994 called indoor cycling a "hot exercise" and it wasn't long before people were ditching their home workout videos to cycle.
Like any group workout class, what you wear matters almost as much as how hard you work. Bicycle shorts and a fitted tank were usually the way to go, especially now that women finally had kits designed especially for their bodies.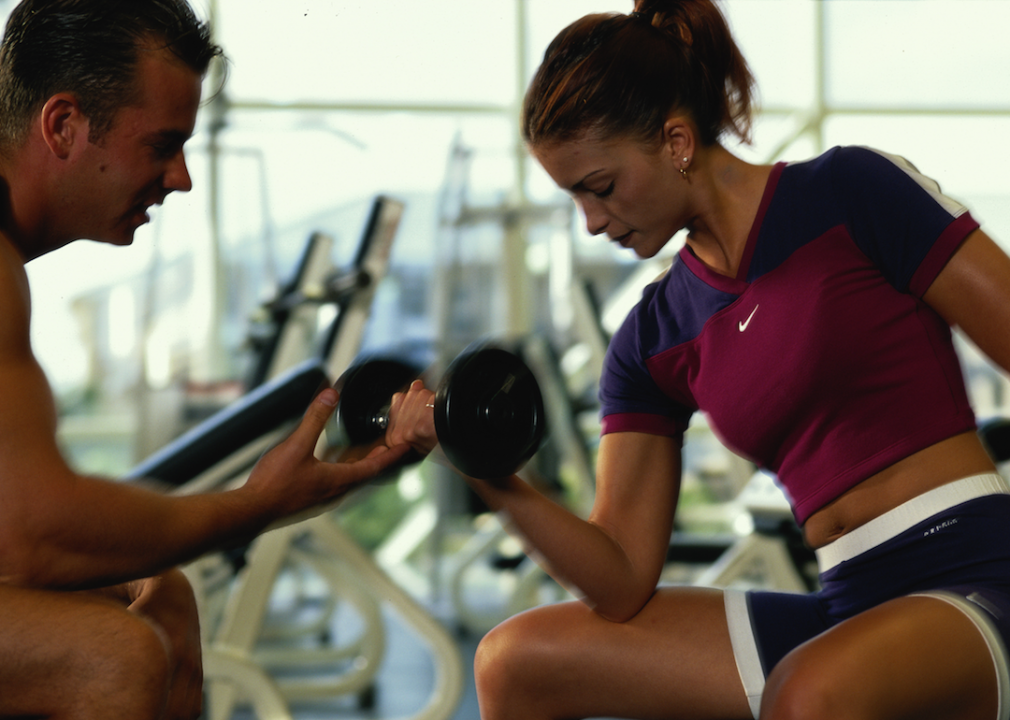 Zoran Milich // Getty Images
Crop tops
While crop tops had already made their debut in the '80s thanks to the aerobics craze, "Flashdance," and "Dirty Dancing," they were still very much a thing in the late '90s and early '00s. Modern crop tops departed from flowy dance tops to structured and fitted shirts that show off abs and overall physiques.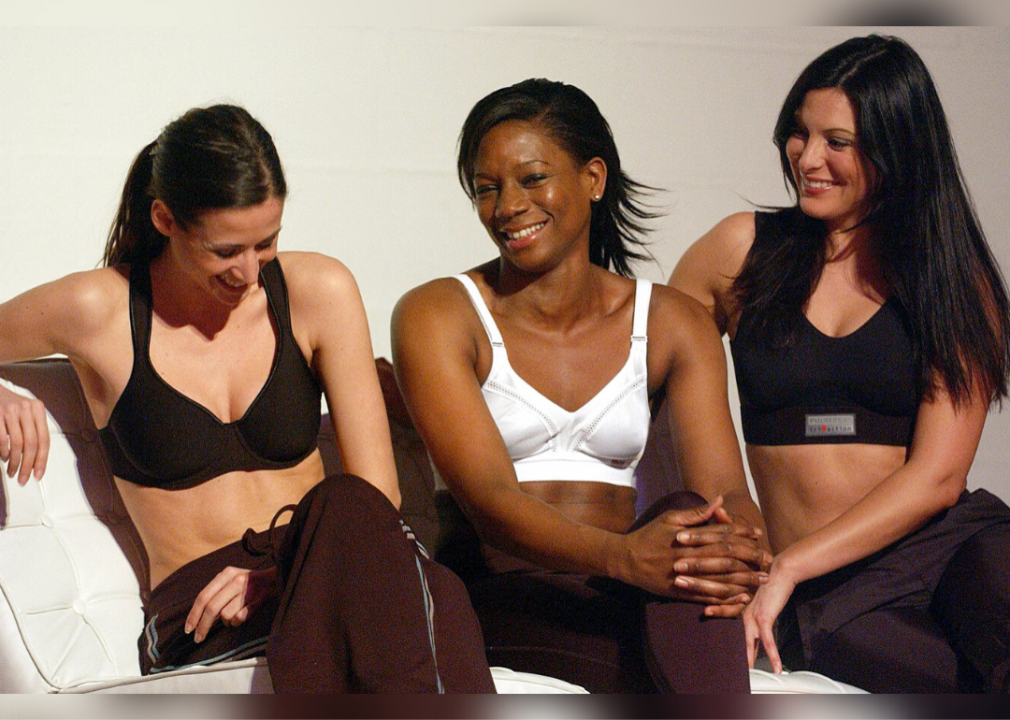 Fiona Hanson - PA Images/PA Images // Getty Images
Sports bra
A sports bra can make or break a woman's workout—especially if that workout involves jogging. Back in 1977, during the height of the jogging craze, a woman invented what she couldn't find—a sports bra (which she dubbed the "jockbra"). The design was a simple crossed back and beige cups, but it was revolutionary for its ability to help women run without breast pain.
Since then the sports bra has gone through a lot of changes and different designs in order to work for various activities. For example, encapsulating bras are better for lighter activities as they don't restrict movement, but compression bras are better for high-intensity workouts as they provide more support. Most are now made out of spandex due to that fabric's stretchy properties and moisture-wicking abilities.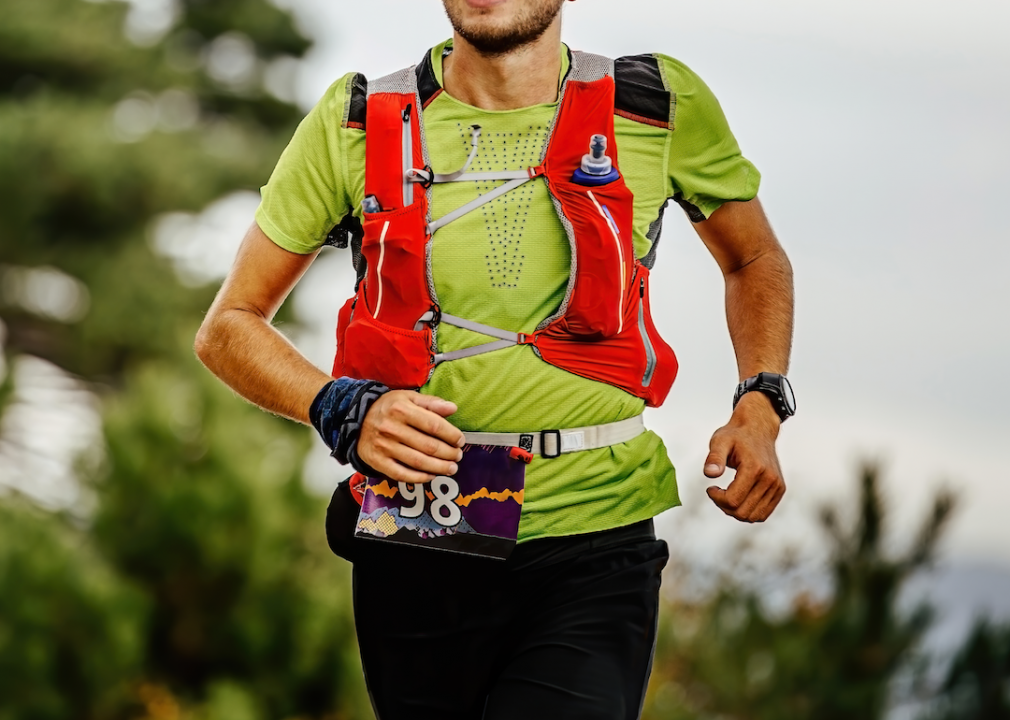 sportpoint // Shutterstock
CamelBak
Like the bra, the CamelBak also got its roots in a DIY-style. Michael Edison in 1989 used an IV bag tucked into a tube sock with a thin hose that went over his shoulder to provide him with water during the Hotter'N Hell 100-mile bike race. Edison clamped the contraption shut with a clothespin. Since then, the CamelBak has become a necessity for athletes and military personnel alike. The backpack/vest-like accessory is a key statement piece for ultramarathon runners and long-distance cyclists. The gear is also popular for non-athletic pursuits such as music festivals, where the hydration system is often turned into a carry pack for alcohol as much as for water.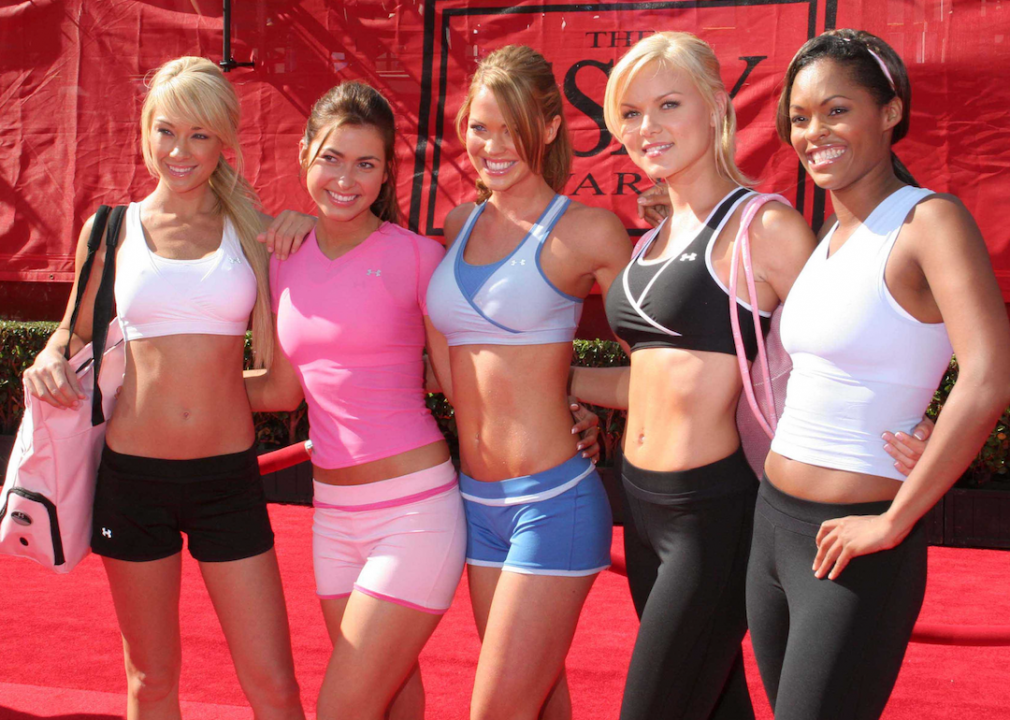 Chad Buchanan /Patrick McMullan // Getty Images
Under Armour
If any single sports apparel company defined the '00s, it's likely Under Armour. The company started out by creating sweat-wicking performance tops that NFL players could wear underneath their pads. Today, Under Armour is a full-blown sports retailer. The company's functional and form-fitting clothing was a hit among athletes and fitness aficionados. Under Armour's instantly recognizable logo has also been key to the company's success.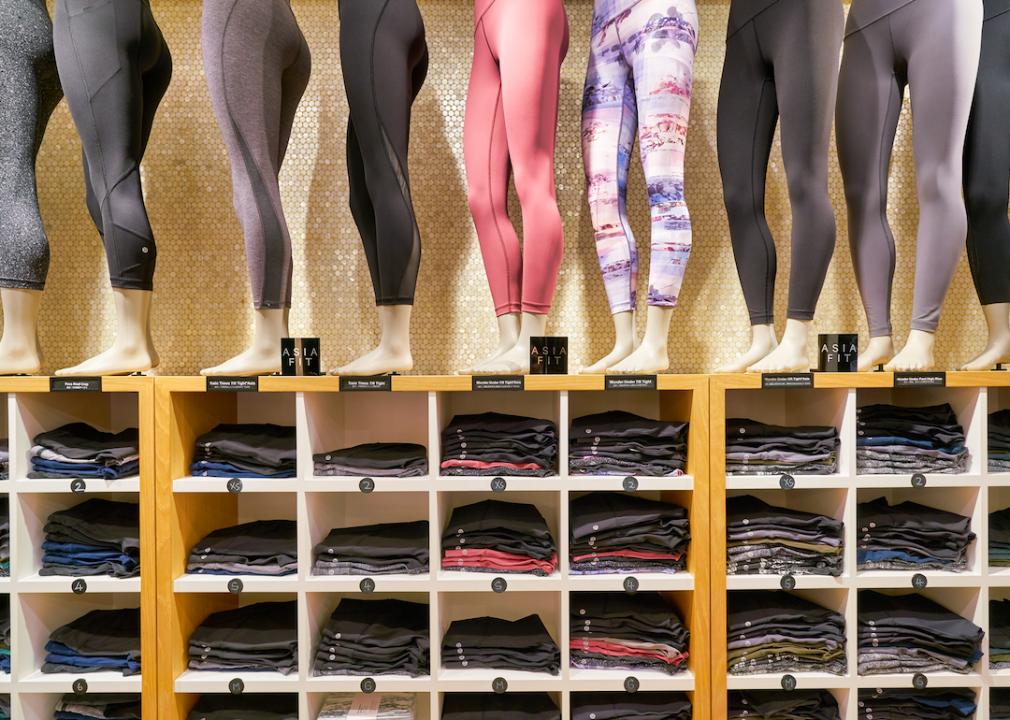 Sorbis // Shutterstock
Leggings
While leggings were popular fitness apparel in the '80s and '90s, leggings in the early 2000s became even more popular thanks to Lululemon and one key addition: the gusset. The diamond-shaped patch of material was added to Lululemon leggings and the dreaded fashion faux pas cameltoe was officially a thing of the past.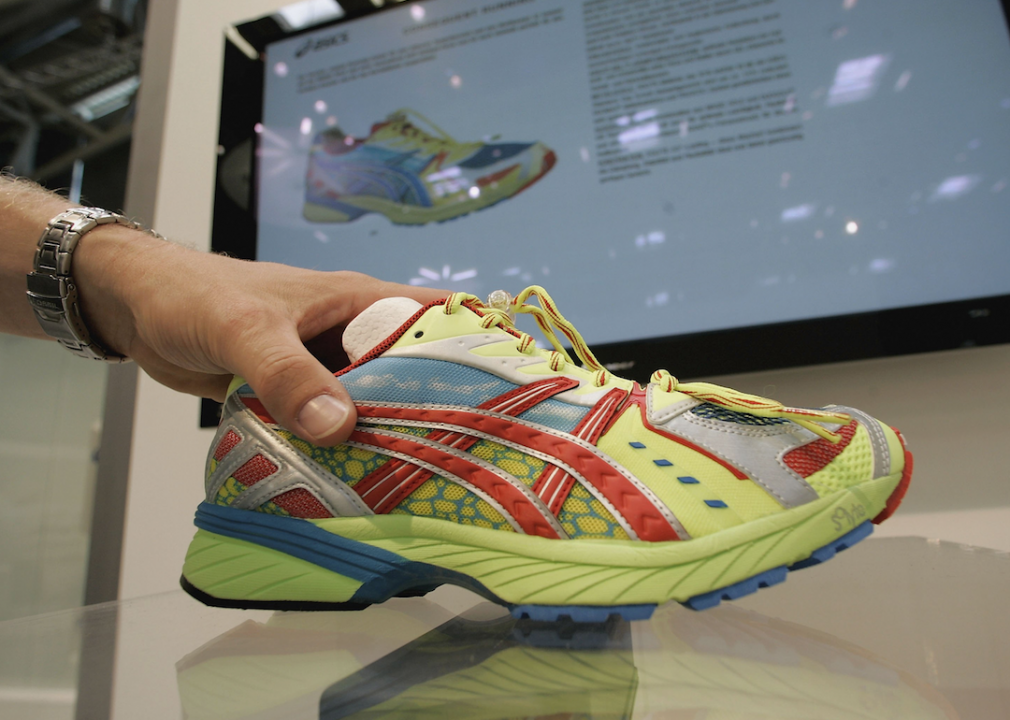 Ralph Orlowski // Getty Images
Wearable tech
It only makes sense that technological advances would find their way into workout gear. For example, Asics unveiled a shoe that could be matched to a runner's specific gait to help improve running efficiency and reduce the risk of injury. Nike collaborated with Apple in 2006 to create Nike +, a fitness tracker embedded in a shoe.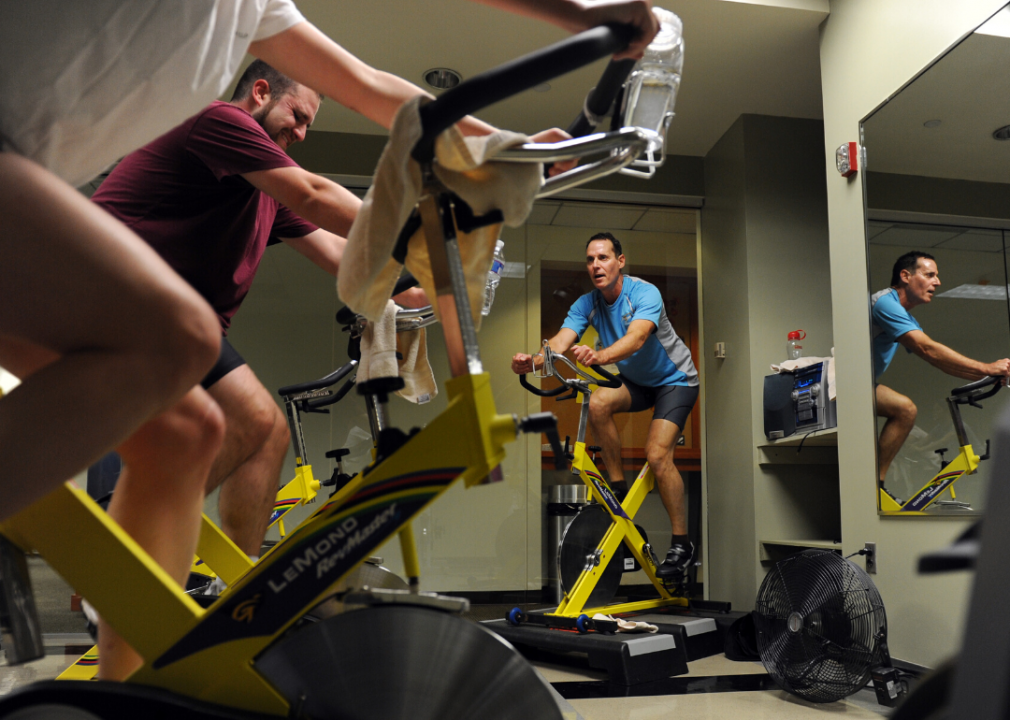 Jahi Chikwendiu/The Washington Post // Getty Images
Performance wear
Workout clothes in the '00s evolved into more functional attire. There was a large focus on synthetic fabrics that were breathable, lightweight, and sweat-wicking. These workout clothes were also aerodynamic and promised to keep athletes from smelling like gym lockers.
Kevin Mazur/WireImage // Getty Images
Capris leggings
Capris pants were extremely popular in the 2000s, often worn under mini skirts and dresses or loose tunic tops. Celebrities like Lindsay Lohan, the Olsen twins, and many more were spotted frequently sporting the look on red carpets and in their everyday lives. But capri leggings were also worn as workout clothing. The not-pants but not-shorts were a staple of the mid-2000s in the gym and out.
[Pictured: Brooklyn Decker joins Heidi Klum on a run across the Brooklyn Bridge.]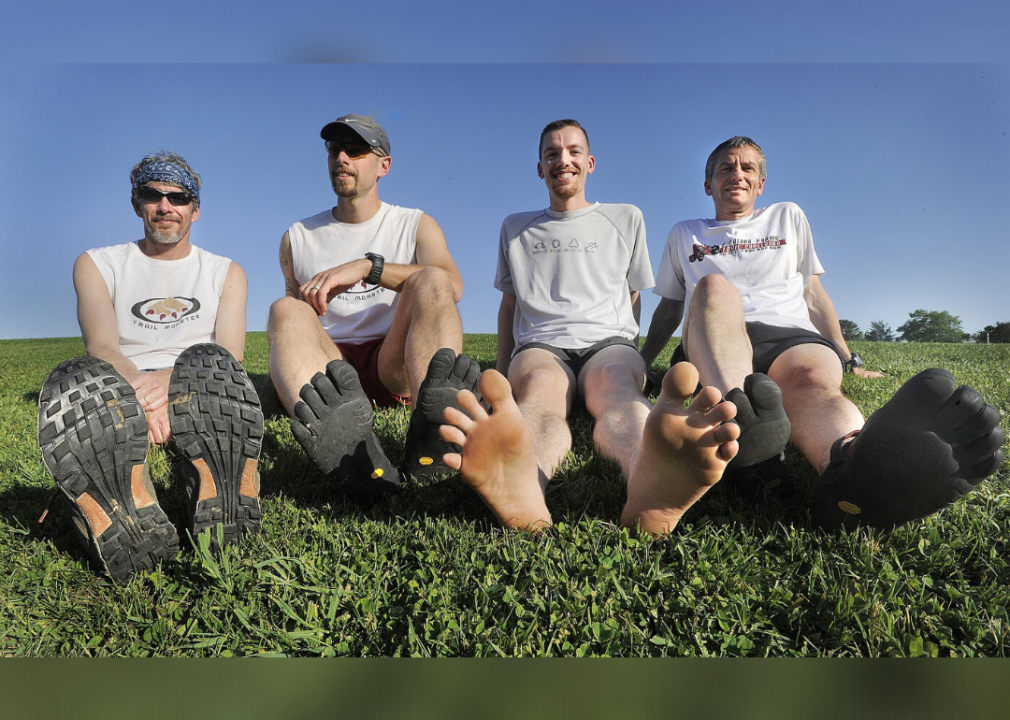 John Ewing/Portland Press Herald // Getty Images
Toe shoes
The goal of toe shoes is to simulate walking or running barefoot. In 2006, Vibram came out with these glove-like shoes and minimalism became a buzzword in the running community.
The idea that less shoe is more—and that shoes should work with the foot's movement rather than against it—came from Christopher McDougall's book "Born to Run". The book was about his time living with a native Mexican tribe of ultra runners who only wore sandals when running. Wearing toe shoes may help strengthen your toes and feet while improving performance and balance.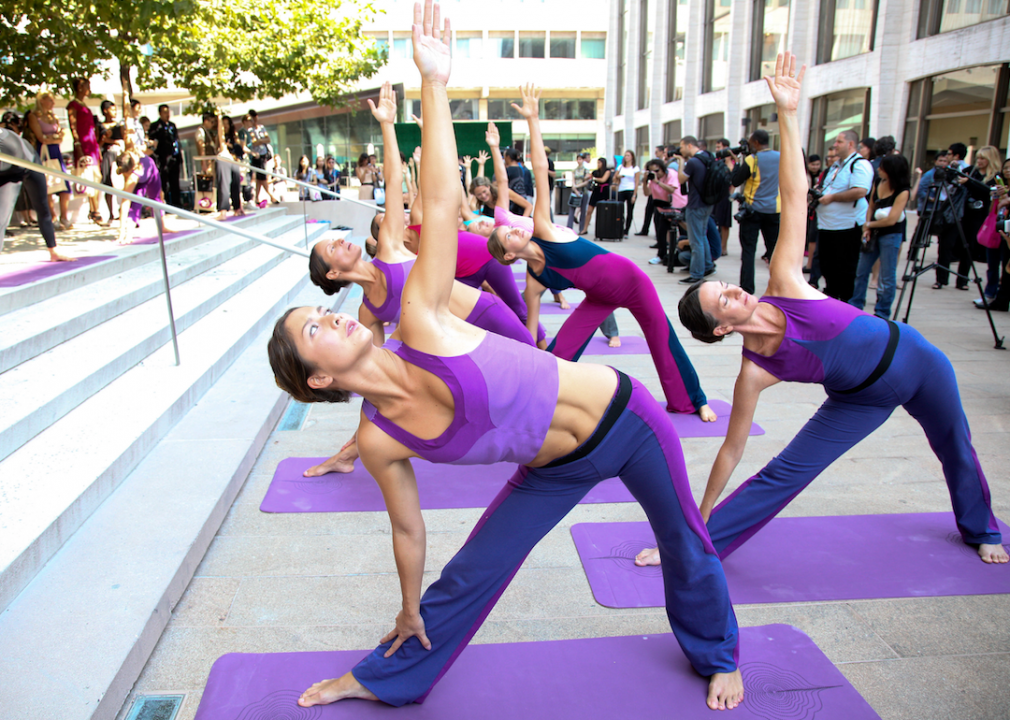 JP Yim/WireImage // Getty Images
Wide-leg yoga pants
While yoga has been around for centuries, its peak popularity in mainstream Western culture came in the 2000s. Traditional yoga outfits were about hiding the body; but with fashion powerhouses like Lululemon, more functional and form-fitting clothing became the go-to style of yoga classes around the world.
But before leggings became everyone's favourite "pants," there were wide-leg yoga pants. The comfortable fabric, fold-over waist, and bootcut leg meant that these basically sweatpants were flattering on many body types and could easily pass as regular pants—something that appealed to busy women everywhere.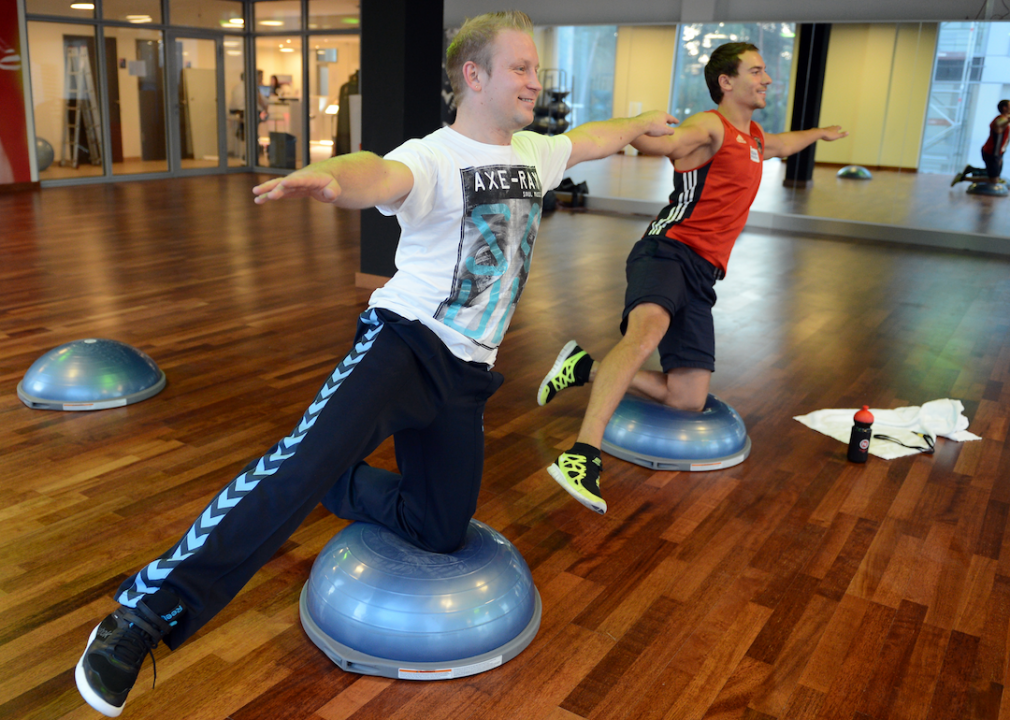 Britta Pedersen/picture alliance // Getty Images
Clothing suited for 24-hour fitness
The rise of athleisure clothing meant you could theoretically work out any time and the line between streetwear and workout clothing blurred even more. Today, people mix casual streetwear like joggers with athletic performance wear like high-end running shoes.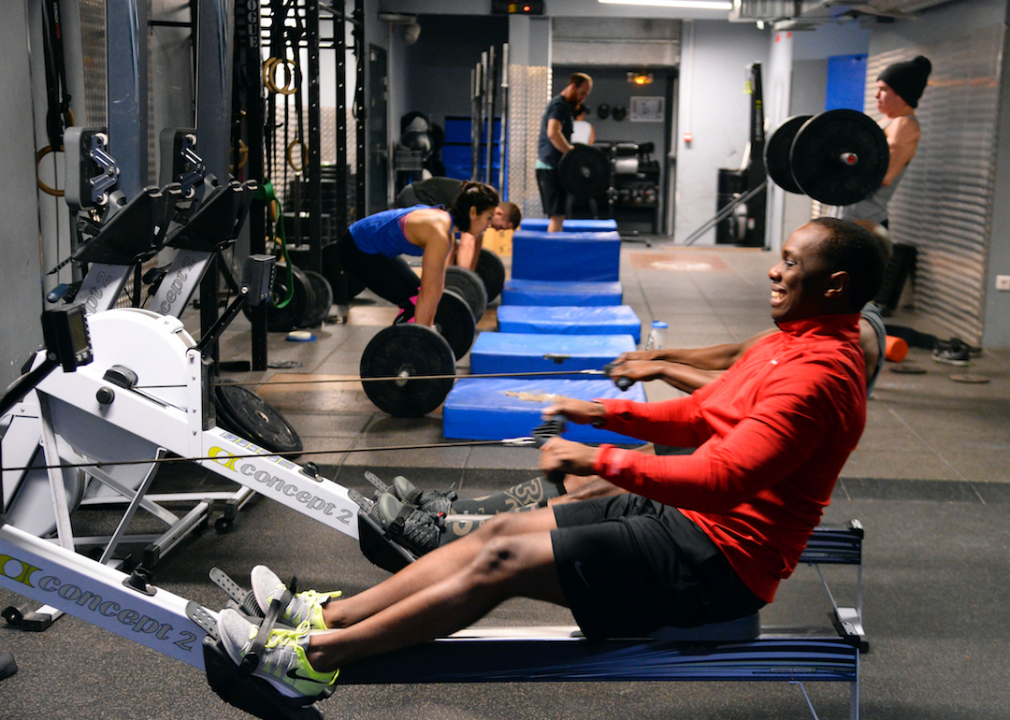 BERTRAND GUAY/AFP // Getty Images
CrossFit
High-intensity workouts like CrossFit became all the rage in the 2010s. As for style, CrossFit fanatics were a bit edgier than the yogis. Wearing darker, tighter clothing allowed athletes to move freely without getting dirty on the equipment. Flat-footed shoes, spandex shorts, compression pants, sports bras, and tanks make up standard CrossFit looks.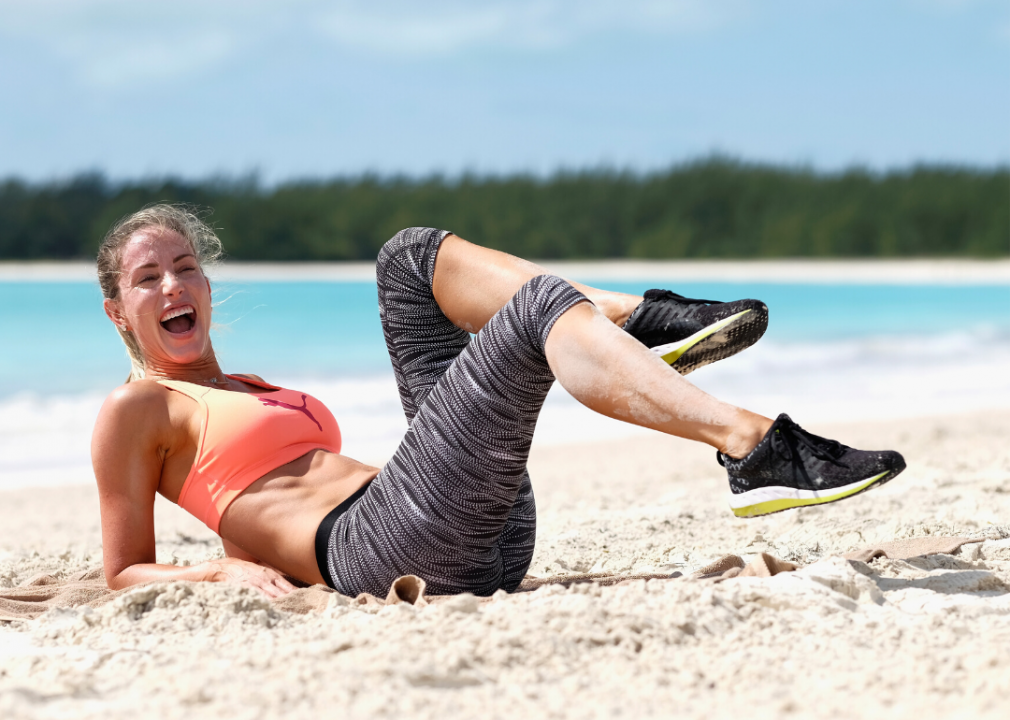 Dimitrios Kambouris // Getty Images for Sandals
Fitness trainer celebrities
In the 2010s, being a fitness trainer was sometimes the equivalent to being a celebrity. There was a lot more focus on looking good in your exercise clothes and sharing your workouts on social media along with making sure gear was highly functional. Bright colors and loud patterns were favored, along with low-rise pants.
Joe Raedle // Getty Images
Tight-fitting yoga clothes
Yoga continued to grow in popularity and the fashion became more streamlined with tight-fitting leggings and fitted tank tops with built-in bras. The clothing was so comfortable that many women found themselves wearing the leggings and tops out of the yoga studio and into public places. Welcome to the world of athleisure: garments worn for athletic endeavors and casual leisurely activities.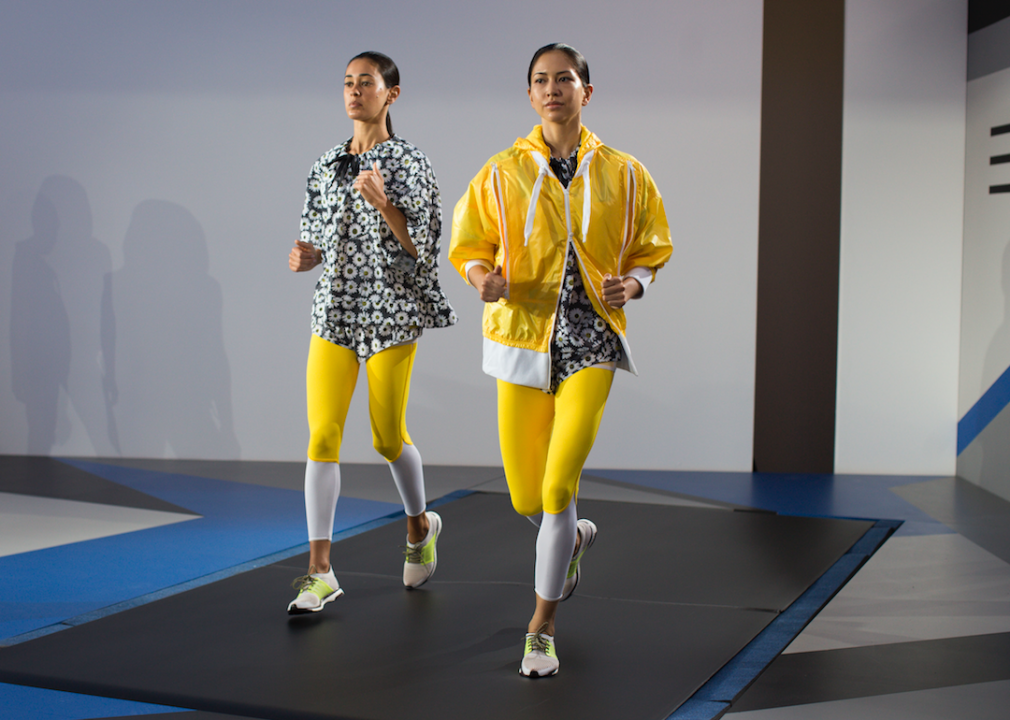 Ki Price/Corbis // Getty Images
Fashion collaborations
As the lines between workout clothing and street fashion continued to blur, we saw high-fashion designers like Stella McCartney partnering with athletic wear companies, in this case, Adidas, to create athleisure wear. The style mixes athletic pieces like running shoes and leggings but makes it so that it could be worn both in and out of the gym with no strange looks.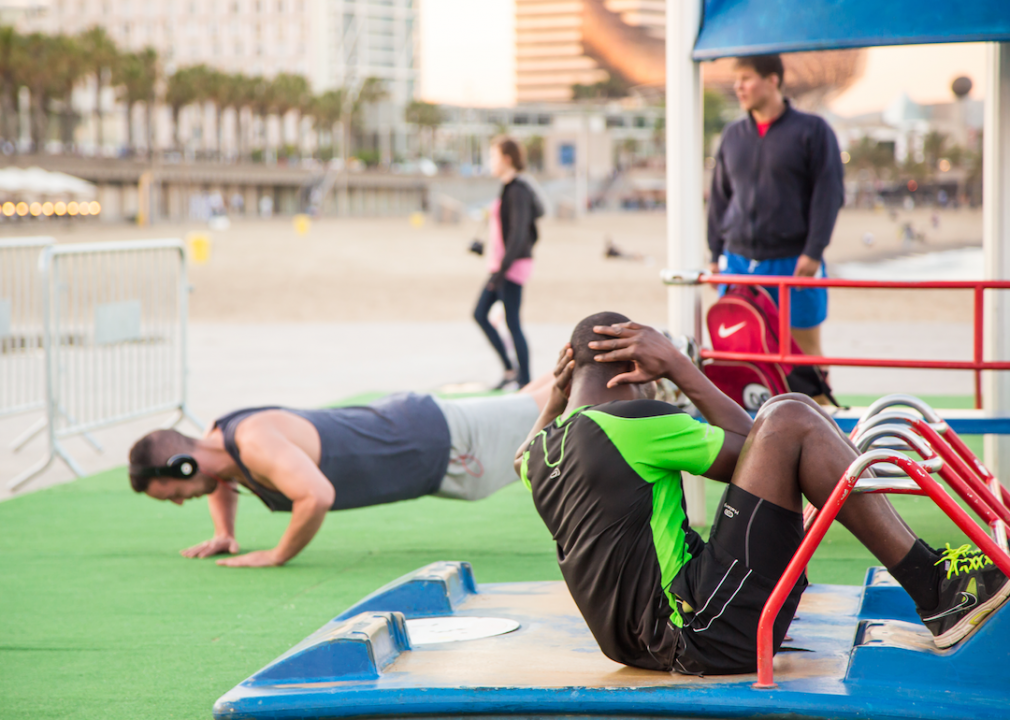 Artur Dabut // Getty Images
Compression wear
CrossFit made compression wear an integral part of fitness fashion. Athletes started to wear things like compression shorts, tights, and even socks to help improve performance as well as help with muscle recovery.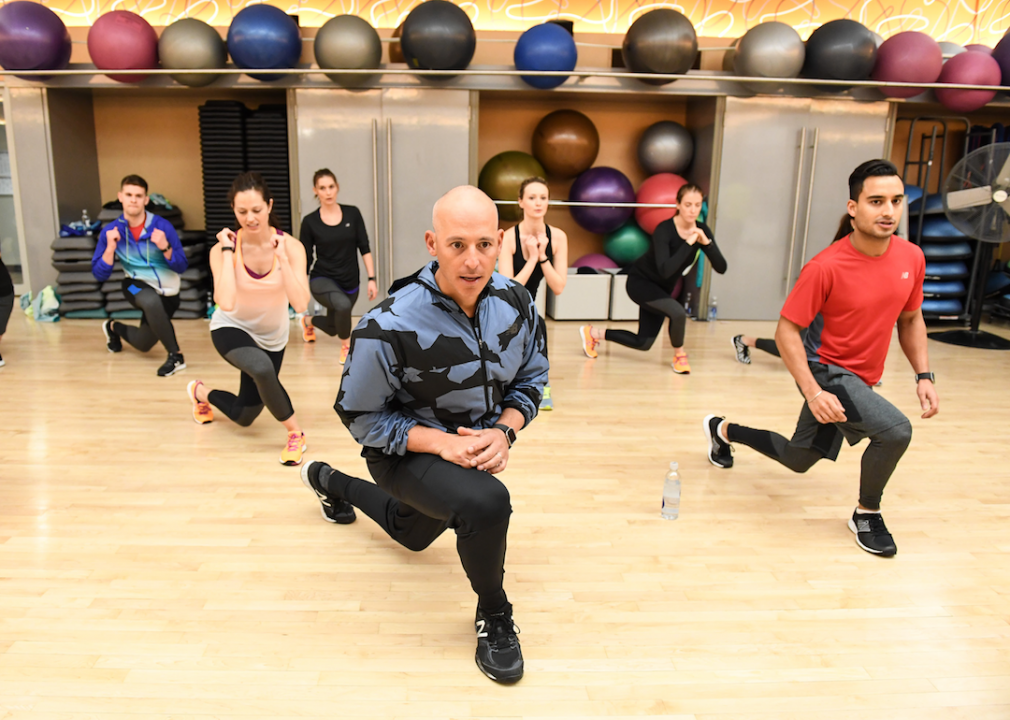 George Pimentel // Getty Images for Fitbit
Fitness trackers
Fitness trackers, like the Fitbit, became the latest wearable gadget to up your fitness game. The device allows you to check how many calories you burned a day, when your heart rate was up, how well you slept, and more: the perfect companion for creating a personalized fitness regime.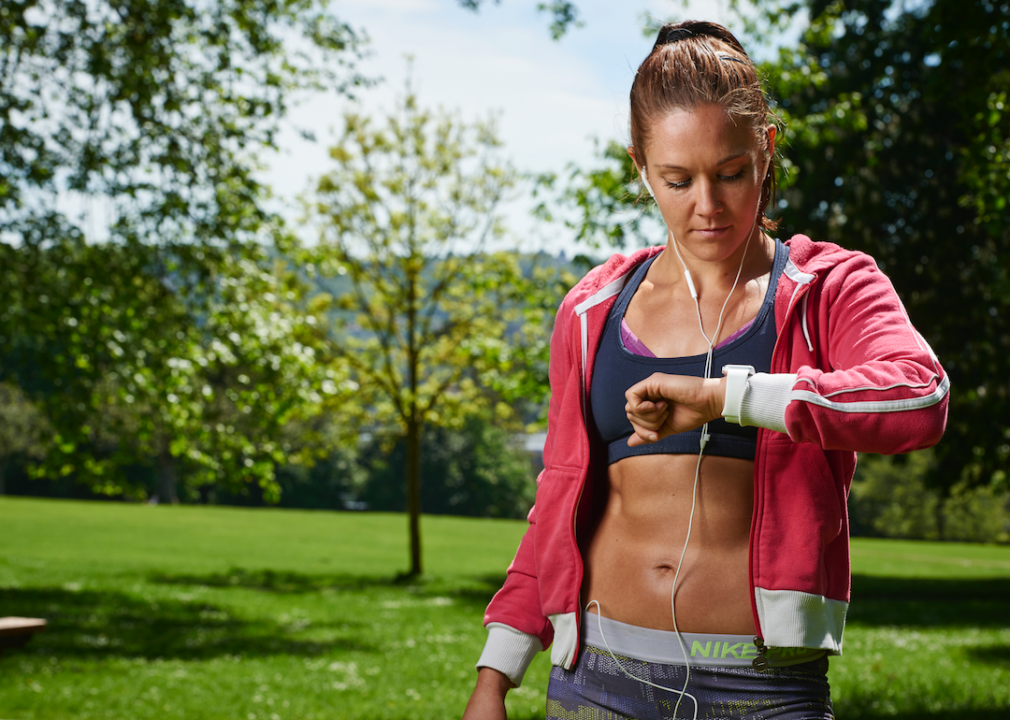 Joseph Branston/Future // Getty Images
Apple Watch
The Apple Watch soon replaced Fitbits as a workout and health tracker. These gadgets boast a sleeker design as well as the ability to integrate seamlessly with an iPhone.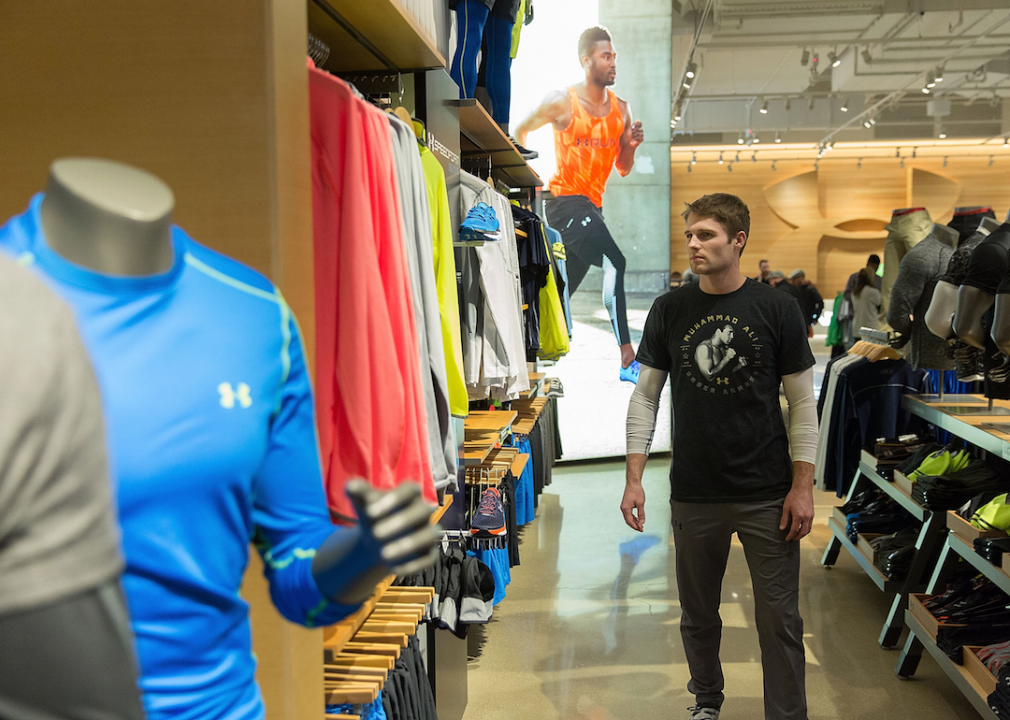 Jeff Schear // Getty Images for Under Armour
An outfit for every workout
Instead of selling general workout clothing to the masses, companies in recent years have begun manufacturing workout clothes designed for specific activities. Whether running, lifting weights, going to a spinning class, or relaxing at home, there's now a specialty outfit to fit that purpose.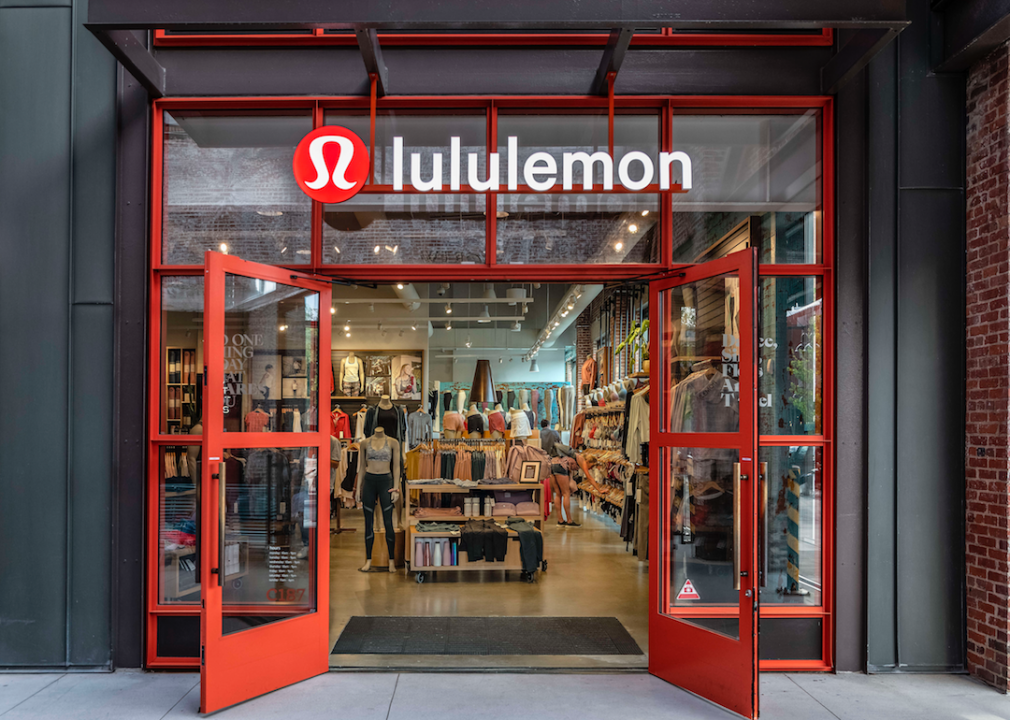 John Greim/LightRocket // Getty Images
Athleisure
Leggings are now worn as everyday pants, thanks to Lululemon and the decline of formal dressing in America. Lululemon was at the forefront of creating clothing that transcended everyday street clothes and fitness class attire.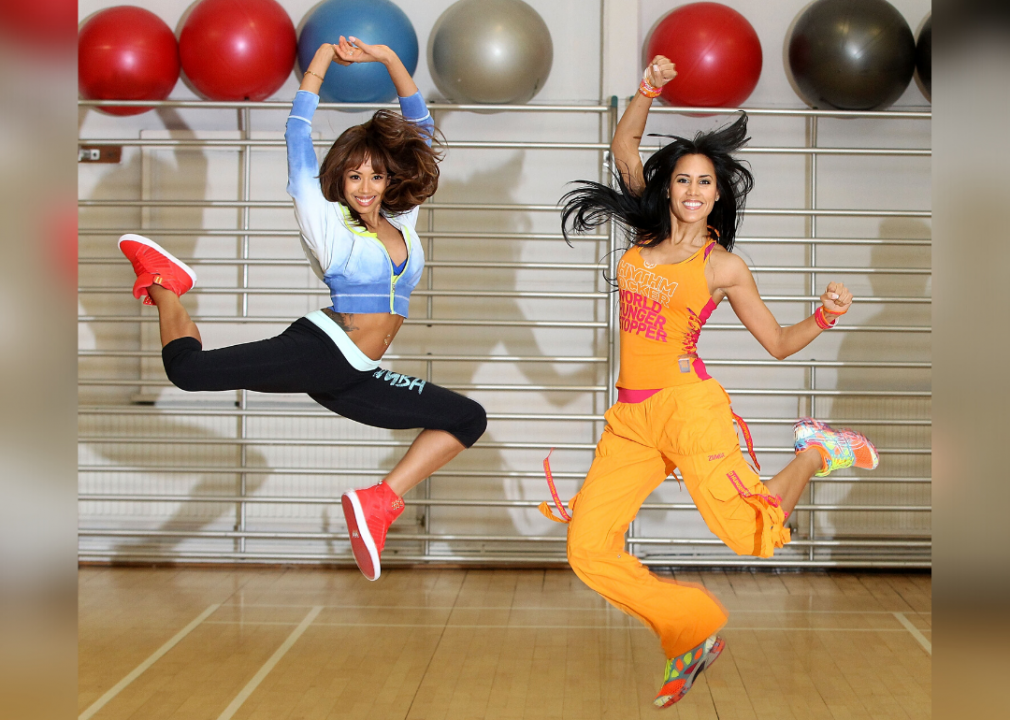 Danny Martindale/WireImage // Getty Images
Dance wear
Dance aerobics became popular again in the 2000s thanks to workouts like Zumba merging upbeat music with a fun exercise class. Workout clothes for Zumba borrowed from the bright colors and patterns of the '80s and '90s: bright and loud, with baggy cargo pants, colorful crop tops, and sneakers.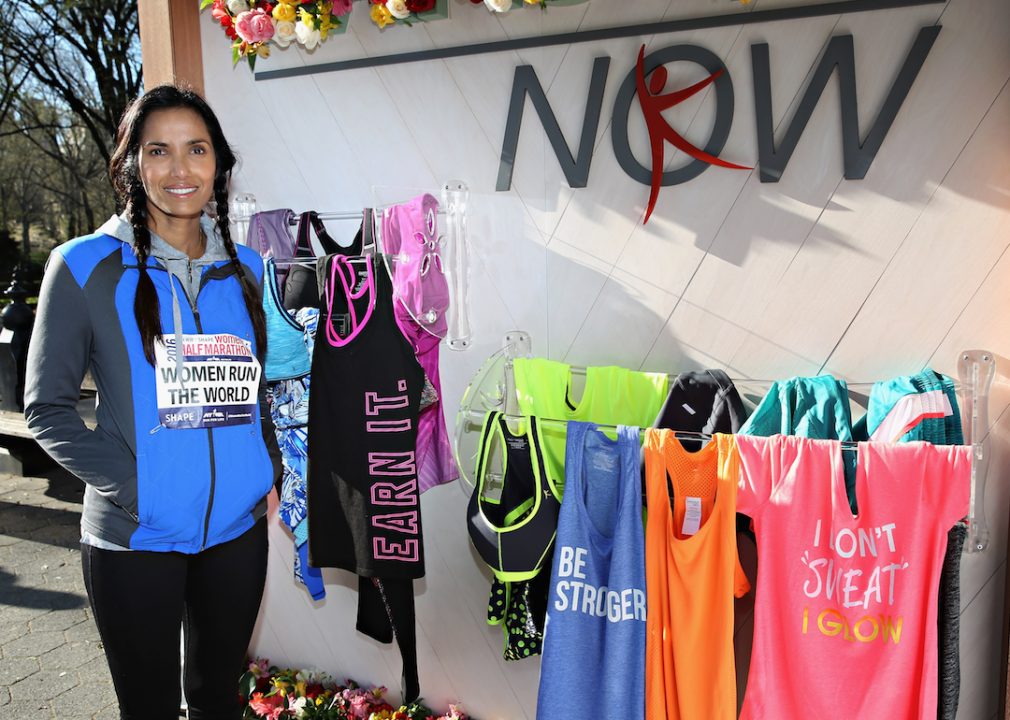 Cindy Ord // Getty Images for Iconix
Size-inclusive activewear
Most fitness clothing of the last half-century was made for people of a certain lifestyle and body shape. Today, companies are expanding their fitness fashion lines to be more size-inclusive and every-body-friendly. Mainstream brand Athleta goes up to 3X, Old Navy to 4X, and other fitness-clothing companies like Nola and GAME cater to plus-size athletes and encourage body positivity.
[Pictured: Danskin NOW and Padma Lakshmi participate in the 2016 MORE/SHAPE Women's Half-Marathon in New York City.]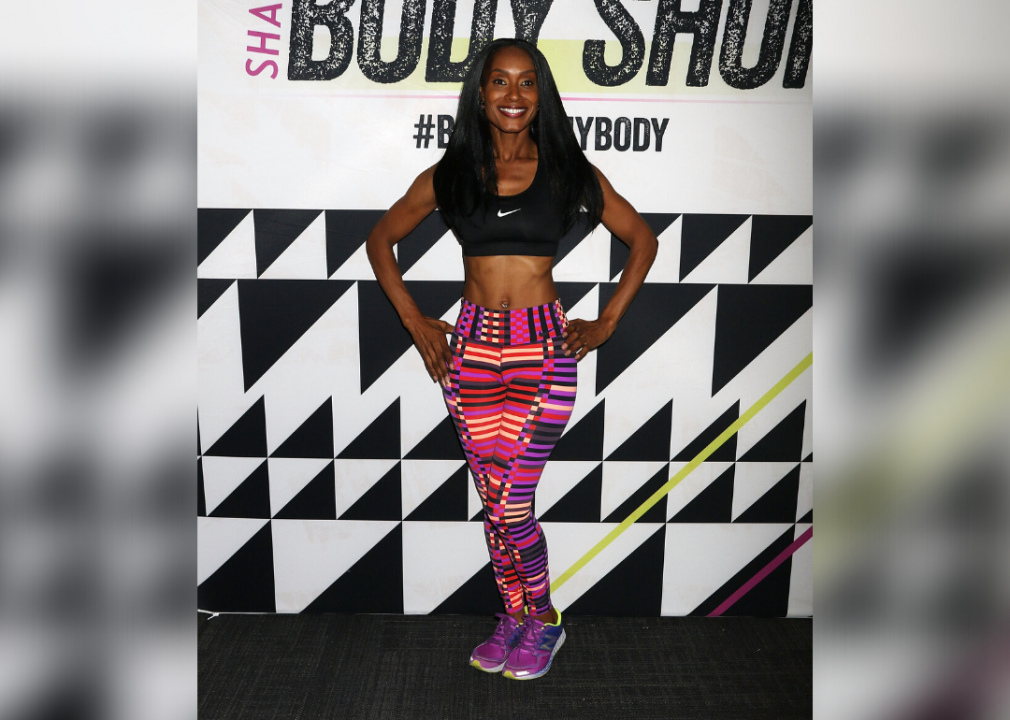 Laura Cavanaugh // Getty Images
Leggings with high-rise waistlines
Leggings were and still are the most universal fitness fashion staple. But as with jeans, in the 2010s we saw the introduction of high-rise waistlines. About time, too, since low-rise pants are not flattering on everyone.
[Pictured: Actress Angela Trotter attends Shape Magazine's Ultimate Fitness Event.]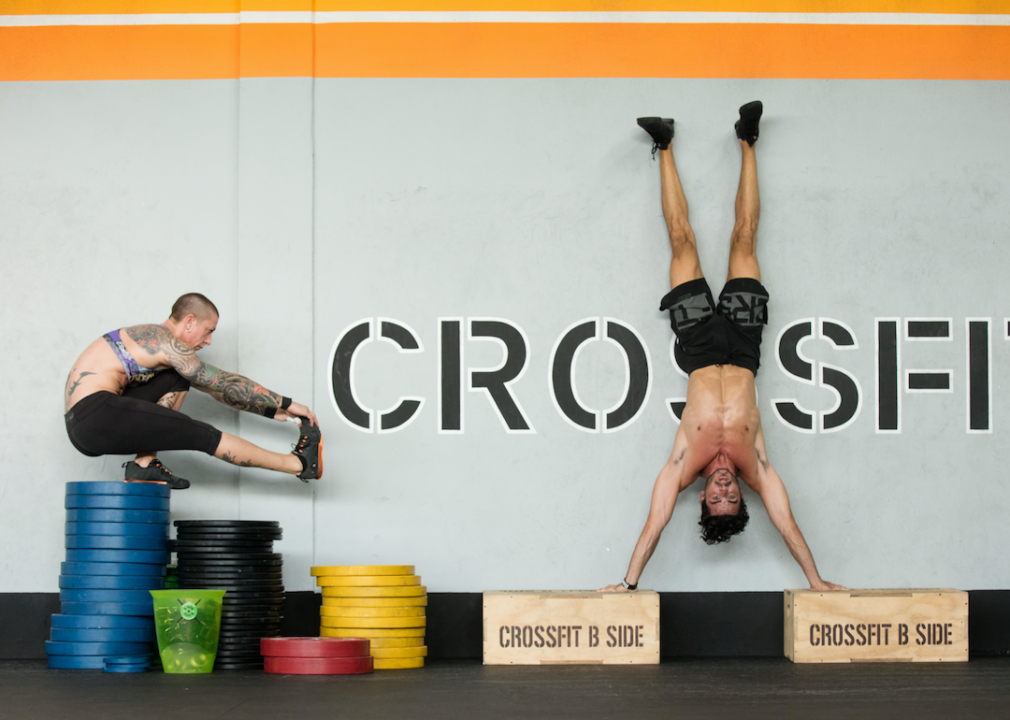 Massimo Sestini\Mondadori // Getty Images
Edgy fitness wear
In 2014 came the rise of "health goth," an edgier, monochromatic version of athleisure wear. Such trends allowed people to still keep their fashion personalities while working out.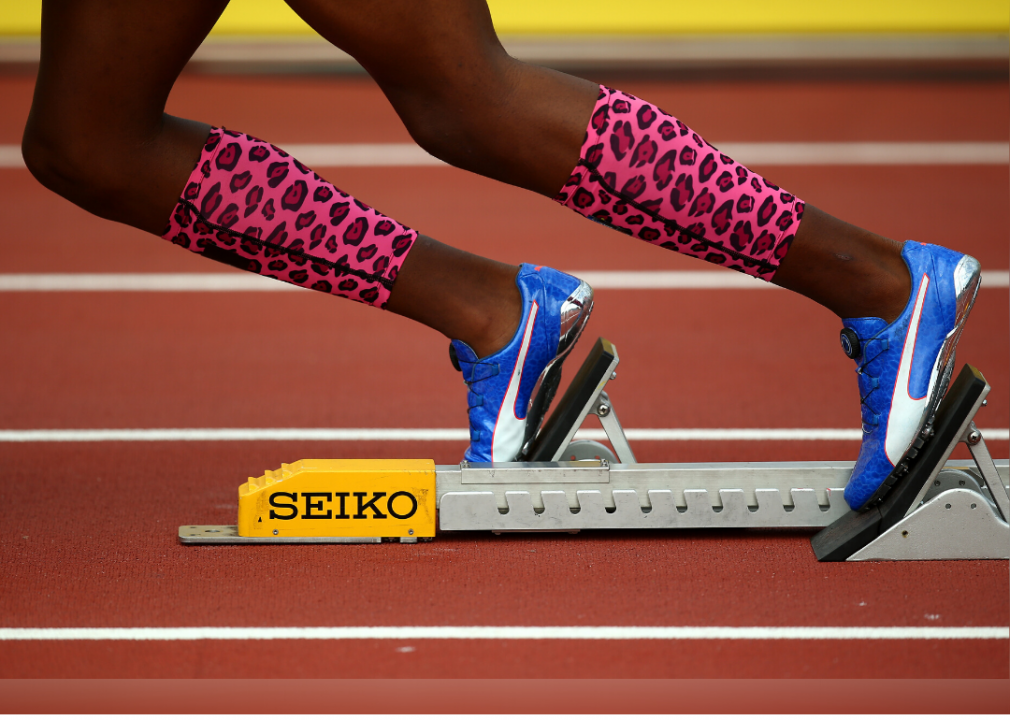 Charlie Crowhurst // Getty Images for IAAF
Stylish compression socks
While compression wear had already become pretty mainstream, compression socks have recently become a fashion statement in and of itself. The fun patterns and brightly colored fabrics made compression socks akin to accessories, instead of the medical garment they started out as.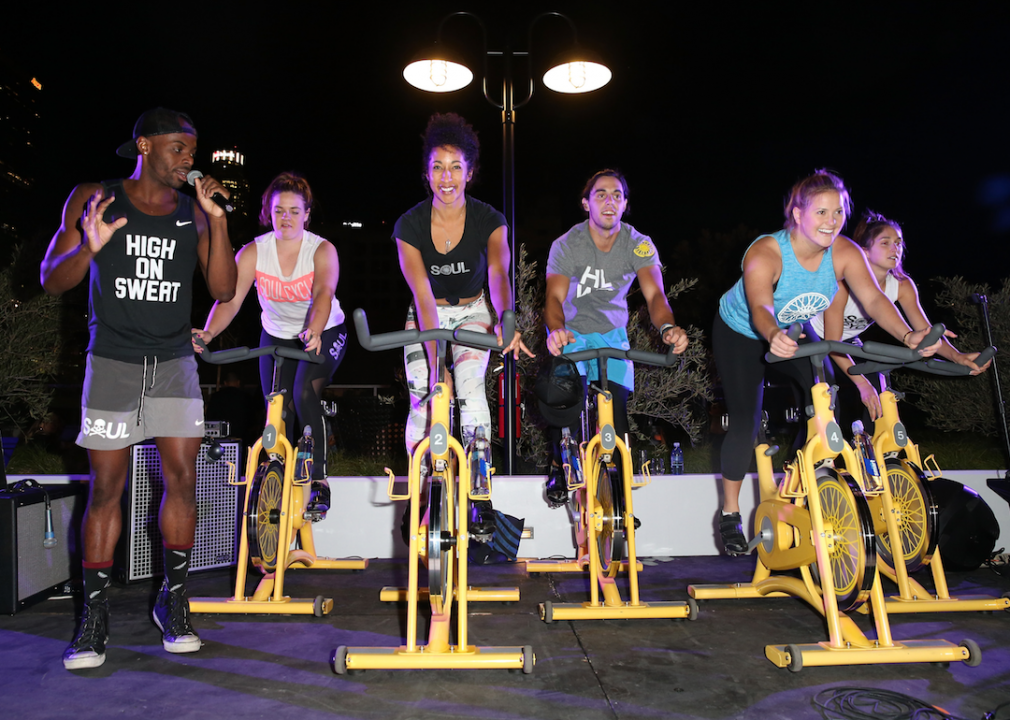 Joe Scarnici // Getty Images for LEVEL DTLA
Boutique gym-branded fashion lines
The boom of boutique gyms like SoulCycle meant many started creating their own fashion lines. The in-house line of activewear mirrored what was popular in stores at the moment. The added logo of the boutique gym helped bolster a sense of community, while also solidifying the exclusive and status-driven mentality that goes along with the gyms. Wearing a SoulCycle T-shirt not only meant you attended the gym; it means you were part of the crew.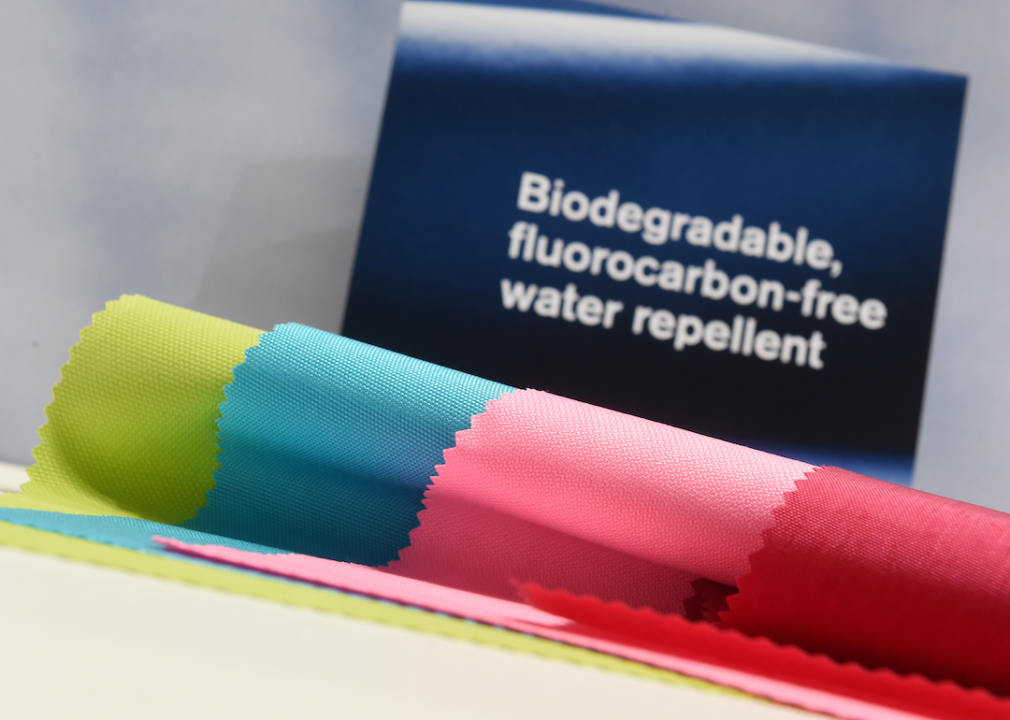 Tobias Hase/picture alliance // Getty Images
Sustainable fabrics
The fashion industry as a whole has become more self-aware about how wasteful and damaging making consumable clothing has become, so it's no surprise that the result has been a rise in sustainable and ethical fabric such as recycled polyester made from water bottles. Other leading fabric materials include bamboo and organic cotton.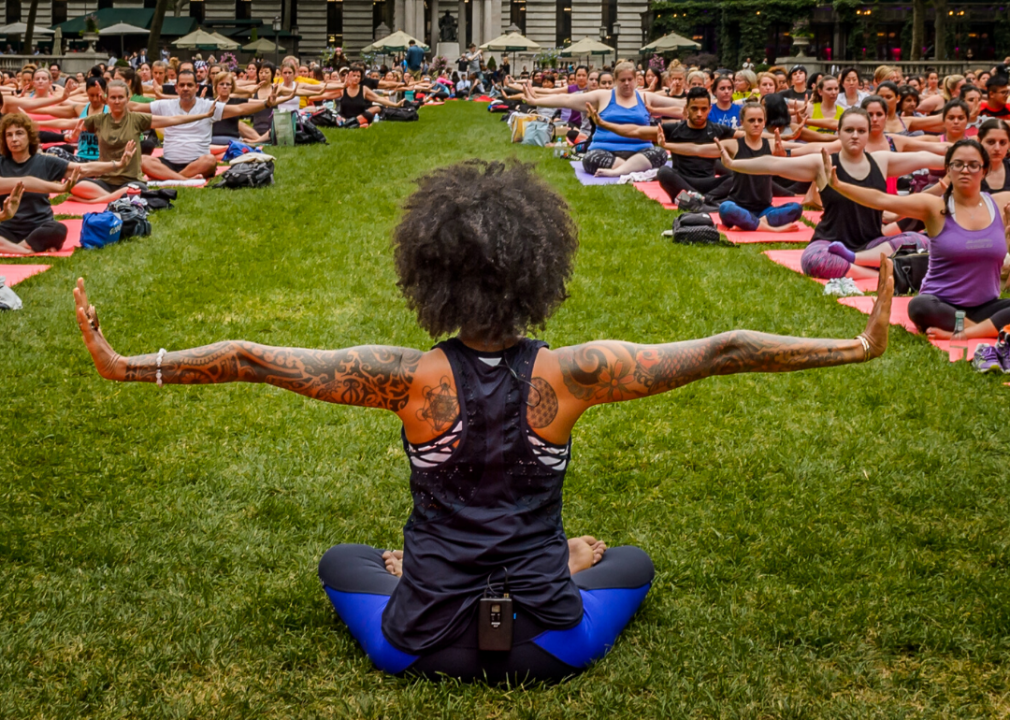 Erik McGregor/Pacific Press/LightRocket // Getty Images
Workout clothes for everyone
While companies like Adidas, Nike, and Lululemon still reign supreme in the sportswear world, companies like Athleta are helping create athleisure wear that more people can wear and afford. For many Americans, a pair of $100 leggings is a pill that's still too tough to swallow, no matter how fashionable it may be.