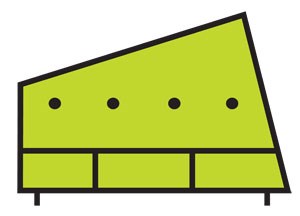 SCENE AND HEARD showcases the independent music scene here in Vancouver.
Green Couch Sessions is a live music video series - experiments in which GCS attempt to marry the artist with the environment.
The music fills the space and the various locations, inevitably producing a sound unique to the session, never to be reproduced, only to be enjoyed by you, the viewers.
VIAindie is excited to partner up with Green Couch to show YOU their latest and greatest videos of musicians and locations from all over the city!
Stay tuned! 
Artist: Dear Rouge
Song: Different
On a cold rainy evening in Vancouver we met up with 2012 PEAK Performance Project winners Dear Rouge in an empty parking lot for a little musical action. We parked the couch exactly where they told us not to... cause we are rebels and we roll like that.
Unfortunately, our perfect undercover location lacked just one thing, an outlet. Which we desperately needed to power our lights, amps and recording gear. So what did we do? Well, we did what any good gorilla operation would do, we hiked to the closest Canadian Tire, purchased an additional 70 foot extension cord, plugged that into our other 70 foot extension and ran it down the street for about a block... to steal... sorry, borrow... energy from an unsuspecting condo.
It all worked out in the end and this video is perfect to cool you off after a hot spring day.
Hosted by: The parkade at 7th and Hemlock