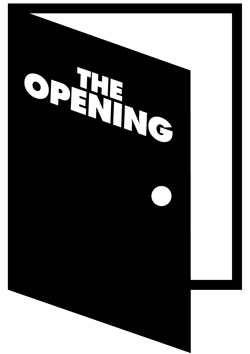 THE OPENING is all about delving into the fascinating, quirky and wonderful visual arts in Vancouver. Each week we'll feature an artist, cover an exhibition, discuss a lecture and everything else in-between to delve deep into who and what makes art happen!
This week's guest article is brought to you by Agnes Wisden, an interdisciplinary artist living and working in Vancouver.
WORDS: AGNES WISDEN
After making my way down into downtown Vancouver and up the stairs to The Hive, a collaborative shared studio space for innovation and community, I was greeted by the set-up for this evening's activities and the sweet sounds of a DJ warming up for another round of Late Nite Art.
A much-loved local club created by Claudia Carmen and Julien Thomas, Late Nite Art is all about inclusive social engagement. Its mandate notes that "you don't need to be able to colour within the lines or draw portraits of fruit bowls – you just need eyes, ears, and an open mind," as non-artists and artists are equally welcomed. The spread on the central long table, an appealing clutter of art supplies, magazines, scissors and glue-sticks, reminded me so much of a childhood filled with adventure and creativity. Just as in those nascent stages of art-making, we were encouraged to be as experimental and carefree as possible with our materials.
Julian began the night introducing guests to Late Nite Art, and set us on the task of finding an image or word in the material on the table  that represented this evening's theme:  Limitations. There was a buzz of activity as each of the 20 guests settled in to find their muse. An incredibly prepared meal accompanied this creative rush:  we were treated to a fresh, local, organic dinner from that morning's Farmer's Market made by the talented Alexander Biko McNaughton. Cash-bar drinks and cocktails, soup with a full, smoky flavour, and vibrant greens made up just some of the spread for the evening.
Soon after, and a special addition to the 19th installment of the Late Nite Art event, was guest and artist in residence Sarah Clement, who took us through her illustration work  in Berlin, 30 day art challenges, and her own approach and ideas to a creative life. Following Sarah's talk, we were all fired up and ready to take on the night's workshop component, which was orchestrated by Julian and Claudia. People tried out multiple mediums, switched seats and conversation partners, and generated engaging dialogue with both new and familiar faces.
A lot of Late Nite Art's success lies in how it arrives in new form every time. Changes in location, topics, features, and people ensure that both newcomers and regulars are engaged in a new way with each event.  Conversation, creativity, and collaboration are the foundation of this social art experience, where the atmosphere is electrified with the unexpected at every moment.
Curious? Check out some footage from last week's event. Late Night Art's Vancouver Chapter holds one event every month, and can be reached via their website and Facebook page.
For current Vancouver arts listings, follow us on Twitter (@ViAtheOpening).