The good news is that we have some amazing home-grown clothing designers that focus on inclusive sizing in addition to large retailers taking notice of the demand for options in expanded sizes. The bad news is that the small businesses don't have physical locations and the big guys aren't bringing the options in-store.
This is an issue because sizing is so varied across different retailers and unless businesses have a comprehensive sizing chart readily available on their site, it's difficult to know how things will fit, especially for those with curves or bodies that don't fit within so-called straight sizes.
Moreover, the opportunity to vet the colour, the quality of the material, level of sheerness, and amount of stretch in person is something that all bodies should have the opportunity to do.
When casual apparel and swimwear brand Nettle's Tale opened its storefront on West Cordova in April 2021 they marked a much-needed step forward for inclusive fashion in Vancouver. The previously e-commerce brand that launched in 2014, created an opportunity for other locally owned, size inclusive businesses to be featured in the space too. But more than that, they were among the first stores to put a diverse range of bodies at the forefront of their business by carrying sizes XS to 4X in-store and designing clothing based on the bodies of the people around them–not just tacking on extra fabric to a pattern made for a size 2.
That's not to say that finding larger sizes was impossible before but there certainly wasn't the same level of choice (there still isn't really).
Plus sized TikTok creator @theabbyhoy put it best. Speaking about her style evolution she said: "When I was a teenager I didn't get to have a Limited Too phase or an Aeropostale phase because I was too busy shopping at the one store at the mall that had sizes for me and dressing like your dad's legal assistant or your church organist so now as an adult they make cute clothes in my size, I'm going to heal my inner child all that I like and I'm gonna look hella cute while I do it."
Vancouver's local designers are integrating style, ethics, sustainability, and inclusivity into their mandates and it's great to see but it's also disheartening when they struggle to keep up with demand.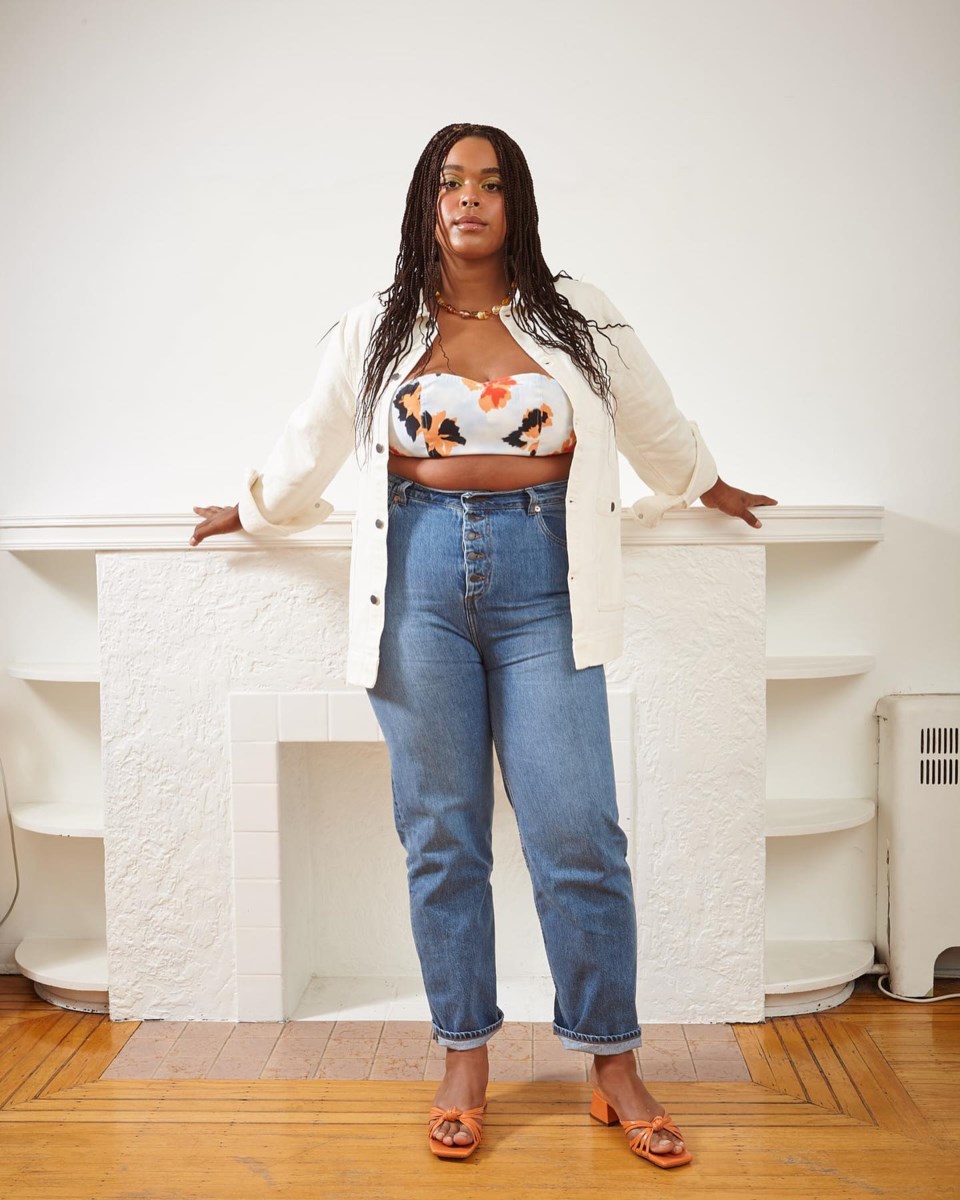 Raw denim label Decade offers ratio-fitted jeans in sizes 25-50 (5X) that take into account height, hips, and waist for the perfectly tailored jean and have had to temporarily close their fitting studio to catch up on orders and new product design.
In theory it's great news that the demand is so high for locally-made expanded-size clothing but the responsibility of moving plus sized fashion forward should not solely rest on the shoulders of small retailers in Vancouver. It isn't fair to the consumer or the small business owner. Larger fashion companies need to not only expand their sizing but bring them in store or at the very least there should be support systems and grants in place to keep small retailers going in a harsh economic climate.
Oge Ajibe a sustainable, ethically sourced clothing company made from recycled fabrics and available in sizes XS to 6X launched in 2018 under the name Ogechukwu Ajibe with a focus on event outfits but when COVID hit was forced to pivot to ready to wear apparel. Two years on and owner/designer Ogechukwu Ajibe has grown her business and released two new collections this year alone. As a small brand, Ajibe has found creative ways to create divine clothing items while minimizing waste. Her one of a kind collection 1 turned deadstock fabric into dresses made to order so once they're gone, they're gone. As of writing this there are only two sizes left (one of which is sitting in my cart).
The moral of the story is that despite the numerous challenges and obstacles, creators in this city are tenacious and resilient and while we can't necessarily support them in person, we will continue to strive to support them online.