Vancouver Is Awesome is a proud media partner of Vancouver Draw Down 2013. The Drawing is Awesome project here on the blog showcases prominent Vancouverites participating in the Online Daily Drawing Project...

Name & Occupation: 2013 Vancouver Poetry Slam Team is Jillian Christmas, Zaccheus Jackson, Erin Kirsh, Floyd VB and Duncan Shields.
Daily Drawing Project: " Get to Know Your Environment! " (From Day 10 Online Daily Drawing.) Get co-workers, family & friends to make a group poem of words torn from papers & magazines in your blue bag. One.Word.Per.Person.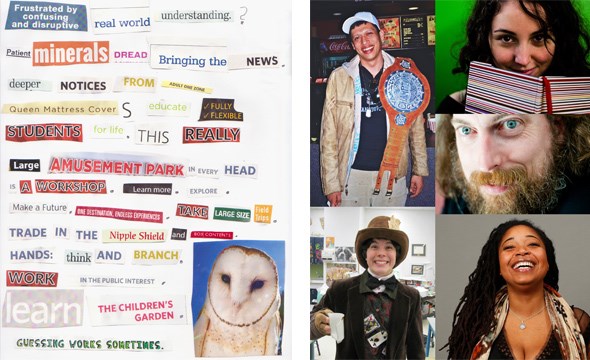 2013 Vancouver Poetry Slam Team - 
"We chose option number 2 because we're much better with words that we are with pictures.  None of us have made a word collage before!  The process was a fun one.  The materials were hilarious to rearrange and take out of context.  We all had a good laugh. "
Visit the Online Daily Drawing Project running June 5 – June 14 in the 10 days leading up to Vancouver Draw Down, an annual daylong celebration of drawing on June 15 that offers free drawing workshops at over 35 locations around Vancouver.
Click here to check out past daily drawings by other prominent Vancouverites!