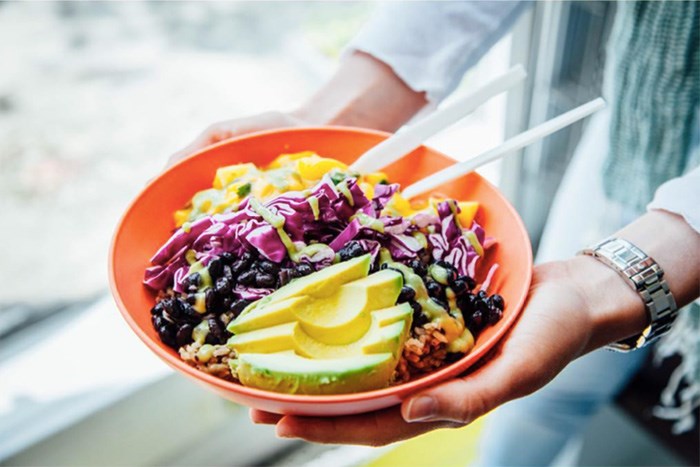 Whether you're looking to dive into a healthier lifestyle or are just straight up hungry, Vancouver's vegan-friendly restaurants boast a variety of fresh and totally delicious flavors that are sure to please all palates. Trust us, eating vegan is way more than just salad, see for yourself:
1. Chickpea (4298 Main St)
Once a vegetarian food truck, now a vegan brick a mortar restaurant, Chickpea serves up insanely delicious Mediterranean fare with a twist. Their falafel is a must-have. Chickpea's Main St. location is 100% vegan and their food truck is vegan friendly.
2. Kokomo (611 Gore Ave)
Recently opened, Kokomo is a plant-focused café serving smoothies, cold brew, juice and awesome acai bowls, grain bowls and a fantastic hemp caesar salad. Kokomo is 100% vegan.
3. Friendly Snackbar (2408 Main St)
Plant-based and gluten free snack bar in Mount Pleasant. Enjoy baked goods, smoothies, rice bowls and more! Friendly snack bar is vegan friendly.
4. Juice Truck (28 W 5th Ave)
Smoothies, juice, fresh meals and all the supplements you need to feel your best. Their almost chocolate smoothie, almond butter cups and parsnip rice sushi rolls are the crowd favourites. Definitely give them a try. The Juice Truck is 100% vegan.
5. Virtuous Pie (583 Main Street?)
Vegan pizza ranging from traditional Italian flavors to bolder soon-to-be-classics like butter chickpea curry pizza. If you're craving something sweeter, they're also serving vegan ice cream. Virtuous Pie is 100% vegan.
6. Vegan Pudding and Co. (22 Richards St)
The one and only vegan custard pudding store! Certified organic, white sugar free, dairy free, egg free, soy free, gluten free and nut free. All that's left is great flavour! Vegan Pudding and Co. is 100% vegan.
7. CHOMP Vegan Eatery (3586 Fraser St)
This quaint eatery offers a menu that includes healthy classics (salads and wraps), comfort foods (vegan sliders), snacks, and fresh baked sweets prepared by Fairy Cakes. They also offer a meal delivery service. CHOMP is 100% vegan.
8. Eternal Abundance (1025 Commercial Dr)
A café, restaurant and grocery store combo offering raw and cooked vegan meals, smoothies & gluten-free desserts. They even serve vegan breakfast daily! Eternal Abundance is 100% vegan.
9. Gorilla Food (637 E. Hastings St)
It's back! Vancouver's favorite vegan spot closed its doors only to reopen just a few minutes East. Healthy, nutritional, pure, prepared, organic, vegan, raw foods and food ingredients prepared in a caring and convenient way. Gorilla Food is 100% vegan.
10. Indigo Age Café (436 Richards St)
Indigo Age Café offers a fresh and healthy menu of vegan cuisine made with seasonal as well as organic and local ingredients. What sets them apart? They also have an exclusive vegan Ukrainian menu and high tea! Indigo Age Café is 100% vegan.