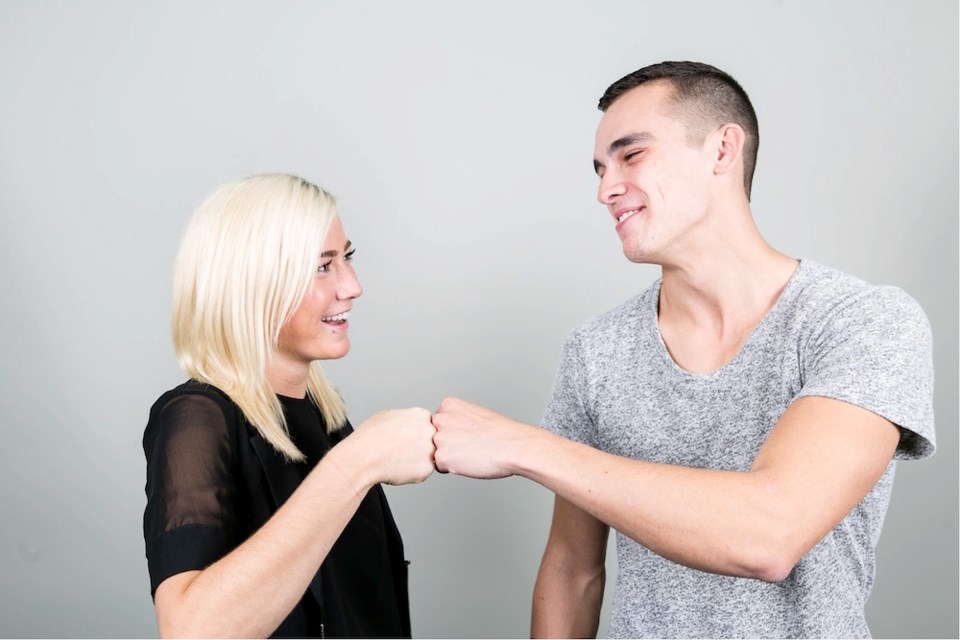 Photo: Britney Gill Photography
Vancouver is home to some of the hottest emerging and established startups, but thanks to The Next Big Thing Foundation (TNBT), our local startup scene just got a whole lot cooler (and younger). TNBT is an elite fellowship for the country's brightest and best entrepreneurs (you know, the kind that make you wonder what you've been doing with your life?) It was founded by Hootsuite CEO, Ryan Holmes and entrepreneur Meredith Powell to give aspiring founders access to mentorship, scholarships and real-world learning the duo missed out on growing up. 
Starting now, 21 fellows aged 15-23 will be working out of the Hootsuite offices scaling their ventures and getting one-on-one mentorship with Vancouver's top business leaders. Before these guys hit the front pages of Wired, here are 12 startups to keep your eye on!
SOULAR BACKPACK

Founder:

Salima Visram

What it is: A backpack that leverages the power of the sun into creating a brighter future for children who live in areas that are prone to energy poverty. In her words: 

"Seeing the effects of poverty on the lives and livelihoods of millions of people from a young age, and realizing that entrepreneurship could be used to give people the tools to empower themselves, specifically social entrepreneurship, I wanted to create sustainable, meaningful social change through bringing light to enable children to reach for their dreams!"

Salima Visram
Founders: Aidan Gay & Maya Gay

What it is: Think cards against humanity - but PG! Basecamp Card Co. is a bro and sis run venture that's revolutionizing the classic deck of playing cards with the addition of ice breaking, conversation-prompting questions.

In their own words: "Being an outdoor enthusiast, we look forward to making friends along the trails. Everyone brings a deck of cards with them camping, and we decided why not add conversation prompting questions to create a more meaningful, memorable experience." - Maya Gay
Founder: Miguel Kudry

What it is:  A platform that connects students with tutors anytime, anywhere and allows people to learn and teach on their own terms.

In his own words: "I lived the pain from high school to college. As a failing student, I built HelpHub to fix my own problem: I wanted to ask real people for help whenever I needed it."  - Miguel Kudry

Founder: Zoya Jiwa 

What it is: A fashion site for people to successfully navigate the symptoms and side effects of chronic health conditions. It's a space where comfort meets style, where functional fashion thrives, and where courage truly shines.

In her own words: "Having lived with an autoimmune disease called Lupus (SLE) and a pain disorder called Fibromyalgia (FM) for several years, I have had no choice but to be creative and innovative with how I dress to accommodate to my unique needs. When I discovered that friends of mine with various physical and mental health conditions were doing the same, I saw an opportunity for us to connect our individual stories to a greater community of empowerment and positive impact."  - Zoya Jiwa

Founders: Jordan Romero-Porter, Hilton Routley, Matt Stefan, Kelsey Maes

What it is: A social network for our event lifestyles. Festfeed is racing to be the social network for events that starts with their experience management platform combining a social network, event management and audience engagement tools.

In his own words: "We were inspired to create Festfeed when we noticed a lack of an online community that could enhance great events through a social medium." - Matt Stefan

Founders: Kristoffer Vik Hansen, Josh Andrews, Alexey Indeev

What it is: Ridesharing 2.0: Spare is a real time ridesharing platform, providing people with a highly sustainable, community-driven transportation platform for the connected society.

In their own words: "We started spare to create a platform to improve the local community by connecting people that would not otherwise meet. We are creating a truly crowdsourced transportation system." Kristoffer Vik Hansen

Founders: Rishabh Chaudhary, Kirill Polzounov

What it is: Taski is a marketplace for short term work in other words, UBER for gigs. Taski is changing the workforce by allowing users to hire short term workers on demand with help in anything babysitting to late night coffee runs.

In their own words: "While being students, we felt it was difficult to work part time over the school year due to courses. Students want flexibility and the option to make money whenever and wherever, this is what lead us to start taski." - Rishabh Chaudhary

Founders: Sarah Main, Brent Hussey

What it is: Think Slack, but for students. Reach is a web collaboration platform for students that incites student collaboration with the power to learn and share ideas and information efficiently, without the compromise of personal information.

In their own words: "As a student myself, I found it to be a major problem that all of my school collaboration & communication was facilitated on Facebook. Students are a period of their lives where they want professionalism but do not fit under the corporate structure as they are constantly interacting with their peers for only a short period of time. Therefore I wanted to deliver professional communication but that adapted with their flexible social graphs." - Sarah Main

Founders: Alex Sismanis, Steven Liu

What it is: Currents is a social media app that lets you see everything you care about locally. All in one place.

In their own words: "When I first moved to Vancouver I didn't know anyone here and felt like my existing social media didn't help me meet new people or discover what the city was like. I wanted a place where I could meet new people to interact with about the things I love."  - Alex Sismanis

Founder: Layne Lafrance

What it is: Iconik embeds your favorite emojis with rich, click-through content. Iconik is all about image-based mobile advertising using emojis. Phones are cluttered with apps, we are centralising the most important aspects of mobile devices into the single place where people are, and will continue to communicate.

In their own words: "Brands and companies have the power to shape people and trends more than many of us would like to admit. I wanted to see that come to light in the most positive and rewarding way for both parties." - Layne Lafrance

Founder: Tara Bosch

What it is: A truly healthy candy that tastes amazing. Candy with a conscience.

In her own words: "My Grandmas quality of life has suffered because of the high sugar content in the sweets she consumed over the years. I believed people should be able to enjoy the food they love without compromising their health." Tara Bosch

Founder: Michael Go

What it is: A social network data aggregator by topic similarity.

In their own words: "It always has been a challenge for companies to understand their users. I wanted to create an innovative solution to solve that problem." - Michael Go

The Next Big Thing is currently accepting applications for its first ever Toronto cohort. For more information or to apply, visit www.wearetnbt.com