Vancouver city council was unanimous Tuesday (Jan. 25) in calling on staff to take a second look at a new bylaw that requires businesses such as coffee shops and restaurants to charge a 25-cent fee to customers for each disposable cup sold.
The move by council, which was not on the agenda, came at the end of Tuesday's meeting when Coun. Rebecca Bligh raised concerns she was hearing from customers and businesses about the fee, which took effect Jan. 1.
"I think the public are really going to feel reassured that we as council are not just providing or coming in with a top-down policy— that we are stepping into our role as government to roll something out, and then go and look and see how it's actually working," Bligh told council.
The councillor emphasized she wasn't requesting a repeal of the bylaw, but a report back from staff by March 15 that provides council with evidence and data on the policy "to make any tweaks, if necessary."
'Heard less about bag issue'
Vancouver is believed to be only city in North America to introduce a 25-cent cup fee bylaw, which is aimed at reducing landfill waste.
The bylaw also bans single-use plastic shopping bags, with businesses now required to charge 15 cents for a paper bag or $1 for a new reusable shopping bag.
Bligh's motion excluded the 15-cent bag fee.
"I've heard less about the bag issue, mostly because people generally have various reusable bag options, but not necessarily cup options," Bligh said.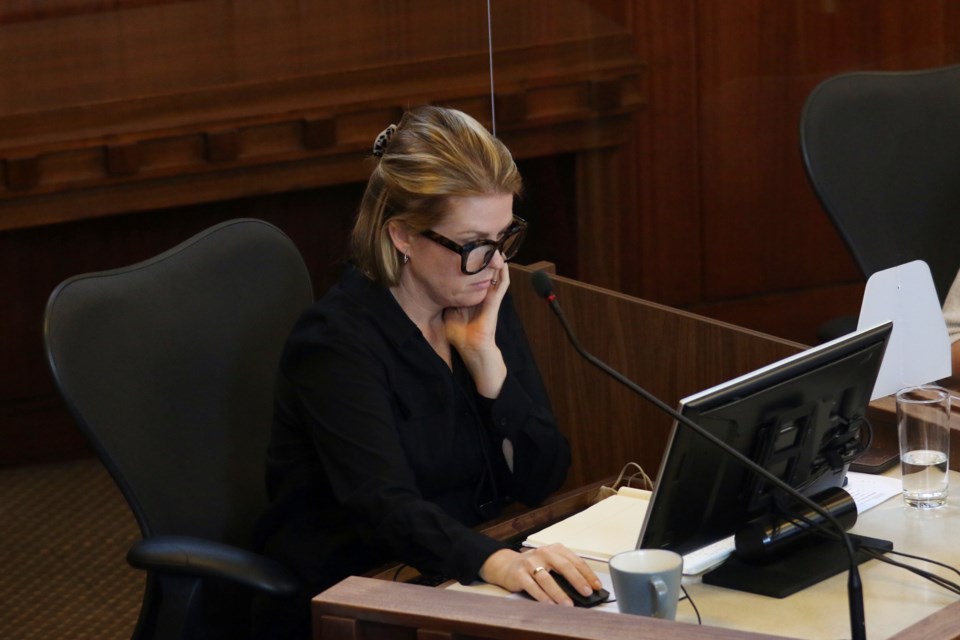 In an interview Wednesday, Bligh shared some of the stories she's heard from citizens about their concerns with the 25-cent cup fee.
They included:
• People on a low income, or social assistance, now having to pay an extra 25 cents for a cup of coffee.
• "Grey areas" about whether businesses were accepting a customer's reusable cup, some of that related to confusion over what is allowed under COVID-19 public health orders.
• Drive-through customers' frustration with having a reusable cup and bag, but not being able to use them and instead being dinged with the cup and bag fee.
• Conflicts at coffee shop counters between customers and servers over the new charge.
• Movie-goers with passes being asked to pay an extra 25 cents for their beverage, but only having a credit card, with the movie theatre not accepting transactions under $3.
• A family of four ordering four drinks and enough food to fill two paper bags being charged an extra $1.30 for their meal — and not being able to use reusable cups and bags when ordering via a delivery app.
'Not intent of bylaw'
Bligh told a story of recently getting a 12-cup carafe filled with coffee at Tim Hortons, which she later delivered to the Overdose Prevention Society in the Downtown Eastside.
The total cup fee amounted to $3, but Bligh said the server told her not to worry because the coffee price was dropped to offset the fee.
"Obviously, that's not the intent of the bylaw at all," she said. "It also disadvantages those smaller, local companies that can't afford to normalize that as a loophole around the 25-cent fee."
All food vendors with a business licence must comply with the disposable cup bylaw, with the 25-cent fee required to be displayed on menus, including online ordering platforms.
Businesses keep the cup fees and are encouraged to invest in reusable cups for drinks to stay, commercial dishwashers and reusable cup-share programs.
How many businesses are following that advice with their increased revenue is unclear.
Coun. Pete Fry said during debate Tuesday that as the city's representative on Metro Vancouver's zero waste committee and national zero waste council, "I can tell you that lots of folks are looking with keen interest on what we're doing here."
"Obviously, it seems that it's our big corporate citizens that are probably the least agreeable to this work and least supportive, and that's unfortunate," Fry said. "But I think there's also opportunity to make a shift with them, and I think it would be important to get them at the table on this."
The cup fee and ban on single-use plastic bags are in addition to bylaws covering polystyrene foam cups, foam takeout containers, plastic straws and single-use utensils that took effect in 2020.
The city's website says every week that 2.6 million disposable cups and two million plastic shopping bags are thrown in the garbage in Vancouver [63 per cent of the bags are reused as garbage bags].
Cups and takeout containers make up about 50 per cent of all items collected in public waste bins and are a significant portion of litter on Vancouver streets, according to the city's website.
Starting with 2023 licence renewals, food vendors must report the number of single-use cups distributed in the past 12 months at each licensed location when they renew their business licence each year.
'Going in the direction to kill it'
The reporting requirement is waived for each business participating in a reusable cup-share program, which Coun. Michael Wiebe noted Tuesday would take a while to catch on in Vancouver.
"It's going to take a while for them to implement, it's going to take a while for large corporations to shift the way they do business and customers to change behaviours," Wiebe said.
He said he struggled with supporting Bligh's motion, and pointed out the financial hit many businesses have taken under pandemic-triggered restrictions.
The cost of takeout for business owners, particulary those who run small operations, has increased substantially, he said, noting he was glad more revenue was being generated for operators via the bylaw.
"I like that what staff brought forward [with the bylaws]," said Wiebe, former owner of Side Hustle Sandwiches in Mount Pleasant. "I know there's some kinks in it. But I'm a little nervous that this is going in the direction to kill it."
Bligh assured Wiebe that wasn't her intention, which she reiterated in her interview with Vancouver Is Awesome when asked about having staff examine the effect of the bylaw and its unintended consequences on citizens.
"I'd like to see something that incentivizes the right kind of behaviour — that would incentivize a business to demonstrate their ability to participate in reducing waste," she said.
"I don't want to pre-empt what some of those solutions could, or would be. But I think the run-up to this bylaw could have used a lot more engagement."
Registered charities and non-profit corporations are not required to charge fees on single-use cups used to provide beverages for free or at low-cost to citizens, or report the number of cups used for this purpose.
If a business doesn't comply with the single-use item bylaws, the city says its initial response will focus on education, outreach and support to help an owner adhere to the regulations.
If that doesn't work, enforcement may include issuing tickets, which carry a fine of $500 per offence. Further prosecutions in provincial court could be subject to a maximum fine of $10,000 per offence.
@Howellings