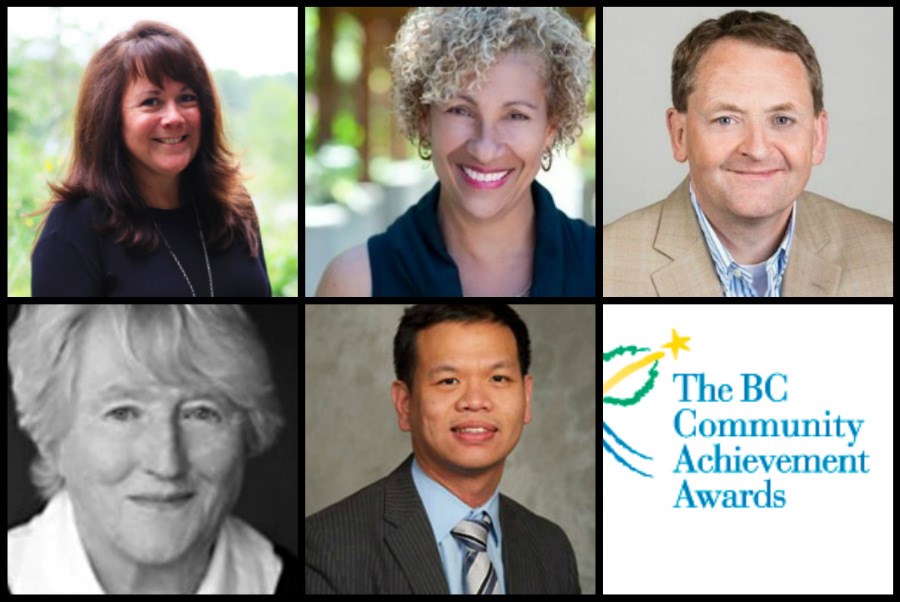 Five Vancouverites are being recognized for being amazing people that dedicate their time and effort to community building and making this city a better place to live.
The Vancouver recipients of the 2018 BC Community Achievement Awards are: Lolly Bennett, Patty Macleod, Andy Yu, Kim van der Woerd and Aart Schuurman Hess.
Here is what they have to say about what they do, why they do it and how they feel about being recognized for their work.
Lolly Bennett
Lolly Bennett says she was "blown away" and surprised to hear she was receiving the award. She is a volunteer, board member and chair of the Vancouver chapter of the National Congress of Black Women Foundation.
"We archive a lot of Black history in the city. We work extensively with Burnaby and Richmond schools where we've initiated a big discussion on anti-racism around Black History Month," Bennett says.
She works for Kevington Building Corp managing 150 rental units including the company's flagship residential property called District Main. "It has a huge community focus and is used as a model by the City of Vancouver."
She says before they built the building they did focus work to see and implement what renters wanted. "The top comments were: 'I've lived in my building for five years and I don't know my neighbours.' Then you try to change that." The building has a rooftop garden with beehives that produce honey, which is given to the tenants at the end of the season and an in-house Facebook group to help residents stay connected.
"I hope me being myself as a proud citizen, I hope that is what's seen in what I do," she says.
Paddy Macleod
Paddy Macleod has dedicated the past 45 years to enriching the arts scene in Vancouver. She says she was "of course, very happy" to hear that she would be receiving an award "but my response is that I should probably give them a medal because it's been such a wonderful experience working in the arts. I'm having a terrific time."
As the general manager of the Vancouver Cantata Singers she assisted the director and choir in winning the Canada Council's Healey-Willan Prize, three times. Macleod co-founded the Blackbird Theatre Company in 2004 and is a current board member and secretary of the Vancouver Youth Symphony Orchestra. She is also the vice-chair of the Vancouver Concert Hall and Theatre Society.
"There's an absolute hotbed of the arts especially in Vancouver. So many theatre companies, music companies and choirs. There's a huge amount of stuff happening and it's really rewarding to see it," Macleod says.
Andy Yu
Andy Yu has worked tirelessly for the inclusion of people with disabilities and served as the president and chair of the board of directors of the Cerebral Palsy Association of British Columbia for seven years.
He developed the services and programs available, increased the organizations revenue by 100 per cent and earned the City of Vancouver's Accessibility and Inclusion Award in 2013. Andy is a chartered accountant and has worked as a corporate controller for Taseko Mines.
He lives with cerebral palsy and serves as an inspiration and role model to many people. His motto is,"never give up. There are setbacks along the way but don't get disheartened. If you have enough faith and confidence, you can do anything and you need to make it happen for yourself."
 Kim van der Woerd
Kim van der Woerd says receiving the award is "an incredible honour and I feel deeply humbled." She is a member of the Namgis First Nation and a board member of YWCA Metro Vancouver and more recently, YWCA Canada. Van der Woerd founded Reciprocal Consulting and helped the YWCA build a reconciliation framework "looking at tangible ways within all of their programming that they can be part of the movement."
Reciprocal Consulting does evaluation work with Indigenous communities in B.C. and across Canada "trying to create the space for valuing Indigenous ways of knowing and being." The company has completed about 165 projects working with about 80 different clients.
She says they are working on a two federally funded projects: one supporting people in leaving the sex trade and a gang prevention program in two communities. Reciprocal Consulting has also looked at the effectiveness of Northern Health Authority's Aboriginal Patient Liaison Program, which helps "patients who leave the healthcare system and go back to their home community but still need medical or other supports once they get home."
Reciprocal Consulting has also provided experience for about 30 Indigenous students to help them prepare for graduate school.
"The clients that we've worked with have an increased appreciate for Indigenous ways of knowing and doing and understand that there's a very long colonial history in Canada that influences how the work is done in communities. I think there's more of an appreciation for the need for community-driven and community-led work," she says.
Aart Schuurman Hess
Aart Schuurman Hess said the award is "great recognition for the hard work" he and the people he works with have done. Schuurman Hess been the CEO of the Greater Vancouver Food Bank since 2012, which offers food assistance to 27,000 people every week. He has focused on improving the quality of food they distribute by developing food guidelines and nutrition standards.
Schuurman Hess says they are also "creating a more dignified, respectful and warm environment" for people to access the food. The new community food hub model brings in partners to sell subsidized local produce and social agencies that can "provide tools to our members that could help them. We're using food much more as a connector."
The GVFB also delivers food literacy programming in classrooms and offers adult education on "cooking food from scratch" in community kitchens. He says 22 per cent of the people who access the food bank are children, which is lower than the national average. Schuurman Hess adds that 22 per cent are seniors, which is higher than provincial and national numbers because "it's a very expensive city. Families are leaving and seniors are stuck."
These five Vancouverites are part of a group of 25 people from across the province that are being honoured this year for their "remarkable contributions as both volunteers and engaged citizens," says Scott McIntyre, CM, chair of the British Columbia Achievement Foundation.
Award recipients will be presented with a certificate and a medallion designed by Haida artist Robert Davidson during a ceremony at Government House in Victoria on April 25.