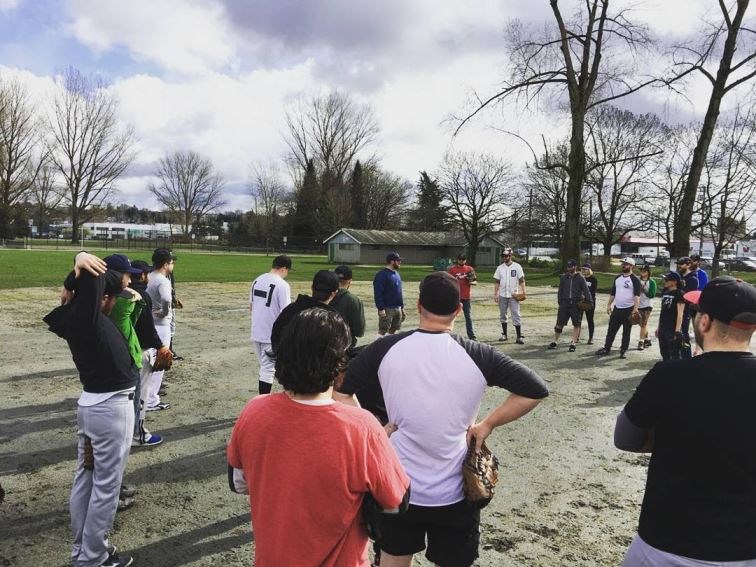 Baseball is back! And if you're anything like us at the East Van Baseball League, you went hard this winter. Hard eating, hard drinking, and hardly active. And although spring is right around the corner, bringing with it the promise of a sports-filled schedule, your Winterbody might be showing more signs of extended hibernation than an extended workout routine.
Well you're in luck - whether it's summer sandlot ball, backyard soccer, or pavement pounding street hockey you're gearing up for this summer - the EVBL has teamed up with Vancouver Baseball Academy's Mark Pottie to bring you seven easy tips for whipping that formidable winterbod back into midsummer form and steering clear of summer ruining injuries.
----------------
EVBL: So Mark, who the hell are you?
Mark: Well, I have played baseball every spring/summer for 35 years. I love baseball and I'm stoked to be joining the Railtown Spikers, the newest team in the East Van Baseball League.
EVBL: How are you qualified to tell us what to do?
Mark: My day job is as a certified personal trainier and baseball coach. You can find out more at www.pottietraining.ca (seriously) and www.vancouverbaseballacademy.com
Getting your body ready for recreational sport can be very important to your enjoyment in the game and avoiding injury.
EVBL: Thanks for that. How about you tell us some tips?
Mark: Sure thing. Here you go...
1. Run
Do not let your first sprint down the first base line be your first run of the year. Get out and jog first. I'm not talking about training for the Sun Run or the Vancouver Marathon. Find a field, lace up the cleats, and jog back and forth a few times. Next time out ramp it up, start with the jogging again to get warm, but this time you are going to add on some sprinting. Do six to ten 60-90 foot sprints. Sprint out, walk back to where you started for your rest, and repeat.
2. Exercise
No one wants to get injured in their first game of the year and have to deal with a nagging injury all season, or worse, have to miss games. It happens all the time though. Take your body through a series of simple exercises to prepare it for the explosive moments necessary in baseball. And there are lots of these explosive movements, every game, despite what your friends who hate baseball may say. Lunges, squats, pushups, and a twisting exercise of some sort are a few simple movements that can awaken those dormant muscles.
3. Stretch
Ok, so now you've run and you've done some squats and pushups, and your muscles are saying "hi" and thanking you for using them again. Their thanks is in the form of soreness and tightness, and your best medicine for alleviating these symptoms is stretching. Get on the floor at home or at the gym or go to a yoga class in your neighbourhood. Moksha Yoga in East Van is a personal favourite of mine. Making stretching a habit can help you avoid injury and can even improve performance, as having a good range or motion and fluidity of movement can make you a better ball player all around.
4. Equipment check
Get that gear out of the closet/basement/garage a few weeks before your first game or practice. Are the cleats still intact? This is a city where you don't want to have any holes in your cleats; it makes for real wet feet. Slip on those batters gloves. Many a season has started with me putting on my gloves for the first time only to have my hand tear through the dried cheap leather. If you play in a wood bat league you better have two; the early season cold increases your possibility of a bat breaking. Prostock, MVP, Abbie's on Main Street and Hockey Heaven (yes a hockey store) are my favourites for getting geared up.
5. Throw
Now down to some actual baseball. Throwing is one of the hardest things we put the shoulder through, so not warming up the shoulder properly for the season could leave you not being able to throw more than 50 feet without it hurting. Good news - it's easier to get better and stronger with your throwing, just throw. Start off short, stay short at first, then slowly start to lengthen out your games of catch until it's as far as you can throw. Can't find a friend to play catch with? No worries, buy yourself a lacrosse ball (I know Abbie's carries them), find a school yard and play catch off the wall. The lacrosse ball is perfectly weighted for training the arm, not too heavy, not too light.
6. Swing the bat
The act of hitting a baseball is the singular most difficult thing to do in sport, period. Try to argue with me 'cause I have some statistics that will prove me right every time. No need to fret, you can do this - it just takes practice. Find a friend or a tee (tees are great) because the more reps of you seeing the ball and hitting the ball only makes you better. Friends help too - search a little thing called 'soft toss' on YouTube and you can help each other and not have to worry about balls getting hit back at you.
7. Get instruction
There are many people in this city that have many years of experience playing the game of baseball. Many of those people derive great enjoyment from seeing others enjoy the game as much as they do. Because of that they are often very eager to pass on whatever knowledge they have to improve your skills and thereby your experience. Get a friend or 2 or 6 or a whole team and hire a coach to come out and give you some tips to have more fun on the field. Also, don't be afraid to ask others who are better than you for help. You'd be surprised how often they are willing.
---------------
Well then, there you go, you fine amateur athletes of Vancouver Is Awesome. With one extra hour of daylight now, it's time to get your self-neglecting derrières back in shape. Go team!
To find out how you can catch a pre-season game, join the East Van Baseball League group here: www.eastvanbaseball.com