A correspondence between a regional health authority and a private academic institution has sparked a broader conversation about the politics of public health policy in British Columbia.
Penned to the University of British Columbia President Dr. Santa Ono from Vancouver Coastal Health on Feb. 16, 2022, the letter discusses the implications of a policy of deregistering students who did not disclose their COVID-19 vaccination status.
In the letter, which was shared on social media, the health authority stresses the importance of using the "least intrusive restrictions," adding that the majority of students are vaccinated. It also states that two doses of vaccine are effective at preventing severe illness from COVID-19 but are "not effective at preventing infection or transmission of the Omicron variant."
In regard to transmissibility, there is "no material difference" between unvaccinated and vaccinated staff, writes VCH. Additionally, rapid testing is not effective at reducing transmission.
VCH goes on to state that there is "evidence of the endemic nature of the virus" and that universities are low-risk settings for transmission.
The letter also includes a link to a study about the long-term effect of coronavirus vaccine policies, which finds that they "do more harm than good," leading to unintended consequences, including future reluctance to follow public health measures.
When the correspondence was shared on social media, numerous people expressed outrage and frustration with the health authority. Many of them felt the tone of the letter downplayed the severity of the virus and also wondered why its messaging seemed to contradict much of the advice it gave to the public.
VCH declined to comment, stating in an email to V.I.A. it was "not able to provide any additional comments beyond the evidence and guidance provided in the letter."
UBC spokesperson Thandi Fletcher told V.I.A. in a statement that UBC is proud of the work done and the various measures taken, adding that it removed the rapid testing program in alignment with scientific evidence based on the Omicron variant.
"Should there be any changes to public health guidance, UBC is well positioned to re-introduce safety measures, should they be required," she added.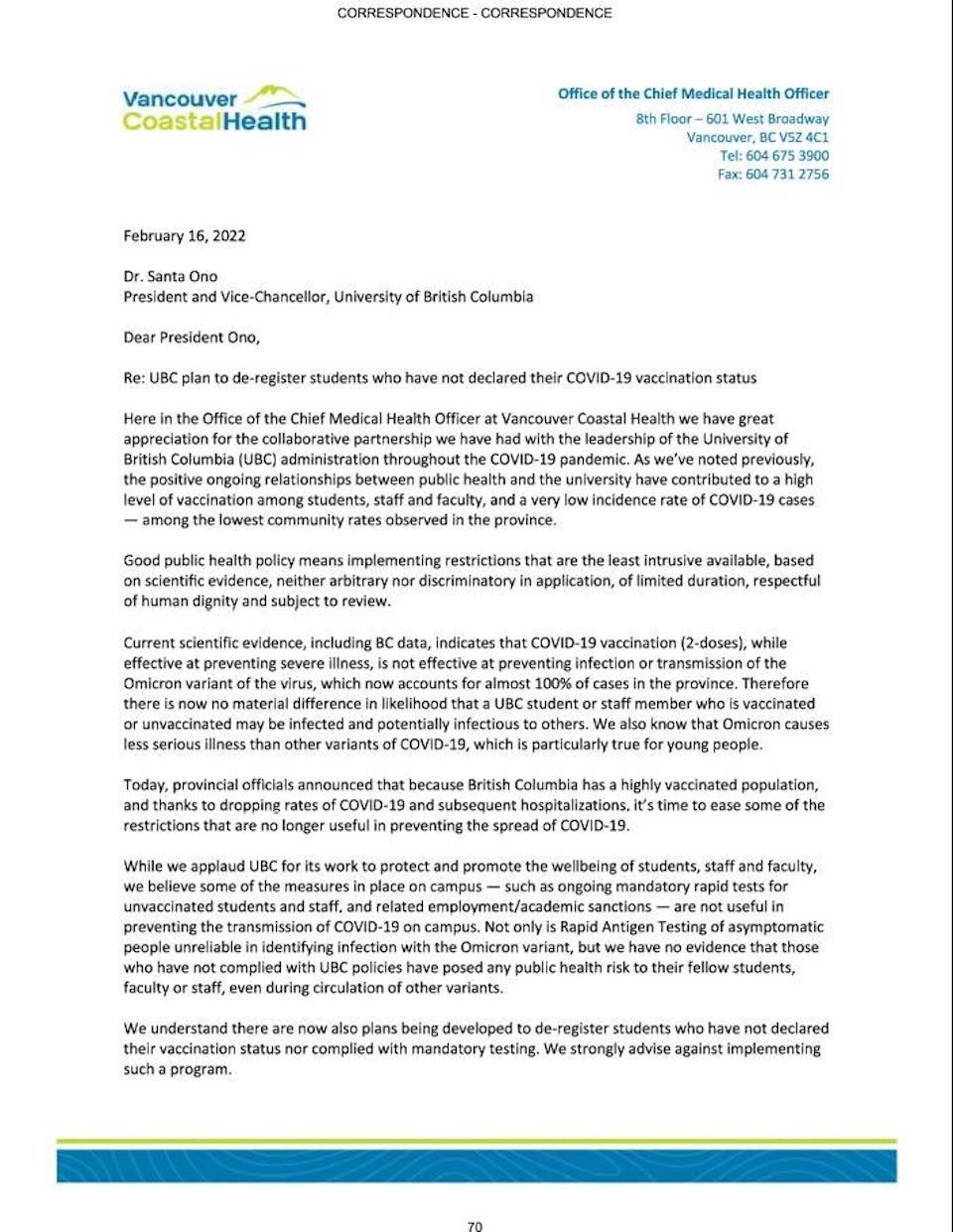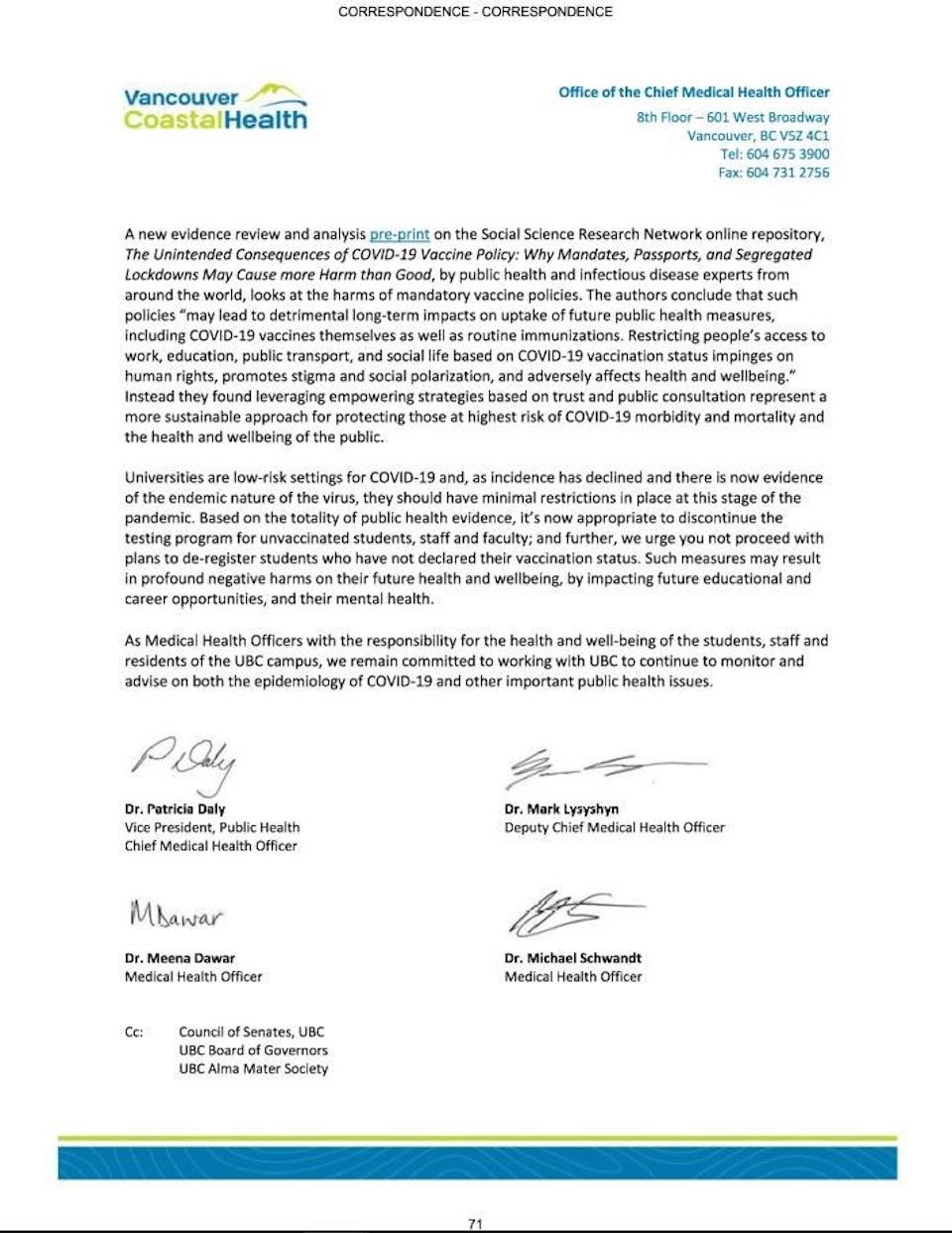 Experts weigh in on COVID policy controversy
Dr. Amy Tan, Clinical Associate Professor, UBC Faculty of Medicine, Palliative Care & Family Physician, told V.I.A. in an interview that she couldn't comment on the specifics of the letter but has first-hand experience struggling to keep people safe where she works and teaches.
"We're seeing it for a sixth time now as we enter a sixth wave nationally," she explained. "There is a complete minimization of the reality. Everyone wants COVID to be over, but COVID is not.
"The public health messaging has been about what people want to hear."
The Vancouver doctor says Canada is already seeing an increase in cases as restrictions are dropped across the country. Further, she underscores that case numbers are not accurate because fewer people are getting tested.
Tan also feels the provincial health officer's comments regarding the province moving toward an endemic response are "dangerous" and simply not true.
"It is wishful thinking. I don't think denying the reality is going to be helping anybody. I don't think it's endemic," she said, adding that a relaxed response increases the risk for "worse" variants, vaccine evasion, and treatments becoming less effective.
Tan notes that studies on long-COVID are particularly troubling and that scientists know very little about the long-term effects of the virus.
"This is not a cold," she stresses. "We already know it affects the brain and that long-COVID can actually equal 10 years of extra aging [in the brain].
"We know that it's causing Alzheimer's...and an increased risk for cardiovascular factors."
When it comes to public health policies in B.C., Tan underscores that not all decisions are based on scientific evidence. Sadly, she notes that many of the province's most vulnerable residents have been left behind as a result. And, as a palliative care physician for 18 years, she sees the struggles people with disabilities face and is fearful of what the future looks like for patients with long COVID.
"I know what serious disease, death and dying look like. I know the unseen suffering that patients have and all of the out-of-pocket expenses," she said. "This magnitude of ongoing disability."
The Vancouver doctor adds that "every shift we are short-staffed nurses" at her hospital and she is concerned about a "mass exodus" of healthcare workers.
Tan sums up the recent messaging to British Columbians in a word: "Unconscionable."