Laneways in Burnaby can soon be home to lane houses after city council voted to allow laneway housing in residential areas across the city.
Burnaby will begin accepting applications for building laneway homes Monday, Sept. 18, according to a city news release. More information on the applications will be released then on the city's website.
"This is a significant step forward for our efforts to add housing to Burnaby, while also preserving the local character that the people living in our single-family neighbourhoods love about where they live," said Mayor Mike Hurley in the release.
Burnaby council unanimously approved the bylaw at its meeting Monday, Sept. 11.
Council also approved secondary suites in semi-detached homes ("suites in semis"), in which two secondary suites can be built in side-by-side homes, one in each unit.

Neither the laneway homes nor the suites in semis can be sold separately from the main dwelling.
Staff expect these types of housing to be built as intergenerational housing for parents or children to live on a family-owned lot, according to the release.
Laneway homes are allowed to be rented out as long-term rental housing, but the city will not permit laneway housing to be used as short-term rentals.
Burnaby laneway home regulations state the homes can be up to two storeys tall and between 350 sq. ft. and 1,507 sq. ft. (depending on the lot).
There are about 20,000 total lots in Burnaby with access to lanes, according to a staff presentation at the city's heritage commission in August.
The next phase of the city's Housing Choices program will include properties that don't have lanes, among other housing configurations like triplexes, fourplexes and cottage courts, according to the presentation.
You can find a summary of Burnaby's laneway home regulations online and read more on the Housing Choices project webpage.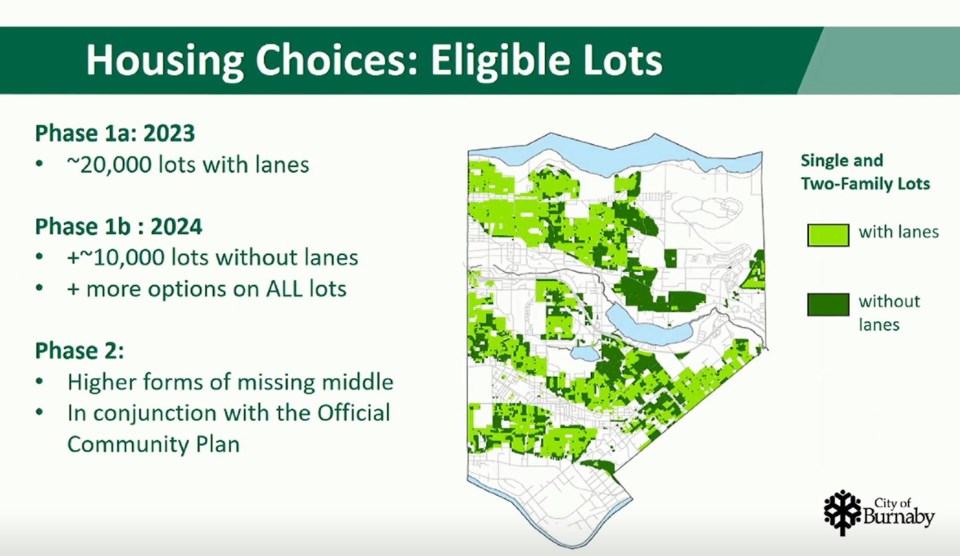 Laneway housing in two of Burnaby's neighbouring cities
The City of Vancouver legalized laneway housing in 2009. Since then, the city has issued more than 5,400 permits for laneway homes to the end of 2022, according to city spokesperson Kirsten Langan.
In 2022, Vancouver issued 434 permits for laneway homes.
New Westminster began permitting laneway and carriage housings on most detached homes in 2017.
In the first year of New West's laneway house program, by the end of 2018, the city received 22 formal development permit applications for 19 laneway homes and two carriage homes without a lane, according to a 2019 staff report.
---
📢 SOUND OFF: Do you think legalizing laneway housing will have an impact on the cost of housing in Burnaby? Will you be building a laneway home? Share your thoughts — send us a letter.