The executive director of an association responsible for coordinating homeless counts in Metro Vancouver and in 20 other communities across the province is predicting volunteers will see an increase this year in people living on the street and in shelters.
Stephen D'Souza of the Homelessness Services Association of BC based that prediction on the effect the pandemic has had on the economy, job loss, inflation and the rising cost of housing, particularly in Metro Vancouver.
"It's been a hard couple of years since we did our last count in 2020," D'Souza told Glacier Media. "We really are looking to just do the counts as effectively as we can and let the data tell that story. But we are anticipating an increase in the number of people who are experiencing homelessness."
A report from the Canada Mortgage and Housing Corporation released Thursday showed Metro Vancouver to have the highest average rents across the country, with a two-bedroom purpose-built rental going for $2,002 per month.
Glacier Media reported in March 2021 that the number of people seeking short-term financial help from the Vancouver Rent Bank increased significantly since the pandemic was declared in March 2020, with job loss and underemployment driving the demand.
Interest rates and the price of food have also increased since March 2020, while homeless encampments continue to be a reality in many B.C. communities, including in Vancouver, on Vancouver Island and in the Fraser Valley.
A Metro Vancouver homeless count conducted just days before the pandemic was declared in 2020 found 3,634 people either living on the street or in a shelter. The majority resided in Vancouver (2,095), Surrey (644) and Langley (209).
Data collected from 25 counts conducted across B.C. in 2020 and 2021 showed 8,665 people identified as homeless, including 222 children under the age of 19 who were accompanied by a parent or guardian.
This year, the Homelessness Services Association of BC is coordinating the Metro Vancouver region count — which will run simultaneously with an Indigenous-led count — and counts in 20 communities, including Vernon, Dawson Creek, Kitimat and Campbell River.
The Fraser Valley Regional District and Capital Regional District will also conduct counts.
The counts in Metro Vancouver, the Fraser Valley and on Vancouver Island will occur over a 24-hour period, beginning March 7. Other B.C. counts will be done between March and early May, with data expected to be publicly released by the fall.
'It is an undercount'
D'Souza stressed the counts don't capture the true magnitude of homelessness in communities.
"It is an undercount — it is a snapshot of the day of really the minimum number of people who are experiencing homelessness on that day," he said.
"We know the homeless journey isn't always a straight line, and that people are couch surfing, staying with friends, staying with family and may be in something more secure right now in terms of housing, but weren't before and may not be in the future."
Still, D'Souza said, the count not only helps determine the number of unhoused people in the province but also assists in informing policy for governments when it comes to building more housing for people who need it most.
"Those who are most on the margins, those who face the most systemic barriers in their lives, are probably more likely to be at risk or experiencing homelessness now," he said.
"It's impacted those populations who are already vulnerable, disproportionately, and so we are really working hard to make sure that they are seen, they are heard and they are counted."
In Vancouver, a recruitment drive has begun to find volunteers to help with this year's count. The city has conducted its own count or participated in the Metro count since 2010, but cancelled the past two years because of the pandemic.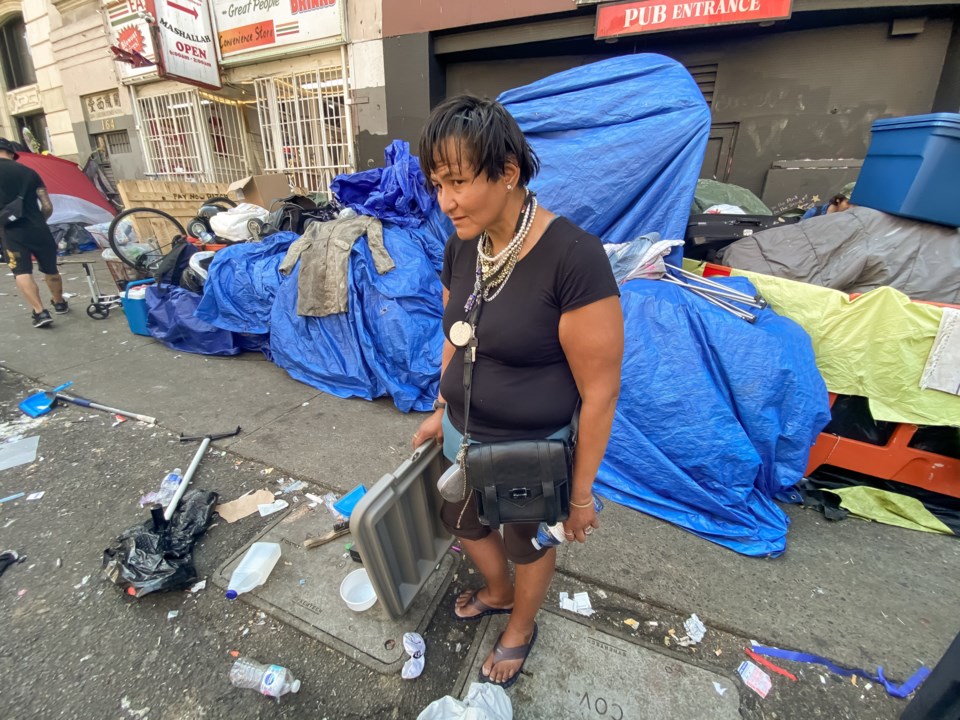 77 structures remain on East Hastings sidewalks
Bruk Melles, the city's director of homelessness services, said staff is looking forward to the count to get a better sense of the state of homelessness in Vancouver and understand via a survey how and why people are living without a home.
One of the survey questions asks when a person last paid rent, with almost half the respondents in the 2020 count saying they had been homeless for less than a year. More than 80 per cent said they became homeless while living in Vancouver.
What the data will show this year is open to speculation.
"If we look around us and see the kind of encampments and folks who are unhoused, it does feel like it might have increased," Melles said. "But I think we will reserve comments on that until we actually see what the numbers say."
Vancouver has had one or more encampments for several years at different spots in the city, with the East Hastings Street strip in the Downtown Eastside and a tent city at CRAB Park on the waterfront still home to people living in tents and makeshift shelters.
The city's communications department said in an email Wednesday that staff counted 77 structures along East Hastings, down from 180 in August. Up to 20 people were living in CRAB Park, where there were approximately 38 structures, the city said.
Another unknown in determining whether the homeless population has increased or decreased in Vancouver and across the province is the addition of temporary and permanent housing added in communities since 2020.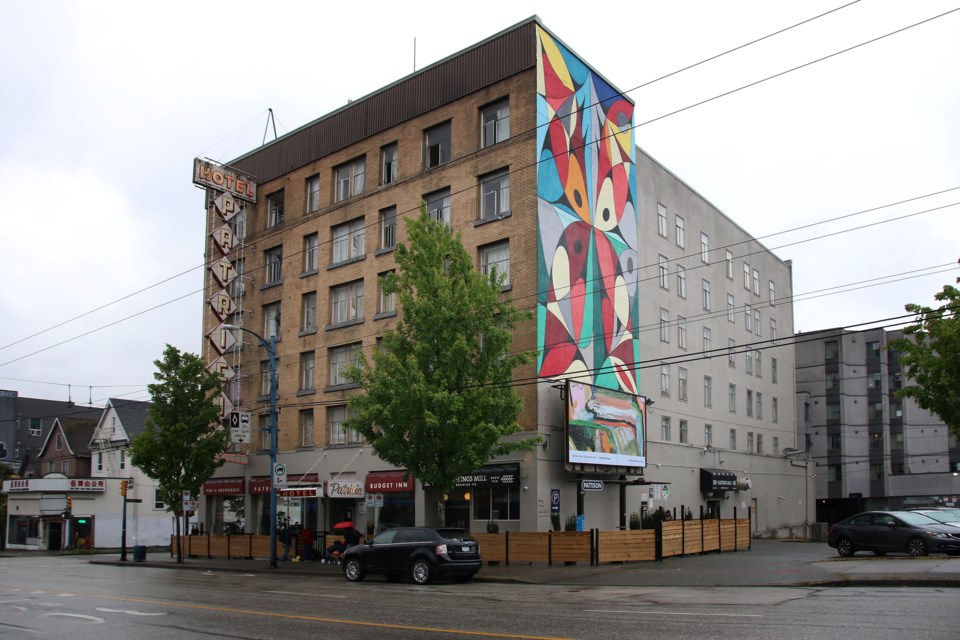 Patricia Hotel
In Vancouver, for example, 25 social, supportive, temporary modular housing and co-op projects have been completed since March 2020. That equates to 2,060 net new units, including more than 200 supportive homes.
That housing investment excludes six hotels, including the Patricia Hotel on East Hastings Street, acquired by BC Housing to accommodate homeless people, or those at risk of homelessness. The hotels have a combined 450 rooms.
The Patricia Hotel, which the government purchased for $63.8 million (including the adjacent parking lot) in April 2021, was used to move homeless people who were residing in the now-defunct Strathcona Park encampment.
As of late 2022, an additional 22 social or supportive housing projects were under construction, which represents 2,031 net new units, including more than 160 supportive homes; supportive homes give tenants access to health-care services and other personal needs.
"It's truly hard to tell if there's been a net increase in homelessness, or some have gotten housed and it's new folks experiencing homelessness — or folks are bouncing in and out," Melles said. "That's the richness of the information that we hope to get better insight on, but it's just really hard to tell at this moment."
Premier David Eby announced in December that the B.C. government will spend $6.9 million to house 90 people in temporary work camp-style units on two city properties in Vancouver.
Those units are supposed to be in place sometime in March.
'Tiny shelters'
By the end of February, Vancouver is also expected to see the first of two 10 "tiny shelters" set up in a parking lot of a shelter on Terminal Avenue, near Clark Drive. The shelters will be able to house up to 18 people, which Melles acknowledged isn't a lot.
"We have to start somewhere, and it's a start to see if this isn't yet another tool in the toolkit that can be used to encourage folks to come indoors and support them with access housing and health support," she said of the city's first-ever tiny shelter pilot program.
In November 2022, the B.C. government completed a multi-ministry project that collected data from income assistance, shelter and medical service plan databases to get a more complete picture of unhoused British Columbians.
"We know we need to do more, and with this data-driven approach, we can deliver better services and ensure more people have a safe place to call home," BC Housing said in an emailed statement.
"The data will help support the cross-government homelessness strategy, which outlines actions to tackle homelessness and steps to address its root causes."