To look forward you often have to look back, and that's certainly true for politics.
With that in mind, let's take a look back at the 2019 federal election as Canada prepares to vote yet again.
Vancouver has six ridings in the city, without any overlap with neighbouring municipalities.
In general, just like the rest of the country, apathy won out in the last election. The non-voting vote was number one in every riding, and five of the top six vote-getters in the city were the non-voting vote. The NDP's Jenny Kwan in Vancouver East (the most populous riding in Vancouver) beat out the non-voting vote in Vancouver Quadra (the second least populous riding with around 18,000 fewer potential voters).
Overall Vancouver didn't have great, let alone good, voter turnout; 67 per cent of Canadians turned out to cast a ballot, while only 61.6 per cent of Vancouverites did (nearly 305,000). Vancouver Quadra had a particularly low turnout, with only 58.3 per cent. Vancouver Kingsway did best, locally, with 67.1 per cent, slightly above the national average. Middling at best, in other words.
Essentially, the apathetic vote beat out the top two parties put together.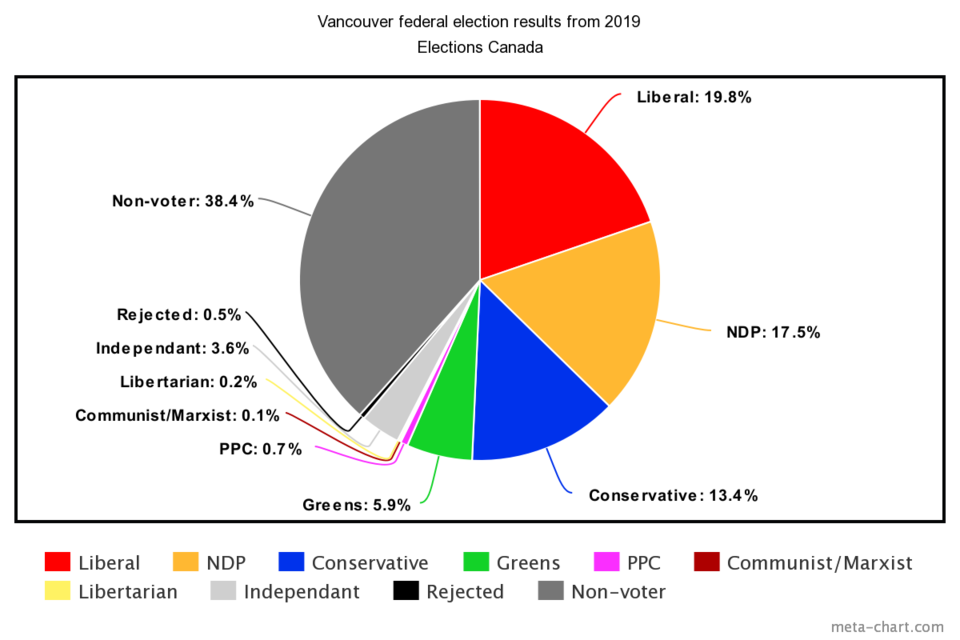 Ignoring those who don't care, the breakdown Vancouver leans progressive, perhaps not a surprise, given the city's reputation (and how dense ridings generally vote). The results sent three Liberals, two NDP, and one independent (former Liberal Jody Wilson-Raybould) to Ottawa. That's close to how the city voted overall, but not fully representative.
In all ridings combined, Vancouverites favoured the Liberals, with more than 32 per cent of the vote, followed by the NDP with 28.5 per cent. The Conservatives weren't completely out of it, with 21.8 per cent, but couldn't turn that into a seat. The Greens tapped out at 9.6 per cent.
Independent candidates weren't a united front, and that category is a bit over represented in the graph thanks to the votes for Wilson-Raybould (she got 98 per cent of the independent vote). The far-right People's Party of Canada (PPC) were mathematically a non-factor, with 1.1 per cent of the vote. Rejected ballots were just behind with 0.8 per cent.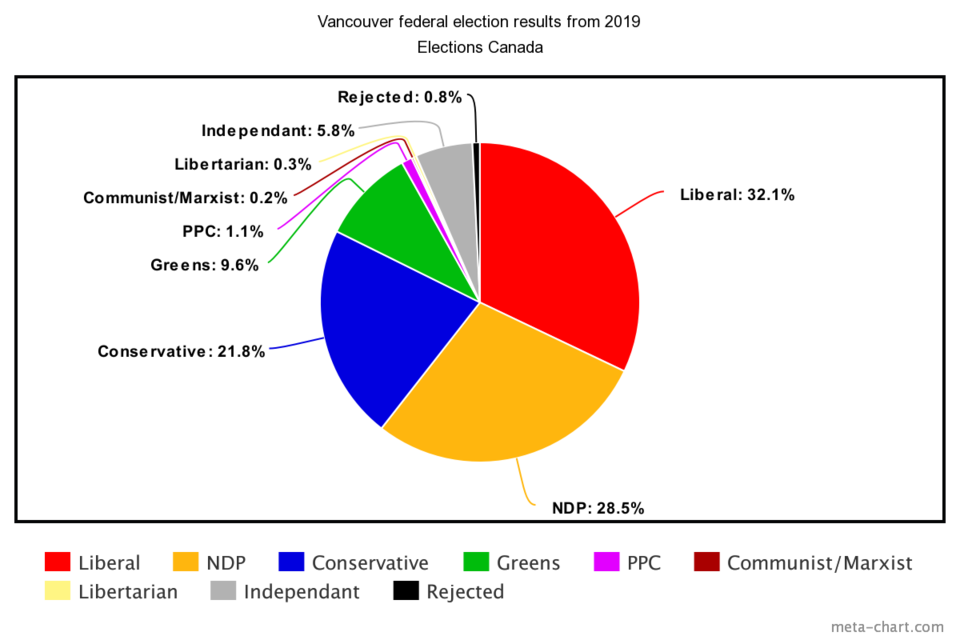 If Vancouver sent six MPs based on percentages, two would be Liberal. The NDP and Conservatives would each have one for sure, as well. Due to rounding the Greens would probably get one, and the NDP a second; there's some room to debate exactly how to figure that last bit out.
While some argue the PPC split the vote from the right-wing Conservatives, in Vancouver those votes wouldn't have meaningfully affected any of the races. Support in Vancouver was slightly below the national average of 1.6 per cent.
In total PPC candidates garnered 3,221 votes in Vancouver. Former MP Conservative Wai Young in Vancouver South had the most votes and highest percentage of any Tory candidate in Vancouver, but fell short by 3,420 ballots. Young actually got a higher percent of the vote than Wilson-Raybould, but was in a different riding.
In all but one of the races, the Greens finished behind all the major parties; in Vancouver East, Bridget Burns outpaced the Conservatives' Chris Corsetti.
Vancouver East was also one of two ridings where a Communist candidate faced off with a Marxist-Leninist candidate (the other being their southern neighbour Vancouver Kingsway). In both cases, the Communists won the far-left vote handily.
The Libertarians also ran a pair of candidates; in Vancouver East they gave the PPC a run for their money, just over 100 votes behind.
Aside from Wilson-Raybould the independents didn't fare any better than the Marxist-Leninist, with the other three collectively grossing 342 votes total.
Given that this election is during a pandemic, it's likely advance polls and mail-in ballots will play a bigger roll. While Elections Canada doesn't share mail-in stats, they do have numbers for advance polls.
In 2019 the only candidate that saw a significant shift from advance polls to voting day was the NPD's Don Davies, the eventual winner in Vancouver Kingsway. He dropped nearly 5.5 points between the two. In fact, all the candidates who eventually won led after the advance polls, but then saw their share decrease on Oct. 21, 2019.
Looking Forward
Looking forward, five of the ridings will have incumbents defending their seats; more often than not that means a repeat visit to Ottawa.
Liberal Hedy Fry is one of the longest-serving MPs ever in Canada, if she wins her Vancouver Centre seat again (she won in 2019 by more than 10,000 votes) she'll likely break three decades of sitting in Ottawa.
History and the numbers from the last election also suggest Kwan is safe after she collected more than 50 per cent of the votes in her riding, with no one close. Kwan's only held the riding since 2015, but Vancouver East, the poorest riding in Canada) has been an NDP stronghold.
Liberal Joyce Murray is in a similar position, inheriting a safe Liberal riding in 2008 and holding it since then. Last election she won with over 8,000 votes more than Conservative Kathleen Dixon.
Davies has been representing Vancouver Kingsway since 2008 and won the last election handily with more than 10,000 votes over Liberal Tamara Taggart.
Incumbent Liberal MP Harjit Sajjan held the Vancouver South seat in 2019, which he won from Young in 2015 (who'd held it for the four years prior). However, his lead decreased compared to the 2015 election. It doesn't look like another face-off this year with Young though; the Conservative site lists Sukhbir Singh Gill as the candidate for Vancouver South, though a profile hasn't been filled out.
The only riding with no incumbent is Vancouver Granville, after Wilson-Raybould announced she wouldn't run again. That riding is relatively new, having been created in 2012 out of pieces of four other Vancouver ridings it now borders. Wilson-Raybould is the only MP it's had, so there's not much historic data to look at.
The Vancouver Granville riding, though, is the question mark with a lead going to the Liberals based on national and historic trends.
In 2019 it was the tightest race in the city; Wilson-Raybould had a solid win, with more than 3,000 votes over Liberal Taleeb Noormohamed, but it was still the closest in the city. Conservative Zach Segal was less than 3,000 behind Noormohamed with NDP Yvonne Hanson behind by another 4,000.
This time around the Liberals are once again supporting Noormohamed, while the NDP and Conservatives have new faces. It'll likely be a battle over the 17,000 votes Wilson-Raybould held in the last election, since they represent voters who may not have strong party allegiance.