Is Vancouver sexy?
According to a recent report, B.C.'s largest city isn't as seductive as another major Canadian city: Toronto.
The Bottle Club has reviewed cities around the world to "determine the destinations that radiate sexual energy" based on several factors including sex events, strip clubs, and sex parties in each place. It also ranked the cities based on the number of their residents who are signed up to "x-rated websites Illicit Encounters, OnlyFans, and Swingers Life."
According to the company's metrics, the "kinkiest" city in the world isn't located in North America. London, England topped the list of the world's most sensual cities, with a sexy score of 38.7.
The report's authors note that London has a "kinky underbelly with 131 sex events, 10,000 content creators on OnlyFans, and 167,197 people signed up to fetish sites." Additionally, 30 porn stars are named after the city of London.
The "City of Sin" wasn't far behind London, however. Las Vegas slid into the second spot with an overall score of 37.6. Berlin was ranked the third-kinkiest city in the world, with its seductive score totalling 32.8.
Another U.S. city, New York, landed fourth, with a score of 29.3. Spain's Capital city, Madrid, rounded out the top five, with a score of 28.5.
The only Canadian city to make the list was Toronto, with a total score of 25.4.
The least kinky city on the list was Oslo, Norway. With zero porn stars named after the city and less than 100 people on OnlyFans.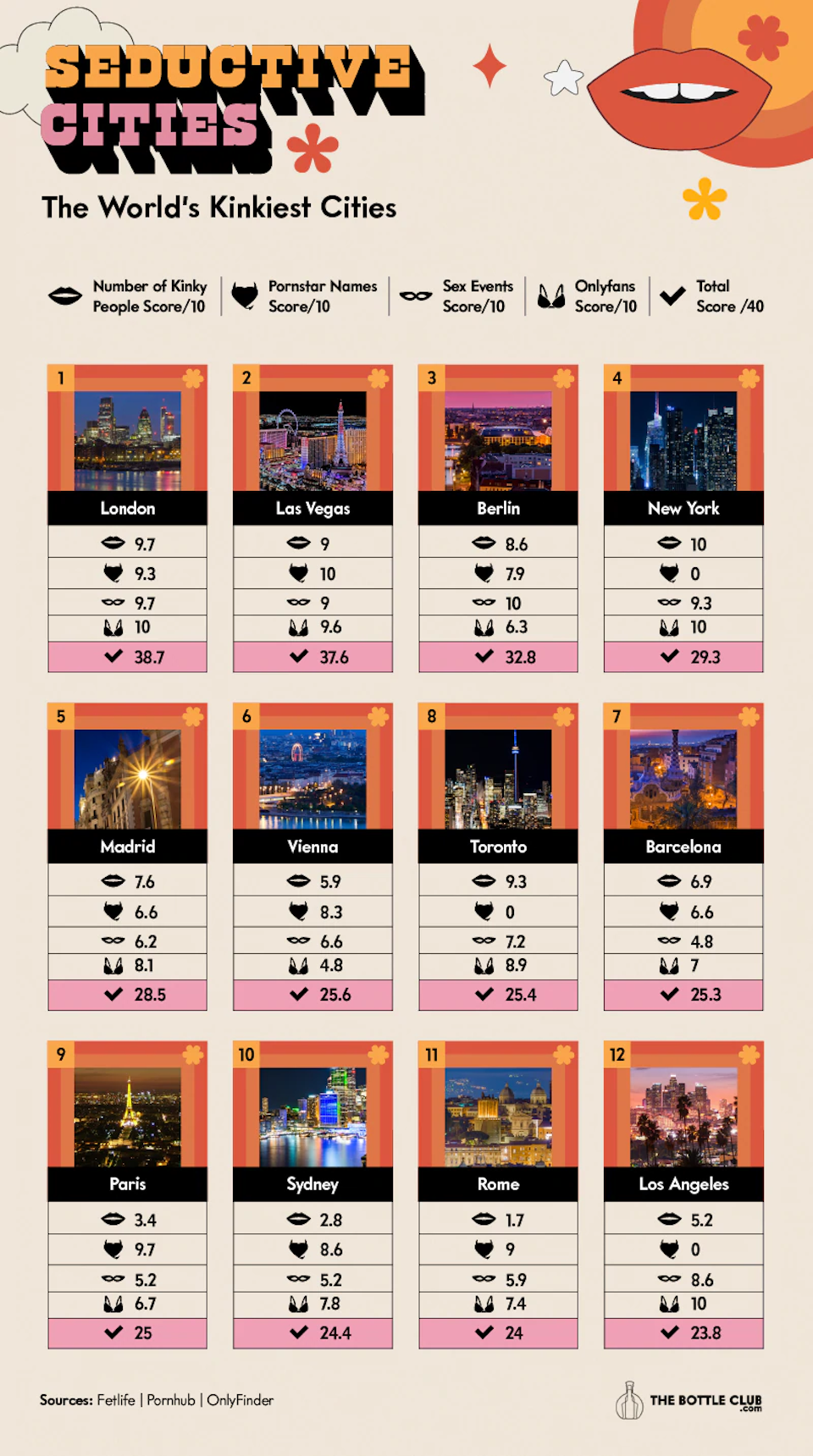 Canada travel and Vancouver's decline in sexiness
While Vancouver has been ranked the "sexiest city in Canada," it fell from the top spot in 2021, according to another report.
B.C.'s largest city fell from the number one spot to 16th in Canada, a substantial slip in sexiness.
Locals often joke that Vancouver is the "no fun city," however, it is highly praised for its natural beauty. As a country, Canada has been ranked among the top countries in the world for its "travel aesthetic."