Crime continued to plummet in Vancouver in 2021, with the most significant drops related to break-ins to businesses, homes and vehicles, according to statistics posted on the Vancouver Police Department's website this week.
The statistics, which compare a specific set of crime categories to 2020, show that break-ins to businesses were down 26 per cent (from 2,790 to 2,075) and to homes by 23 per cent (from 995 to 770).
Break-ins to vehicles saw a 28 per cent drop across the city (from 9,884 to 7,115), which is still a significant number, but well below the 14,958 reported to police in 2018 and the 16,488 in 2019.
Why the drop?
In a word, the pandemic.
Police have previously pointed to fewer people traveling to work, fewer vehicles parked on the street and more people working from home. Fewer people are also dining out, shopping and attending entertainment venues.
Since the pandemic was declared in March 2020, public health orders have also restricted or reduced the number of people attending sporting events, concerts and gyms.
As well, schools have gone to a mix of remote and in-classroom learning, with students at Simon Fraser University and University of B.C. currently taking online instruction.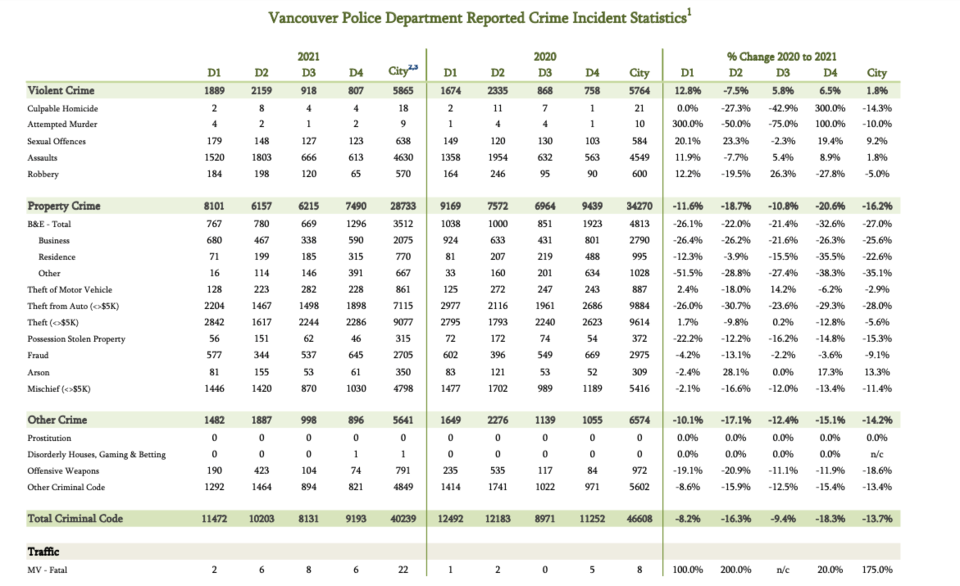 The only crimes to see noticeable increases year over year in the 20 categories identified by police were reported sexual offences (584 to 638 for a nine per cent increase) and arsons, which jumped from 309 to 350 for a 13 per cent increase.
Although assaults across the city averaged out to a 1.8 per cent increase from 2020 to 2021, policing district one — which includes the West End, Yaletown, Coal Harbour and the central business district — saw a 12 per cent increase.
'People feeling less safe'
That increase would include the unsolved random attack on a 22-year-old woman on New Year's Eve in front of Hotel Georgia on West Georgia Street. Police released a video to media Wednesday on the attack.
The video shows a man described as white and middle-aged violently pushing the woman against an exterior wall of the hotel and holding her down, before continuing along the sidewalk.
"Unfortunately, these types of incidents are happening more often in the city, and it's led to many people feeling less safe when they're alone in public," Const. Tania Visintin, a VPD media relations officer, said in a news release.
Police Chief Adam Palmer told the Vancouver Police Board in October that random assaults are at a level that he has not seen in his policing career.
At the time, Palmer said police tracked 1,700 such incidents, or roughly four per day, between Sept. 1, 2020 and Aug. 31, 2021. Of those, 47 per cent involved a knife or some type of weapon, he said.
"I've been a police officer in this city for 34 years and I've never heard of such a thing before," the chief said, adding that 28 per cent of the suspects arrested were living with some form of mental illness.
Also of concern, he continued, was the increase in shoplifters resorting to violence when approached by staff, customers or police. The number of such incidents, as of the October police board meeting, was 844 — a 43 per cent increase over last year.
Reporting of crime by citizens for petty or minor crimes is also going unreported, the chief said.
"When they do call us, and we do investigate a crime, they say this has happened four times before and I've never called you, but this time was serious enough that I did call you," Palmer said.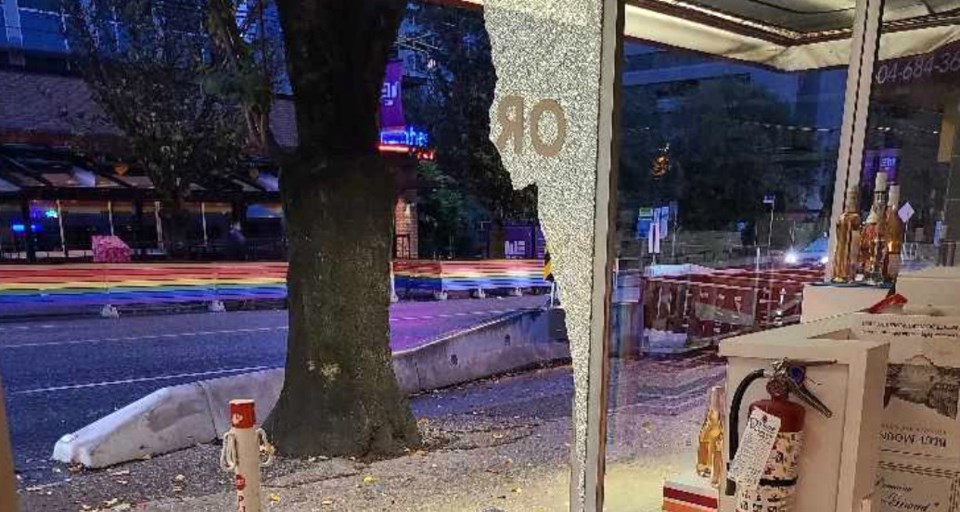 John Clerides, owner of Marquis Wine Cellars on Davie Street, started a Facebook page last week called "Vancouver break-ins and crime collective." Clerides said the purpose of the page is to have citizens post photos of broken or smashed-out windows and concerns related to crime.
Clerides' business had its window smashed out last summer and thieves stole an electric bike used by employees to make deliveries.
He rattled off a list of about a dozen businesses in his neighbourhood that have since had windows broken or smashed out, including a veterinary clinic next to his shop, which was hit last week.
"Two people are sitting inside with their backs to the window waiting for their kitty cat to come out, and some wack job walks by takes a sandwich board and throws it through the window," he said, noting police later caught the offender.
"I have worked in the West End on Davie Street since 1977. I've seen the days of gay bashing, I've seen the days when all the yahoos were coming in from Surrey and all the outlying areas. What's happening now is on another level."
'He's been silent on this'
Clerides has taken his frustration to Twitter, calling out Mayor Kennedy Stewart several times and accusing him of not being tough on crime. He said the mayor is not responding to concerns of business owners.
"All he does is raise taxes," he said. "He's been silent on this."
Stewart, who doubles as chairperson of the Vancouver Police Board, has been clear that it is the police chief who makes the operational decisions for the department. Clerides said he supports Palmer but wants the mayor to "show some leadership."
"Have some empathy to the citizens, the businesses, the business people and the citizens of Vancouver," Clerides said. "All he seems to know how to do is pick our pockets and increase bureaucracy."
Vancouver Is Awesome asked the mayor via a Zoom news conference Wednesday for a response to critics who say he is not tough on crime.
"There's really nothing worse than being a victim of crime, and I'm very sympathetic to folks who have been subjected to that," Stewart said.
"My job as the mayor of Vancouver is to make sure that the police are adequately resourced. We did that in the last budget cycle, we fully funded the police board to their full request — that's at least about one million dollars a day being spent on policing."
'Vancouver is safe'
The mayor was among the city council members in December 2020 to keep the VPD's 2021 budget at a similar level to the previous year. In December 2021, the mayor and majority of council agreed to increase the VPD's budget for 2022.
Stewart said he has "full confidence" in Palmer's approach to policing.
"I do think that Vancouver is safe — it's one of the safest cities in the world," the mayor said. "However, we can always do more, and that's what we're striving to do."
In other crime categories, murders dropped from 21 in 2020 to 18 last year and there was one less attempted murder. Robberies dropped by five per cent, from 600 to 570.
Traffic-related fatalities increased to 22 from eight in 2020.
The police data didn't include hate crimes. Police reported last year that anti-Asian hate crimes were up 717 per cent from 2019 to 2020.
Assaults against police officers were also up in 2021 — 108 incidents between January and July, a 64 per cent increase from 2018.
@Howellings