A 40-year-old pedestrian was struck and killed when crossing the road at 1st and Woodland on March 28, 2023. Her death has sparked concern among residents of the East Vancouver neighbourhood and an outcry to implement safety measures in the hopes of preventing future deaths.
Rhiannon Fox, a member of the volunteer-led advocacy group Vision Zero Vancouver, says she submitted a 311 request to increase pedestrian walk time at the intersection following the crash but the case was dismissed by the city with no explanation.
Vision Zero Vancouver is an organization that raises awareness and pushes municipal and provincial governments to implement systemic traffic safety changes, in the hopes of reducing traffic deaths to zero.
"My concern with the tragic death at 1st and Woodland is that we as a society treat traffic violence as random and unpredictable, and investigations tend to focus on what the driver--or, more commonly, the pedestrian--did wrong rather than the systemic problems that make these crashes inevitable," Fox tells V.I.A. over email. "Traffic deaths are not unpredictable. They have systemic causes."
Fox believes that crashes can be prevented by consistently designing and redesigning city streets for "safety rather than just for the convenience of drivers and rapid through-put of vehicles."
On March 29, she submitted a request through the City of Vancouver's 311 app asking for more walk time at the intersection. "The walk signal to cross 1st is far too short here. This is made worse by the fact that drivers regularly continue down 1st for the first second or two after the light has changed, eating into the signal time for pedestrians," she wrote. "Tragically, a pedestrian was struck by a driver here last night and I wouldn't be surprised if this was a contributing factor."
On April 5, Fox received the response: "Data collected. Reviewed and no action planned."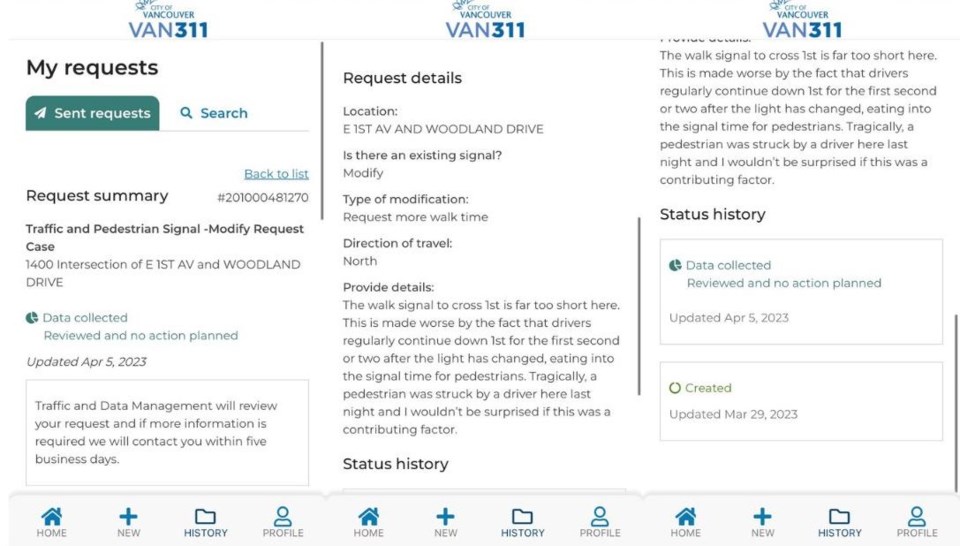 The city is investigating if safety measures are needed
There is no evidence to suggest that the walk time was a factor in the crash but a spokesperson for the City of Vancouver told V.I.A. that the intersection's walking time was increased to the maximum possible in July 2002. "It's timed with a walking speed of 1.0m/s (one metre per second of walking speed), which is our new standard to improve pedestrian safety. Previously, the City used 1.2m/s," explains the spokesperson in an emailed statement.
The accident occurred at 9:30 p.m. and transportation staff are reportedly working with VPD to understand the cause of the collision. "Based on that information and further review of the intersection, we'll see what changes would be most helpful to prevent any future incidents," says the spokesperson, adding that because the fatality occurred at night, "staff will conduct a review of lighting to see if this needs to be improved to prevent future incidents."
V.I.A. has reached out to VPD for more information about any official determination regarding the cause of the crash.
However, Fox thinks the city can better prevent traffic deaths by changing systems rather than focusing on driver, pedestrian, or cyclist behaviour.
"Roads are designed in a way where drivers are killing people left and right and we've normalized it," says Fox, who has gathered support on Twitter for increasing the walk time and encouraged several others to also make 311 requests.
The City has confirmed they received 13 requests for the location in late March and early April.
"It doesn't have to be this way. I like to draw a parallel to systems safety in other areas of our lives. In most fields, when there's a workplace fatality, operations shut down and the contributing factors get fixed. That very rarely happens with road deaths," she says.