A seniors' housing complex in East Vancouver dating back to the 1960s will be demolished over the next two weeks to make way for a $44.5-million project that will more than double the number of rental homes currently on the property.
Non-profit housing provider Brightside Community Homes is building two L-shaped six-storey buildings on a stretch of East 12th Avenue between Clark Drive and Woodland Drive that will be offered to seniors and people with physical disabilities.
The new complex will feature 157 units and replace the 57 in the two existing buildings, which were built in 1962 and 1971 — some of the first developments Brightside ever did, according to William Azaroff, CEO of Brightside.
"They were aging out, they needed to be replaced," said Azaroff, standing at the site Wednesday, Feb. 23, prior to a news conference where federal Housing Minister Ahmed Hussen announced $44.5 million in a combination of low-cost loans and grants for the project.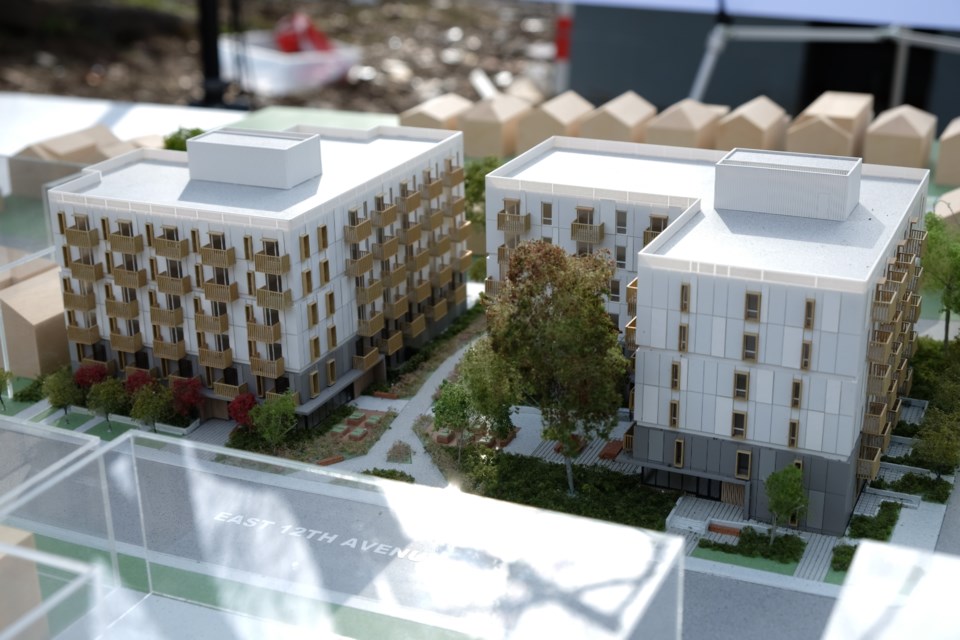 The existing tenants were already relocated and will have an option to move into the new buildings at the same rent they were paying when they moved out. If they choose not to move in, the rent for the new 57 units will not increase for new tenants, Azaroff said.
A city staff report that went before Vancouver council in June 2020 said rents in the 57 units ranged from $320 to $1,108 per month, with an average of $703 per month. Tenants were paying 30 per cent of their incomes on rent.
The additional 100 new units are expected to be rented for below-market rental rates. The average market rent for a new one-bedroom in Grandview-Woodland is about $1,900, Azaroff said.
"We can't charge anything close to that, like we don't want to," he said. "How far we can get that number down is what we're still working on."
The 157 units will include 99 studios and 58 one-bedrooms, with each studio adaptable for an "inboard bedroom," with the ability to partition an area for sleeping or office space, according to a city staff report.
The project is a result of a unique partnership involving the federal government, the Federation of Canadian Municipalities (FCM), BC Housing and Brightside, which owns the property.
While the federal government provided loans and grants via a funding stream called the National Co-investment Fund, BC Housing arranged for a pre-development loan worth $2.6 million and FCM kicked in $10 million to ensure the project meets the "passive house" ultra-low energy building performance standard.
"Without that kind of package, we couldn't build this at a level that is affordable," Azaroff said.
Vancouver Coun. Rebecca Bligh, who is an FCM director, attended Wednesday's news conference and said she was pleased to see partnerships aimed at providing affordable housing that also addresses climate change.
"It just sort of mobilizes all the right pieces to come together on these projects and, of course, Brightside has done a fantastic job at making sure that we're able to provide below-market housing for the people that need it most," she said.
Despite the federal government's contribution to the project, the federal Parliamentary Budget Officer Yves Giroux made it clear in a report in August 2021 the Trudeau government's national housing strategy could be more effective.
Giroux said a combination of expired bilateral agreements with provinces, a decline in funding for low-income households and program implementation delays have "limited the impact" of the Trudeau Liberals' 10-year plan, which includes cutting chronic homelessness by 50 per cent.
He zeroed in on the government's two key initiatives and pointed out less than half the funding allocated over the first three years to the loan-focused National Housing Co-Investment Fund and the Rental Construction Financing Initiative had been distributed.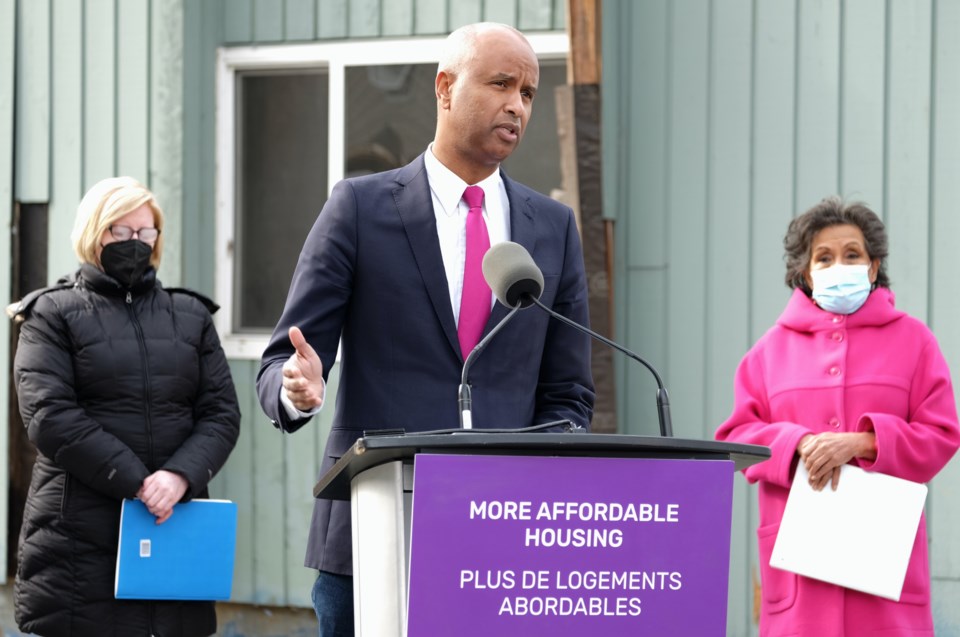 Asked whether that criticism is still warranted, Hussen said government has "made strides" in improving the process for builders and non-profits to access grants or loans via the co-investment fund by cutting wait times by 50 per cent.
"There's a need to address concerns by smaller non-profits in terms of their ability to access some of the funds, and we're looking at how to address those concerns," he said.
"But the program, quite frankly, is oversubscribed. Even though it's in the tens of billions of dollars, it's still not enough because the need is so much greater."
The Brightside project, meanwhile, is anticipated to open in the spring of 2024.
@Howellings