Starting this week, the salmon inspired high-tech public art installation, UNINTERRUPTED, will be starting an hour earlier at 9:00pm for the duration of the show run. The show will continue to run Tuesday to Saturday until the final showing on September 24th. That gives you only 6 more weeks to see this incredible cinematic spectacle from acclaimed director Nettie Wild, so make sure you make your way to Coopers' Park under the Cambie Bridge to see it soon!
If you've already been to the show, then you know that part of the UNINTERRUPTED experience is to encourage the audience to learn more about salmon conservation in order to continue to keep the cycle 'uninterrupted'. And now, through a fun interactive feature on uninterrupted.ca, you can follow the salmon migration down rivers to the ocean and back again, and explore the hazards they face during the four year trip. The online version takes less than 10 minutes by contrast, and when participants complete it they can have their name projected onto the Cambie Bridge evenings before the live event.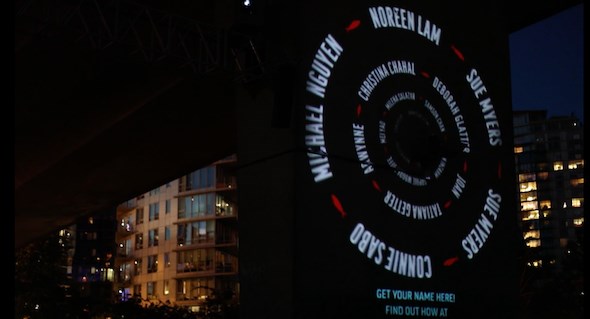 Also on the website is a calendar of public events that feature and support wild salmon, plus a list of community organizations in Vancouver and across the Lower Mainland that welcome volunteers in their efforts to restore and protect salmon habitat. Visitors to the website can also win their spot on the Cambie Bridge by connecting with an organization to find out more or to volunteer.
It's all part of UNINTERRUPTED's commitment to create additional public awareness about the beauty and importance of wild Pacific salmon and to highlight the work that is done year-round in communities throughout BC to restore and protect salmon habitat, while offering people ways they can make a difference too. 
The UNINTERRUPTED team also recently produced a set of documentary style vignettes about the making of the show called 'Creating UNINTERRUPTED: Stories from the River to the Bridge', which are now available to watch on the website. The creation of UNINTERRUPTED was a massive undertaking and the vignettes contain loads of behind the scenes footage, as well as interviews with members of the creative team behind the show.
UNINTERRUPTED screens for FREE Tuesday – Saturday
August 15 to September 24 – 9:00PM
Learn more at uninterrupted.ca