Metro Vancouver residents looking to score cheap rent may have to dig a bit harder through listings than other Canadians this month.
The region continues to see the highest rent for one-bedroom unfurnished apartments in the country in February 2022 with prices rising slightly this month over last. This month, locals can expect to shell out an average of $1,840, up from $1,827 in January.
Toronto now has the country's second-highest rental prices, with unfurnished one-bedrooms costing an average of $1,790 (up from $1,678 last month). Victoria has dropped from second to third in the rankings, with one-bedrooms dropping down to $1,750 (down from $1,811). Ottawa remains in the fourth spot, despite prices climbing from $1,495 to $1,535 this month over last.
Liv.rent, a rental platform based in Vancouver, creates monthly rent reports for the region and finds that Metro Vancouver's rental prices "can't be slowed," increasing from already high figures in January. Prices have continued to climb this February across the region.
"This increase was largely led by cities like Langley and New Westminster, which both saw significant upward trends this month," notes the report.
The company adds that prices for unfurnished units saw less significant changes in February, while unfurnished units in the region saw more drastic "price action."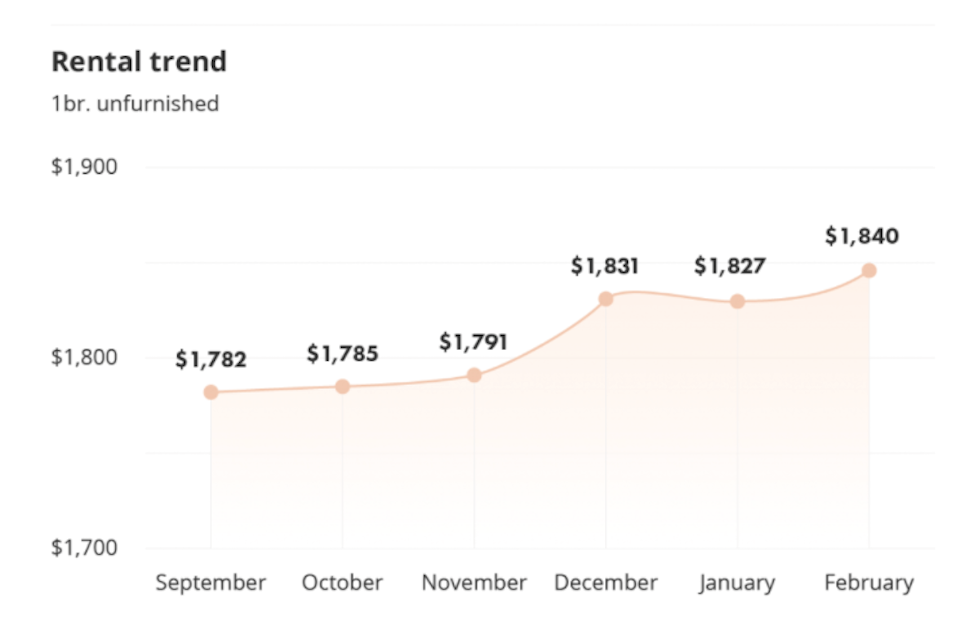 Metro Vancouver rent by city/municipality
Now, Metro Vancouver residents spend an average of over 40 per cent of their income on rent, which Liv.rent notes is "well above the recommended 30 [per cent] income-to-rent ratio."
West Vancouver is now the most expensive place to rent an unfurnished, one-bedroom unit in the Lower Mainland at an average of $2,212 per month; a furnished apartment costs $2,019.
North Vancouver's unfurnished, one-bedroom apartments cost slightly less, at an average of $2,032. However, the city's furnished units are the most expensive in the region, costing $2,512.
In the city of Vancouver, a one-bedroom, unfurnished unit costs an average of $2,031 while a furnished unit costs an average of $2,490 in the city.
Langley is the least-highest market this month, with one-bedroom, unfurnished apartments costing an average of $1,433 and furnished ones costing an average of $1,625.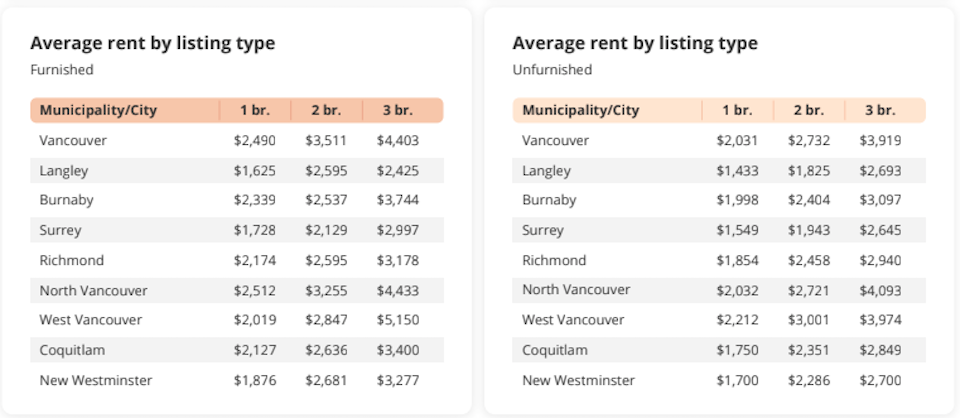 Rent per square foot
Where's the cheapest place to rent in Metro Vancouver by how much space you get?
In February, the most affordable places for square footage are Surrey, Langley and West Vancouver while the most expensive is, unsurprisingly, Vancouver itself.
Overall, the average rent per square foot in Metro Vancouver is $2.59 while in Toronto it's $2.11.