Don't feed the wildlife in Stanley Park.
It's a straightforward message the Vancouver park board has delivered for years.
But this year the message is more urgent because of what happened in the park between December 2020 and September 2021: the park board recorded 45 incidents where a coyote bit or nipped someone.
Joggers, cyclists and people enjoying a walk were all victims.
A 44-year-old man riding his scooter on the seawall was also attacked by two coyotes.
The number of bite incidents and other reports of aggression by coyotes was unprecedented in Stanley Park. In fact, no other urban centre in North America experienced such behaviour from coyotes, which have lived in the park for decades.
Why did it happen?
"Last fall, we were asked a lot to speculate on the exact causes, and we didn't — and the province avoided it, too," Chad Townsend, a park board senior planner in the environment and sustainability department, said in an interview this week.
"But I think all of the smart people involved can say with certainty that it all relates back to human food. And there was a disturbance factor of off-leash dogs, too."
Could it happen again this year?
"It could — it could happen in any other urban park, too, given the right combination of factors," Townsend said. "So it behooves us and our visitors to do better."
That "better" is not having people provide food directly or indirectly to coyotes, feed other wildlife such as raccoons, squirrels and ducks, or leave food waste and birdseed on the ground, particularly around Beaver Lake and Lost Lagoon.
"There are some people we know who feed raccoons for photographs, for example," he said.
"And so that same food in the food chain is available for coyotes — and so are the raccoons. So it just increases the variety of signals to the coyote population — not of their own making — that there's more food available."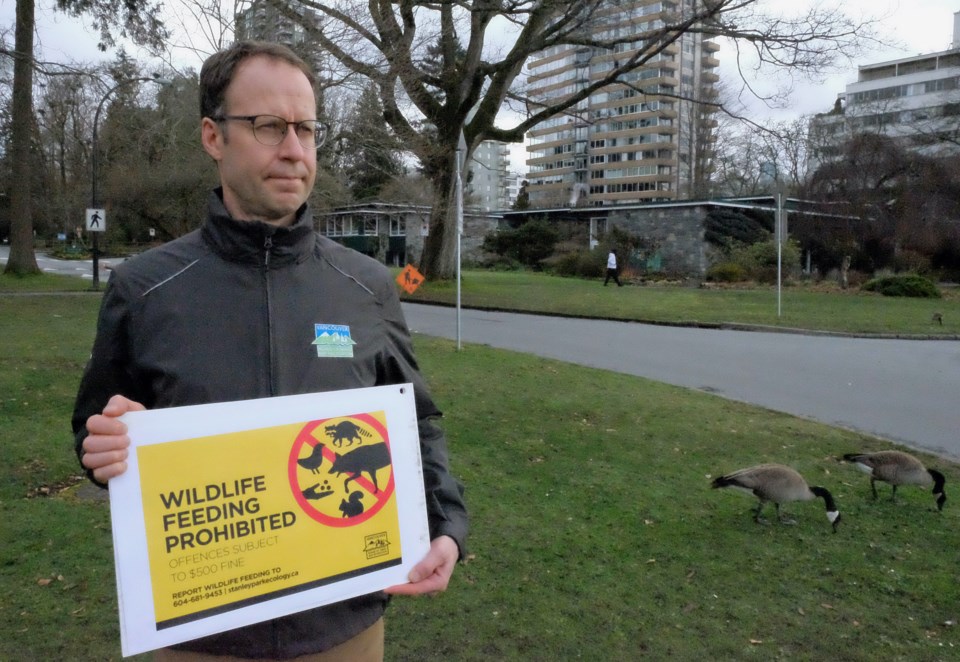 The B.C. Conservation Officer Service announced in September 2021 that two people were arrested and had their vehicle seized for allegedly feeding coyotes in the park. Such incidents coupled with the 45 bite reports ended with 11 coyotes being culled.
Townsend said the park board doesn't want to see such measures taken again, emphasizing the need for visitors to heed the don't-feed-the-wildlife message. Caught feeding a coyote or another animal could result in a $500 fine, which is clearly spelled out on signs the park board is posting around the park.
Signs have also gone up to announce trail closures near coyote dens.
'Habitat space to be filled again'
The coyote population is expected to re-populate this year as coyotes from other parts of the city move into the park and pups are born in the spring. Townsend couldn't provide a definitive number of coyotes currently residing in the park.
"We know that there's at least two to four, and 11 were removed last year, so we fully anticipate that habitat space will be filled again," he said.
"So it's likely in the teens, but we don't really know at any given time how many coyotes or geese or raccoons or any other wildlife are within the park. It's a big park."
That said, students from the University of B.C. will be collecting data from wildlife cameras placed throughout the park to get a better sense of coyote numbers, their behaviour and if humans are interacting with the animals.
The Stanley Park Ecology Society is also recruiting volunteers to help with "aversion conditioning," which involves shaking pop cans full of coins at coyotes, throwing weighted tennis balls near the animals and standing tall and yelling to scare them off.
Garbage cans that can't be tipped or broken into are also part of the park board's approach this year to preventing a repeat of coyote incidents. Townsend made it clear the park board isn't worried about an increase in coyotes in the park, noting it's a natural occurrence with urban wildlife.
"It wasn't the number of coyotes [that was the problem] last year, it was how they were behaving and what had led to that behaviour," he said.
"So we don't plan to manage the population again. That was the absolute last resort."
'Certainly not solved'
The incidents all happened during the pandemic, but Townsend said he's not convinced that was a major factor, with locals having replaced tourists in the park. More takeout food containers, however, were evident in the city because of no-dine-in public health orders at restaurants and cafes for several months.
So far this year, the park board hasn't received any reports of coyote attacks.
"No, thank goodness," Townsend said. "But sightings — a number of sightings, but no aggressive behaviour displayed, which is good. I guess 'encouraging' is the best way to put it, but it's certainly not solved."
He urge anyone who spots a coyote in the park or elsewhere in the city to report it to the Stanley Park Ecology Society at 604-681-WILD (9453). That type of reporting helps the park board track the animals.
Aggressive coyotes should be reported to the Ministry of Environment at 1-877-952-7277.
@Howellings