The May long weekend typically marks the start of camping season and, as we head into a sunny stretch, it's likely that many Metro Vancouverites will be hitting the road.
If you're wondering when to fill up your tank before embarking on a road trip, gas prices are expected to hold relatively steady with only the slightest of increases projected.
"I'd expect prices to be around $1.83 on average in Vancouver for the long weekend," predicts Patrick De Haan, Head of Petroleum Analysis at GasBuddy. "For comparison, we're at about $1.812 today, and with oil prices up lately, we could see a slight rise before the holiday."
According to CAA, in the past month, gas prices have hit a high of 196.9/L and a low of 178.8/L in Vancouver with a provincial average of 178.3/L trending upward over the last two days. We also have the most expensive gas in the country right now.
Where to find cheap gas in Vancouver
The cheapest gas in Metro Vancouver can be found in the suburbs. Burnaby and Surrey have stations charging 177.9/L. One gas station on Canada Way is charging 176.9/L according to GasBuddy.com.
People willing to go as far as Aldergrove or Langley can find gas for as low as 174.9/L.
Within the City of Vancouver limits, the cheapest gas is currently 180.9/L at the Superstore on SE Marine Drive.

​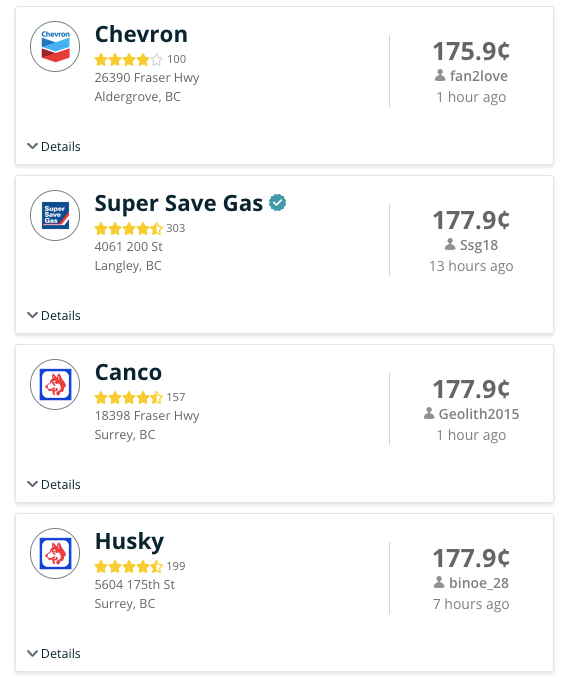 ​

​