A senior Vancouver Park Board manager has linked the recent floods in the Fraser Valley to the massive amount of damage that occurred to the city's seawall, piers and beaches during an early January storm that also pushed a barge onto Sunset Beach.
Dave Hutch, the park board's director of planning and park development, said the "spectacular confluence of events" that involved a king tide, low-pressure weather system and high winds pushed hundreds of logs and debris into Vancouver's waters.
"Much of the debris from that event [in the Fraser Valley] was sitting in the intertidal zone and was dislodged by the king tide and brought out and around into English Bay, and then just hammered along all our coastal assets and caused much of the damage," Hutch told park board commissioners at a meeting Monday (Jan. 24).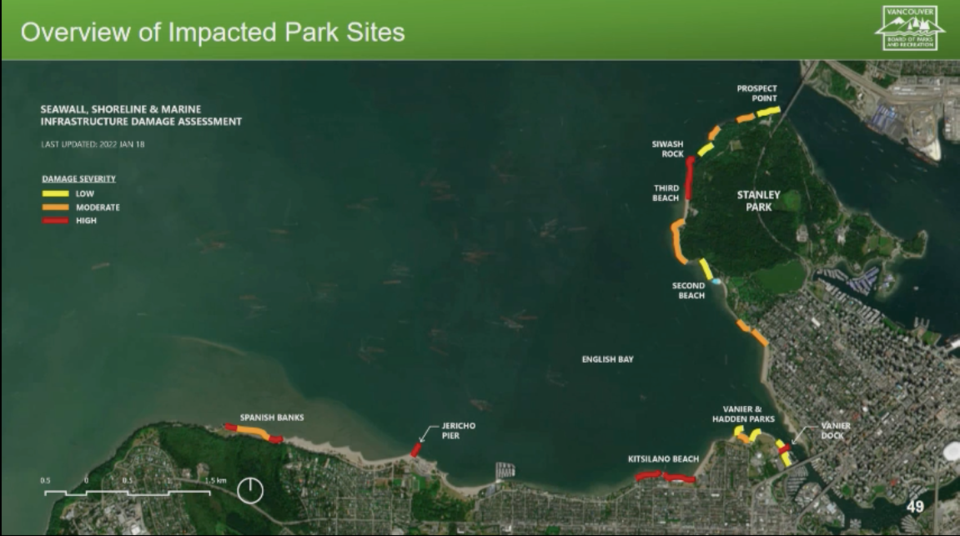 The park board is still assessing the cost of the damage and continues to repair sections of the seawall, the Jericho Pier, outdoor pools and other areas along the shoreline.
Over the past two weeks, crews have cleared nearly 400 yards of debris and piled approximately 500 to 750 logs on the beaches, with contractors expected to begin hauling them away next week.
The number of logs and the damage they caused was a topic of discussion during Monday's meeting, with commissioner Camil Dumount asking what recourse the board has to find and bill the owners of the logs, or request costs be recovered from senior governments for repairs to such marine infrastructure as the Jericho Pier.
Amit Gandha, director of parks, said staff had the same question and it's one being discussed with the board's legal department.
"We need to get some further feedback from legal on next steps if that's possible, but definitely looking into that as we speak," Gandha said.
Ian Stewart, the board's manager of park development, said there is a debris trap along the Fraser River near Agassiz and it captures a significant number of logs from heading down river to the Fraser's mouth at Steveston.
"But it doesn't capture them all," Stewart said. "I'm not going to speculate here, but many of these logs may have escaped from log booms due to commercial logging operations. This is a major issue for us, and we will be investigating this with our Vancouver Fraser Port Authority."
Added Stewart: "But we do understand that there's not a lot of revenue to be made from log salvaging these days, and that may be contributing to the issues."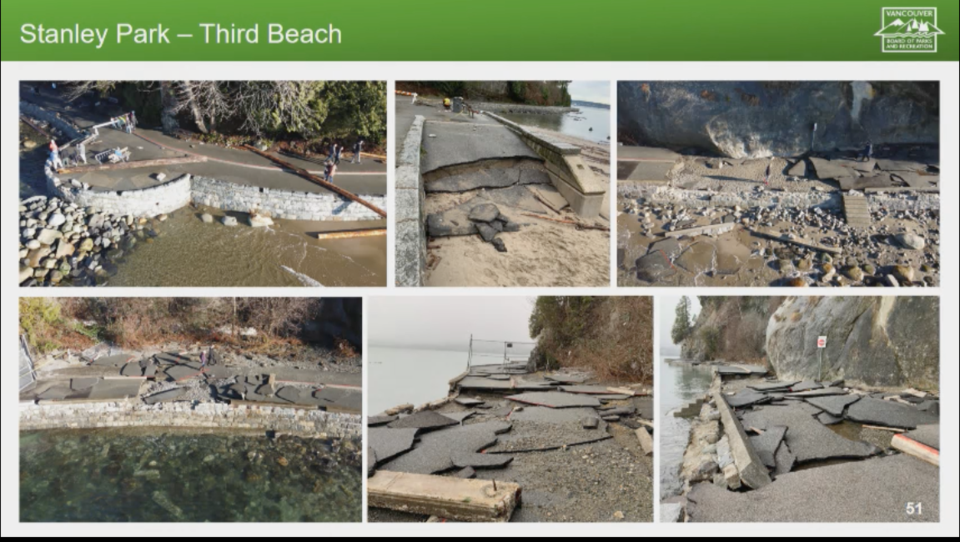 Although park board staff haven't put a dollar value on damage, photographs used in the staff presentation Monday showed it is likely in the millions of dollars.
Commissioners saw destroyed sections of seawall at Third Beach in Stanley Park, a heavily damaged Jericho Pier, eroded shorelines and washouts of retaining walls, pedestrian paths and stairs.
A concrete float from the west dock at Vanier Park also dislodged, but was recovered. A dive team was brought in to secure other floats from breaking free into the channel, near the Burrard Bridge.
Kitsilano's outdoor pool was also flooded during the storm, with the wall in front of it damaged. Large, heavy capstones along sections of the seawall were left scattered on walkways.
What has park board staff concerned is that another series of king tides are scheduled to begin Jan. 31 through to Feb. 4. The impact they could have on the seawall and other areas damaged in the Jan. 7 storm is difficult to predict.
"We don't know what the wind will be doing," Stewart said.
Meanwhile, the park board has not provided a date when the barge caught on the rocks at Sunset Beach will be removed. For now, it continues to be a tourist attraction and was mentioned in a recent New York Times story.
@Howellings