While over 140 major cities around the world participate in a Global Day of Action, protesters in Vancouver join in a record-breaking human chain protest.
The human chain is taking place in solidarity with protesters in Iran who have been fighting for the rights of women. The protests in Iran garnered international attention when Mahsa Amini died in police custody after being arrested, allegedly because her headscarf was too loose.
The Association of Families of Flight PS752 Victims planned the Vancouver protest taking place today (Oct. 29) from noon to around 2 p.m. which is anticipated to be the largest in B.C.'s history with an estimated attendance of 30,000 people. The protest will stretch across Lions Gate Bridge.
Vancouver's Persian community held previous protests and rallies that involved women removing their hijabs, and cutting their hair and Iranian identity cards.
Protesters were seen making their way to the bridge through Vancouver.
The bridge grew more populated into the afternoon and protesters can be seen holding Iran flags and signs.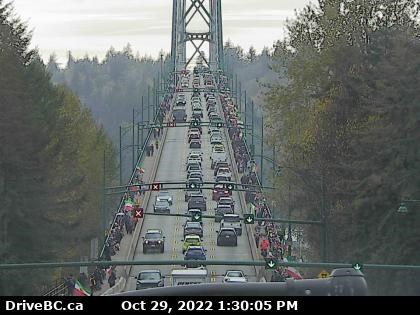 The Association of Families of Flight PS752 Victims is a registered non-profit named for a flight that was shot down by missiles on January 8, 2020 after taking off from Tehran's IKA airport. Iran's Islamic Revolutionary Guard Corps (IRGC) admitted to bringing down the plane but the organization says that the reason why has not been revealed. Reportedly 176 passengers and crew were onboard including 55 Canadian citizens and permanent residents.
With files from Allie Turner.