Water and airborne emergency personnel rescued 184 people from Sumas Prairie in Abbotsford Tuesday after officials warned a pumping station was on the brink of failure all while a massive fire in an RV lot raged amid the floodwaters.
Roughly 300 volunteers — including retired firefighters, veterans and contractors — worked through the night to erect a make-shift dam to protect the Barrowtown pumping station, which is now pumping roughly half a million gallons per minute, said Mayor Henry Braun Warne early Wednesday.
"The situation remains critical at this time," said Braun. "The Barrowtown pump station is operating at its full capacity, but was never intended or designed to take on water from another country."
Pressure on the key pumping station is coming from the Nooksack River, which flows into Canada from the U.S. side of the border and continues to dump water into the Sumas Prairie. And for a while, the mayor said the city was "flying blind" after recording instruments on the U.S. side of the river went down.
Part of Sumas Prairie lies in an old lake bed. If that fills up, all the incoming water will concentrate at the pump station, warned Braun.
"Once that lake is full, and this Nooksack keeps coming, there is nothing we can do. Those pumps cannot keep up with that water," he said. "If we had another weather event, like we just went through, we are in deep doo doo."
He added: "But we can't tell the Americans what to do. They need to beef up their own dikes to keep the Nooksack water on their side of the border."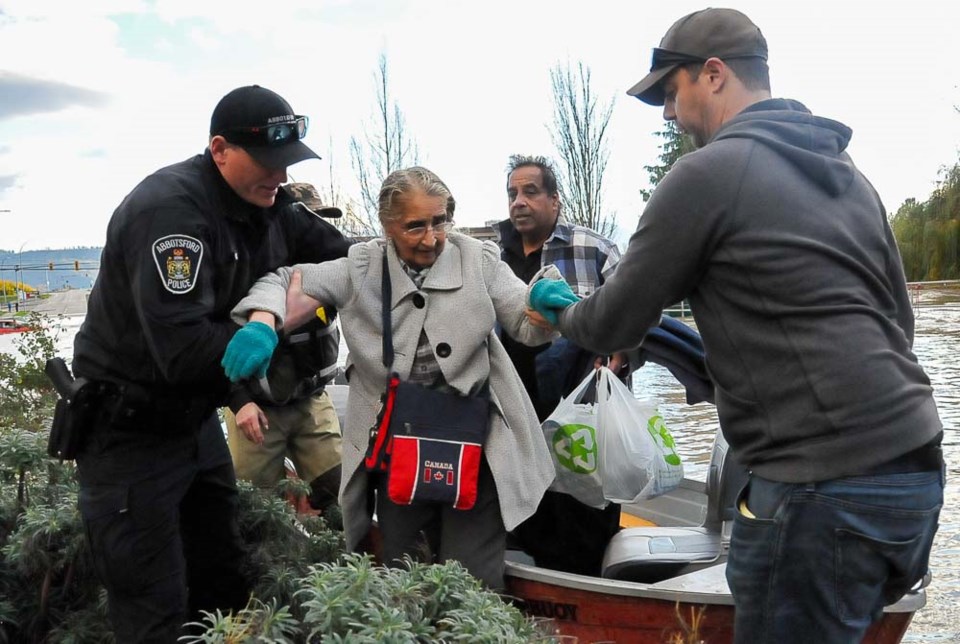 A 2013 report from the City of Abbotsford found that if the 40-year-old pumping station failed it would lead to about $500 million in damages to local properties. The Insurance Bureau of Canada says it will take at least a month to start to understand the scale of insurance payouts due to flooding across the province.
For Sumas Prairie farmer Karl Meier, surviving the next catastrophic flood will mean upgrading the pumps at Barrowtown.
"We rely on pump stations from the diking system. Just get more pumps. That's it," he told Glacier Media. "Need a bigger nail; bring a bigger hammer. It's simple farming."
Late Tuesday night, the City of Abbotsford warned residents of a catastrophic failure of the Barrowtown pumping station.
When the power went out at the Meier farm, Karl and his twin brother Rudy thought "No big deal. We'll just hang tight." Their wives and children had been evacuated earlier in the day and neighbours helped them return throughout the night to feed the hundreds of dairy cows on the property.
"Our phone started going off the hook," said Meier. "It was Rudy's wife: 'You gotta get out of there!'"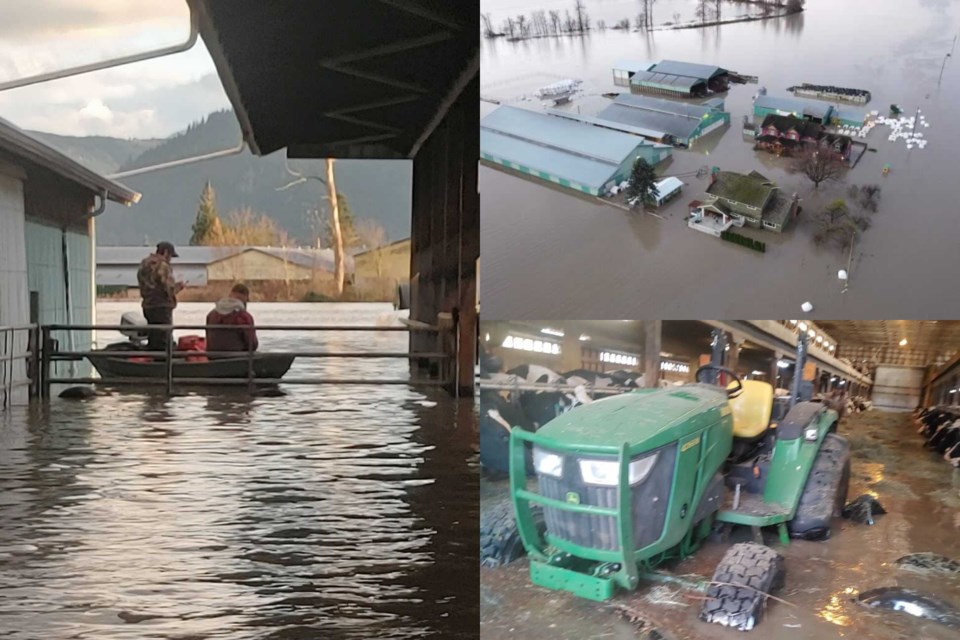 As the City of Abbotsford raised the alarm on social media Tuesday night, questions were raised over when, if ever, the provincial emergency alert system would be triggered.
"It was our decision not to activate the provincial alert ready system for the whole city of 162,000 people," said Mayor Braun Wednesday. "We wanted to directly contact the 300 people who live in Sumas Prairie. And those 300 people all know that there's an emergency by just looking outside of their window, so we didn't want to alarm the whole city."
By the morning, the Fraser River dropped about two metres. That's meant receding floodwaters at Sumas Prairie, including Meier's barn.
The mayor said the water levels need to drop another metre before the city can open up the floodgates at Barrowtown. That will allow seven times more water to spill out into the Fraser River than the pumps could ever manage.
"If that happens in the next 24 hours, we will be able to relieve the pressure on Barrowtown pump station," he said.
Despite three helicopters and several boats working throughout the night, by Wednesday morning, another 80 people remained in a 911 emergency queue waiting for rescue, said Abbotsford police Chief Constable Mike Serr.
Altogether, 300 people across 200 residences were still stranded early Wednesday. Anyone requiring assistance or interested in helping out is urged to call 604-864-5688.
To complicate rescue efforts, a massive fire at an RV dealership is threatening a set of powerful transmission lines.
"If you have enough smoke, the actual transmission lines can go to ground through the smoke particulate," said Serr.
About 40 firefighters and other emergency workers continue to battle the blaze. Residents in the area are advised to close all windows and doors to avoid toxic smoke.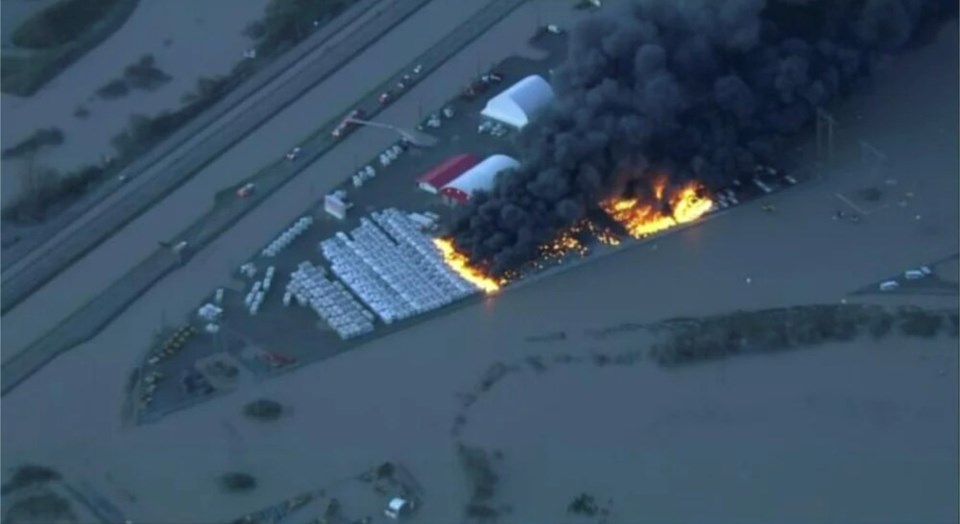 "The support we've received from everybody across the Lower Mainland, the province, has been absolutely outstanding," said fire chief Darren Lee, who was part of a team that rescued 40 people overnight.
Lee said the city is prepared to "very quickly" activate the emergency text-based alert system if the Barrowtown pumping station shows signs of failing.
Serr warned several people using the floodwaters as a chance for recreation to stay away.
Sumas Prairie's large manure storage facilities are now underwater, and are one of several sources contaminating the floodwaters.
"You have to understand this water is not safe. This is toxic water," said Serr, speaking to a number of kayakers and swimmers who interacted with police Tuesday.
If the city loses a levee, the police chief added water can rush in very quickly and endanger anyone near it.
Across the Fraser Valley, 45,000 dairy cows and 25,000 chickens supply half of all B.C.'s dairy products, chicken and eggs.
The BC Milk Marketing Board announced Wednesday morning that farmers would have to start dumping their milk after a number of supply routes were disrupted by floodwaters. With 240 of the thousands of cows in Sumas Prairie, Meier has already begun.
It's not yet clear how many of the region's animals survived the flooding, but the Abbotsford mayor says he's seen bodies of cattle floating in the water and chicken barns half full with water.
"I can't imagine that there's any birds left alive. But we don't have those numbers," Braun said. "But it's for those reasons. We don't want people in the water."