Warning: This story contains racist language that could be distressing to some readers.
An Asian woman standing at the corner of Davie and Granville streets is spit on by another woman and called a "Chinese pig."
A woman riding her bike in Stanley Park is told to "go back to China" before the same threatening person hits the cyclist's bike with a rock.
A man is driving his truck at 41st Avenue and Victoria Drive when a person in a vehicle rolls up next to him and tells him to "go back to China." The motorist then throws a lit cigarette butt into the truck.
The incidents are all captured in new data from the Vancouver Police Department (VPD) that provides details on the nature and location of 204 hate-motivated incidents towards Asian and East Asian people since the pandemic was declared in March 2020.
The data was released Dec. 15, 2022 via a request under the Freedom of Information and Protection of Privacy Act and has since been posted to the VPD's website. The name of the requestor of the information was not disclosed in the documents.
While police have regularly publicized the level of hate-motivated incidents since the beginning of the pandemic, with increases at one point reaching 717 per cent year over year, much of that information has been related to high-profile cases.
The new data shows the total number of reported cases of violence, harassment or both towards Asian and East Asian people since March 11, 2020. Verbal and physical assaults against individuals are recorded, along with incidents of racist graffiti and vandalism.
The incidents occurred across the city — on street corners, on buses, on the SkyTrain, in Stanley Park, in Queen Elizabeth Park, inside businesses, at a church, inside city hall, at the Chinese Cultural Centre, inside public washrooms, at a gas station, inside the lobby of an apartment building and on the wall of the Chinese Consulate on Granville Street.
Mayor Ken Sim described the data as "disturbing" and suggested it didn't capture the full magnitude of the hate directed against people of Asian and East Asian descent in Vancouver, with people not always choosing to report an incident.
"Everyone deserves to feel safe walking around their neighbourhoods, free of any kind of racism or hate, and people shouldn't have to worry about their safety," said Sim, who has been a victim of racism growing up in Vancouver.
"I do have personal experiences. My sister, for example, was accosted in Costco and told to go back home, and she's been here since 1967. This is her home."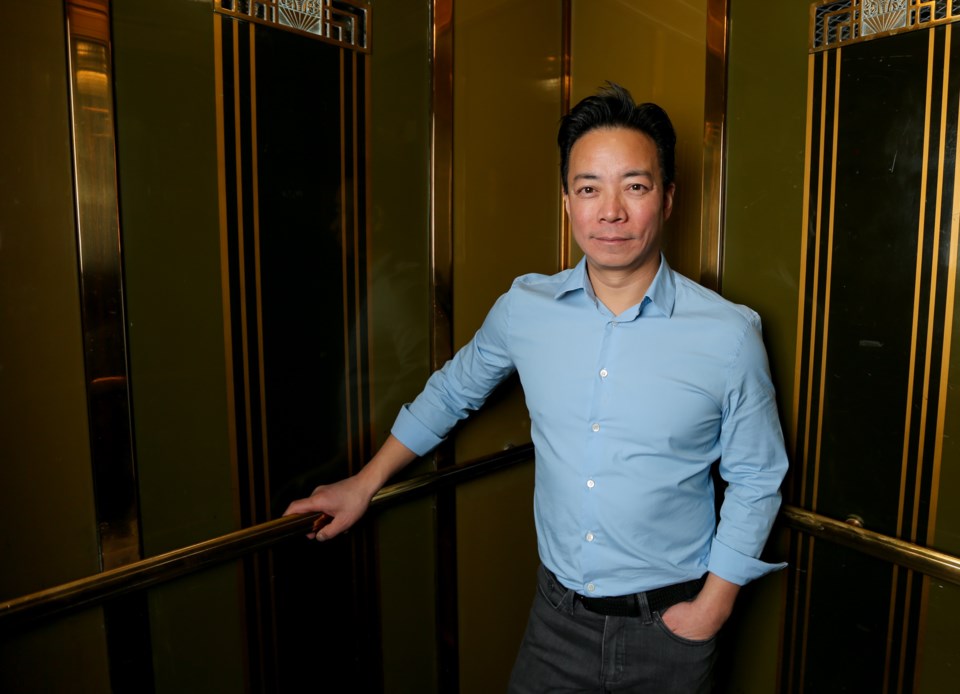 Death threats, assaults
Some of the other incidents captured in the data included:
• At Granville Street and West 70th Avenue, a man out for his evening walk was approached by an unknown man, who screamed racist comments. While the victim was on the phone with police, the male kicked him approximately four times before he fled.
• In the 600-block Robson Street, a man was walking when a person threw a can of pop at him and called him a racist epithet. The man then started to advance toward the victim with an umbrella.
• At the Denman Place Mall, a woman was shopping when an unknown female approached her and told her to "go back to China," and that she was sick. The woman then told the store manager the victim slapped her.
• At Hornby and Pacific, a person chased a woman in a park while threatening to kill her and calling her a racist name.
• On Victoria Drive, an unknown man approached an Asian male, kicked his bike and yelled, "go back to where you came from and f*** off."
• In the 100-block East Pender Street, an Asian woman was exiting her car when someone yelled, "this is all your fault, f*** you" and smashed her car window with a chisel. COVID-19 related, police said.
• At 700 Burrard St., an unidentified person entered a parking lot and wrote graffiti on the complainant's vehicle. The complainant returned to the vehicle and found a racial slur on her licence plate and on the vehicle's hood.
• At city hall, a man with an animal horn started yelling at staff about freedom. Security asked the man to leave but he refused. He destroyed Chinese New Year decorations and a sign. The man made several racist comments towards the security guard.
• At 1300 Seymour St., a person approached a woman and dropped a traffic cone on her head. The woman threw the cone back at the person, who punched the victim and then chased her down the street, telling her, "nobody is coming to help you" and using a racial slur.
• At 2300 School Ave., a person wrote "white power" and drew a Swastika on the front of the Bethel Chinese Christian Church.
Only 28 of 204 incidents involve charges
What police didn't explain in the data was why only 28 of the 204 incidents led to charges.
Const. Tania Visintin, a VPD media liaison officer, said in an email that an officer's role in investigating an incident is to collect evidence, which includes understanding details of what happened before, during and after the call.
"This is required so that we understand the entire context of an incident," Visintin said. "At the conclusion of an investigation, if there is evidence that an incident was motivated by hate, prejudice, or bias, police can recommend to Crown counsel that the hate crimes sentencing provision be applied by the courts following conviction."
Added Visintin: "So since there is no Criminal Code offence labelled 'hate crime,' that is something that gets tacked on at sentencing. So it is up to the courts to determine if the incident was a hate crime with an assault charge, etc. As the police, we can only present the facts of what happened/what was said in our report we send to Crown counsel."
'Brutal reality and sheer ugliness of racism'
Winston Sayson, a retired Crown prosecutor who alerted the public in July 2021 to a racist act of vandalism to a mural in Chinatown, said the data "reveals the brutal reality and sheer ugliness of racism in Vancouver."
"The incidents reported to VPD are but a small sample of the lived reality of many Asians in Metro Vancouver," he said in an email to Glacier Media. "The cowardly acts of violence and the cruel racist words must be exposed and condemned. There is a high public interest in prosecuting hate crimes, especially acts of violence."
What is needed for charges to be laid is evidence that provides a substantial likelihood of conviction, he said, noting this means bystanders need to record and report such incidents.
"Racism can be tackled when the community comes together and accepts that this is a problem that affects everyone and not just the racialized community," said Sayson, who is Filipino-Chinese and immigrated to Canada in 1981.
"There must be a commitment from the government and the community to unite and provide [diversity, equity, inclusion] education and demonstrate an unmistakable commitment to vigorously investigate and prosecute hate crimes."
Sim, who was elected in October, said part of the reason his ABC Vancouver party committed during the campaign to hire 100 officers was because of the rise in hate crimes in the city. Having a city hall satellite office in Chinatown is also connected to the fight against hate, he said.
"While we're dealing with addressing the immediacy of these issues as best as we can, with the tools that we have, I think longer term the best tool is education because acts like this — racism and hate — they all stem from ignorance," Sim said.
If you see or experience acts of racism, help is available. Call the local non-emergency number for your local police department. If there is an immediate threat to your safety or the safety of someone else, call 911.