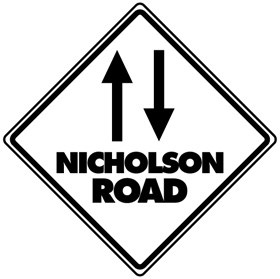 Nicholson Road is an ongoing photo project aimed at sharing and celebrating the different communities in Metro Vancouver. Each week Vancouver Is Awesome will be featuring an image from the previous week, shot in one of the many 'hoods around town in order to draw your attention a little bit outside of the hyper-focus that we usually have on the City of Vancouver.
Metro Vancouver Is Awesome, and you should get out and explore it!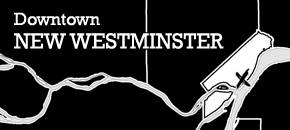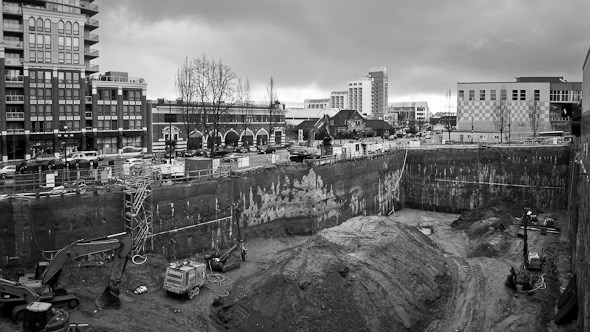 Ah, the excavation pit and the associated wonder at what might soon take its place. If you're anything like me, the limitless construction around Metro Vancouver provides a chance to explore all sorts of curiosities about the city. Not the city that is but the city that will soon be. This site on Columbia right in downtown New Westminster will soon be home to a huge new civic centre (and office tower, if a new developer steps up soon!).
When completed at the end of next year, the Multi Use Civic Facility will be home to a 350-seat theatre, the New Westminster Museum, conference space, art studios and an art gallery, a tourist info centre, and even the Canadian Lacrosse Hall of Fame!
In the meantime we get to enjoy a neat perspective on the city, and use the open pit to imagine what the view might look like in a couple years.
While I'm on the topic, a few excavations are happening on the False Creek Flats in preparation for a couple other developments. What makes these ones stand out, however, is the land that's been excavated - which was once a large tidal flat that was filled in during the earlier part of the previous century. If you swing by the sites near Main and Terminal, you'll be able to see all sorts of log piles and other debris that was used to fill the area. It makes me wonder what sort of other treasures one could find if we had a little more time to dig around!
Archives of the Nicholson Road project can be found HERE.