Tireless, relentless and fierce are words being used by anti-poverty advocates and politicians to describe Chrissy Brett, an outspoken Indigenous housing activist who died suddenly over the weekend.
She was believed to be in her mid-40s.
No cause of death has been made public but close ally Fiona York, a longtime fighter for rights of homeless people in Vancouver, said a friend of Brett's family alerted her Sunday that the Nuxalk grandmother had died in her sleep in a home in the Lower Mainland.
"I hadn't seen her for a few months, but I know quite a few people who saw her in the last week and said that she looked quite well and healthy and strong — nothing to indicate anything was going to happen," said York, who considered Brett a mentor.
"Everything that I do currently is really because of her — how I do things, the way I do things, my understanding — everything is really informed by learning from her and watching her and working with her. And that was just really a privilege."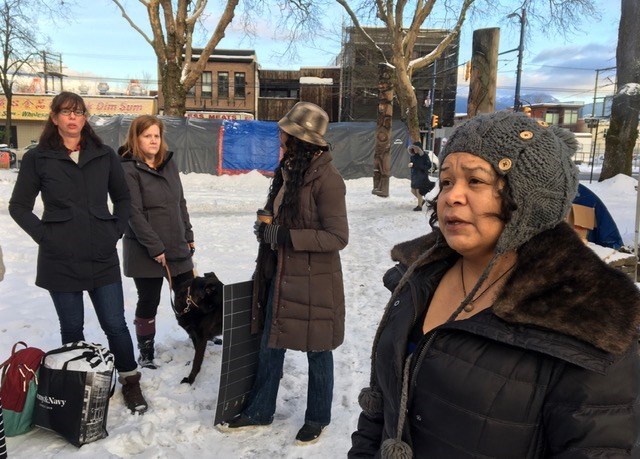 York met Brett in 2019 at the Oppenheimer Park homeless camp. Brett had come from Victoria for the day to search for answers on why and how her niece died in the Downtown Eastside.
"She came to visit the park and a mutual friend had reached out to introduce us," York said. "She had only come for a day and then ended up staying. And that was the beginning."
Brett quickly took on a leadership role at the camp, serving as a liaison between residents of the tent city and city officials. She had a home of her own in Victoria, but travelled back and forth during the week.
She served a similar role in a homeless camp in the provincial capital.
Brett told The Vancouver Courier during an interview in Oppenheimer Park in 2019 that she had dedicated her life to speaking out for Indigenous children and adults, working with a child welfare organization and doing court support work and counselling.
Sixties Scoop
As a child adopted out by a Dawson Creek family during the so-called Sixties Scoop, where Indigenous children were taken from their families and communities and given up for adoption or placed in foster homes, Brett said she was determined to keep families together.
For those who ended up alone and homeless, she was relentless in her pursuit of politicians and city officials to respond to the crisis and was always pointed in addressing them and when talking to reporters.
"Shelters are not homes," she told Vancouver city council in the fall of 2019, moments before her microphone was cut off by Coun. Melissa De Genova, who chaired the meeting.
"People deserve basic rights. Housing is a human right, according to the United Nations. Shelters say you only deserve to be human between 6 p.m. and 6 a.m."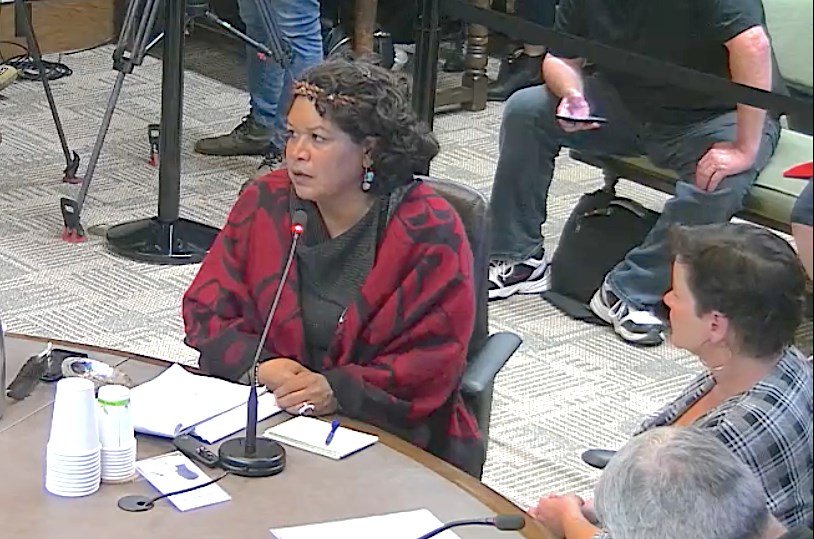 A couple of weeks before her appearance at city hall, Brett was at a Vancouver park board meeting, where she spoke to commissioners about the Oppenheimer Park encampment.
At the time, the politics around Mayor Kennedy Stewart looking to take jurisdiction from the park board was at play, with commissioners saying publicly they didn't want to cede jurisdiction to the city and promised not to seek an injunction.
Brett, who was accompanied by Elli Taylor of Raise the Rates at the meeting table, praised the board for their stance while simultaneously criticizing other levels of government.
"I've heard all levels of government talk about reconciliation, with absolutely no action," said Brett, who earlier in the meeting challenged city manager Paul Mochrie and deputy police chief Howard Chow as they left the park board offices after delivering presentations on the deteriorating state of Oppenheimer Park.
'Very serious types of calls'
Chow told commissioners that officers responded to 704 calls to Oppenheimer between January and August of 2019, which was a significant increase over the 383 answered the previous year.
"Nowhere else in the city would you see this, and we're talking about very serious types of calls — shootings, weapons calls, firearms calls, overdoses, sex assaults," he said, noting the drug and crime activity historically associated to Main and Hastings had shifted to the park.
Deputy fire chief Rob Renning told commissioners at the time that firefighters responded to 20 tent fires since August. They also attended 62 medical calls, including six overdoses and 93 miscellaneous calls.
Brett disputed the police's framing of the park as dangerous.
"Do you see any gang patches?" she said, standing among the tents on a sunny morning in October 2019. "Do you see any colours being repped here? Do you see any of these things that people are talking about? I don't, and I'm here every day."
Added Brett: "I say that Hastings Street and the alleys and camping out alone is way more unsafe and risky than being part of a community."
The Courier later reported that a man wanted for murder in Texas was living in the park. A man who identified himself as "the mayor" of Oppenheimer Park was later arrested in Strathcona Park in connection with a homicide.
'Shame, shame'
On the day of that interview, there was a noticeable overrepresentation of Indigenous people living in the park — a fact not lost on Brett, who also got involved in protests to defend land rights of First Nations.
In one of her most publicized actions, Brett blocked Saanich South MLA Lana Popham in February 2020 from entering the B.C. Legislature. Brett, who waved a feather in Popham's face, was with protesters calling for the RCMP to leave Wet'suwet'en territory.
"Shame, shame," she yelled at Popham, who was forced to turn back.
But that aggressive tactic, along with she and others naming the Strathcona Park tent city "Camp Kennedy-Trudeau" — a dig at Mayor Kennedy Stewart and Prime Minister Justin Trudeau — did not stop politicians from turning to Twitter this week to praise Brett's work.
'Tremendous advocate'
Stewart: "I heard about Chrissy Brett's passing this morning and have been reflecting on her work. She was a tireless fighter, and relentlessly pushed folks in government like myself to do more, and do it faster. To all her loved ones, my sincere condolences."
B.C. Finance Minister Selina Robinson, who was in charge of the housing file at the time of the Oppenheimer Park camp: "Just learned of Chrissy Brett's passing, (broken heart emoji). She was a tremendous advocate for those needing homes. She was fierce and relentless in making sure we all knew that more homes and services are needed for so many. May her memory be for a blessing."
Stanley Woodvine, a Vancouver homeless person who is active on Twitter, wrote: "Sad to read Chrissy Brett has died! Last time I spoke to Brett was in September 2019, when she extended Oppenheimer Park homeless camp to occupy northwest corner of city hall grounds — her way of giving Mayor Stewart a little 'nudge.' She was fierce."
A person whose Twitter handle is RORY wrote Monday: "Fondly remembering times I shared space with Chrissy Brett, most often at the Strathcona Park encampment. Her incredible strength and leadership helped so many people. I remember asking once if there was anything she needed and she responded 'more sage and a Monster energy drink.' RIP Warrior."
A ceremony to remember Brett, who leaves behind four children, is scheduled for 4 p.m. Thursday afternoon (July 21) at CRAB Park, the site of a current homeless camp.
@Howellings