About 75 protesters held a rally Thursday night (Oct. 13) outside the campaign office of ABC Vancouver to denounce the Vancouver Police Union's endorsement of the party's mayoral candidate Ken Sim and his running mates.
Shouting "police out of politics" and carrying signs displaying anti-police messages, the group's presence attracted two officers on motorcycles and three others in squad cars, who observed from a distance and conducted traffic control along the 500-block of Broadway.
Some of the protesters continued on to the Hollywood Theatre, where Sim and his party were holding a wind-up event for its members, one of whom got into a verbal spat with protesters in the alley behind the building.
A police car idled temporarily in the alley, blocking access to the theatre's back door.
Inside, Sim said he was preoccupied with the party's event but understood people were gathered outside the venue, which was packed with ABC members, many of them wearing bright blue party-issued athletic jackets.
"I didn't see what happened, but we live in a great country where people can express their feelings and I just hope they do it respectfully and in a safe manner," said Sim, whose party was endorsed Oct. 5 by the police union.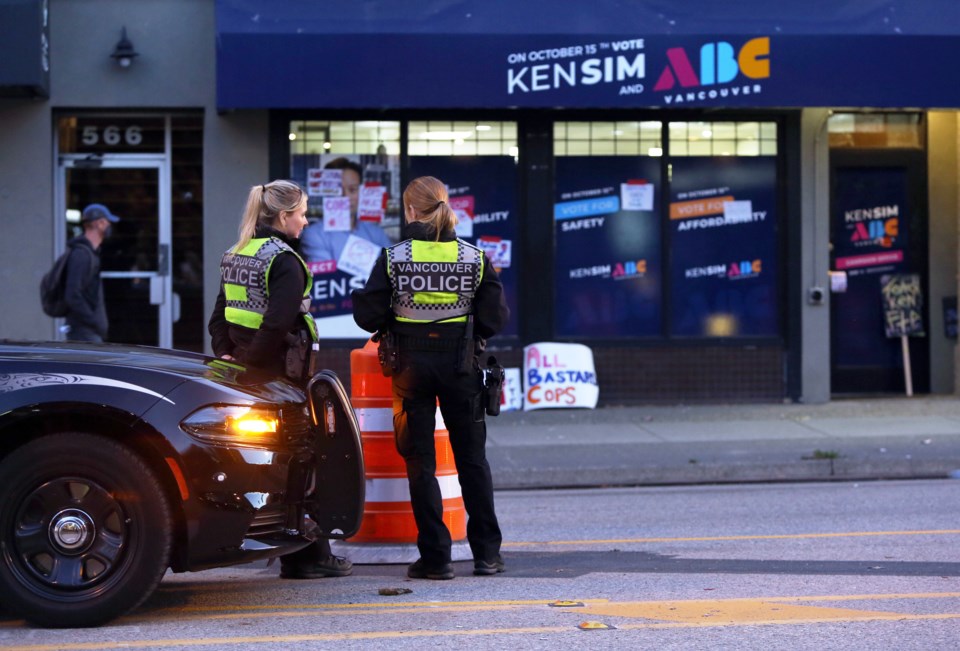 ABC Vancouver hires security guards
Organizers of the protest at ABC's campaign office advertised the event on Twitter, which triggered the party's executive to close the office in the early afternoon over concerns of conflict between protesters and party members.
Kareem Allam, ABC's campaign manager, said the party has since hired security guards to be on site for the two remaining days of the election campaign, which winds up Saturday when the polls close at 8 p.m.
"We closed the office at two o'clock today," said Allam in an interview prior to the protest. "We had to remove all our computers and all our papers. We really had to take down the entire campaign office, and we're going to go back tomorrow and set it back up. We didn't want a confrontation, and the only way to avoid a confrontation is to leave."
Sim has committed to hiring 100 police officers, reinstating the police liaison school program and supporting a VPD graffiti abatement program. He has also called for patrol officers to be equipped with body cameras.
Ryan Sudds, one of the protest organizers and a member of the Stop the Sweeps Coalition, said the police union's endorsement of Sim and his party is a level of cooperation that concerns him and others in the city, particularly residents in the Downtown Eastside.
"Ken Sim says he cares about people in the Downtown Eastside, and I don't understand how you can do that while also accepting an endorsement from the police," said Sudds, standing in front of ABC's campaign office, its window partially covered with signs calling for police out of politics.
"So it makes me worried about what this means for people sleeping on the streets, for drug users, poor people, racialized people, Indigenous people — people who face oppression from the cops at a higher rate than most."
Police union endorsement unprecedented
In endorsing Sim, the police union said in a news release that public safety is the number one issue in this year's election. Union president Ralph Kaisers said citizens are afraid to walk the streets of their neighbourhoods and small business owners are struggling to keep their doors open.
"The VPU feels safety is a right — for everyone," Kaisers said. "Electing Ken Sim and an ABC majority will ensure that police and other front-line responders will have the resources they need to protect and serve Vancouverites."
The union has never endorsed a mayoral candidate.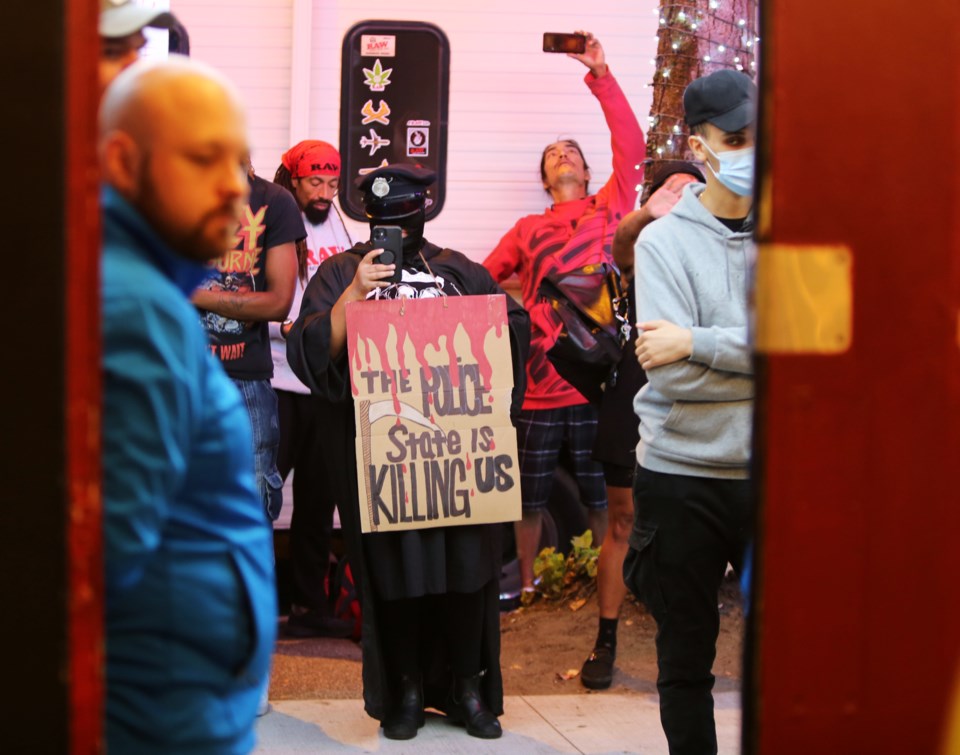 'Quite problematic'
It's the union's entry into the municipal campaign that has political scientists and criminology professors questioning the relationship between police and a party, and whether that influences how an elected council governs.
Quest University Canada political science professor Stewart Prest told Glacier Media that police play a role in the political system, but they are expected to be non-partisan, no matter which party is in power.
Prest said the police union's endorsement of Sim and his running mates is "quite problematic."
"It creates at least the impression or perception among many that the police would favour one political outcome over another and the police have a really unique role in our democratic system of government — they are responsible for enforcing the state's monopoly on the use of force, the use of violence, in our society and that's a big deal," he said.
Sim, meanwhile, said if he and his party win a majority Saturday night, the assumption shouldn't be that they will favour one segment of the city's population over another.
"We're all about dialogue," he said.
"We reach out to all different communities. We've been endorsed by soccer associations, different ethnic communities and business associations and not-for-profits. So while we welcome everyone's endorsement, I'm going to be a mayor for everyone and all of our ABC Vancouver councillors are going to represent everyone in the city."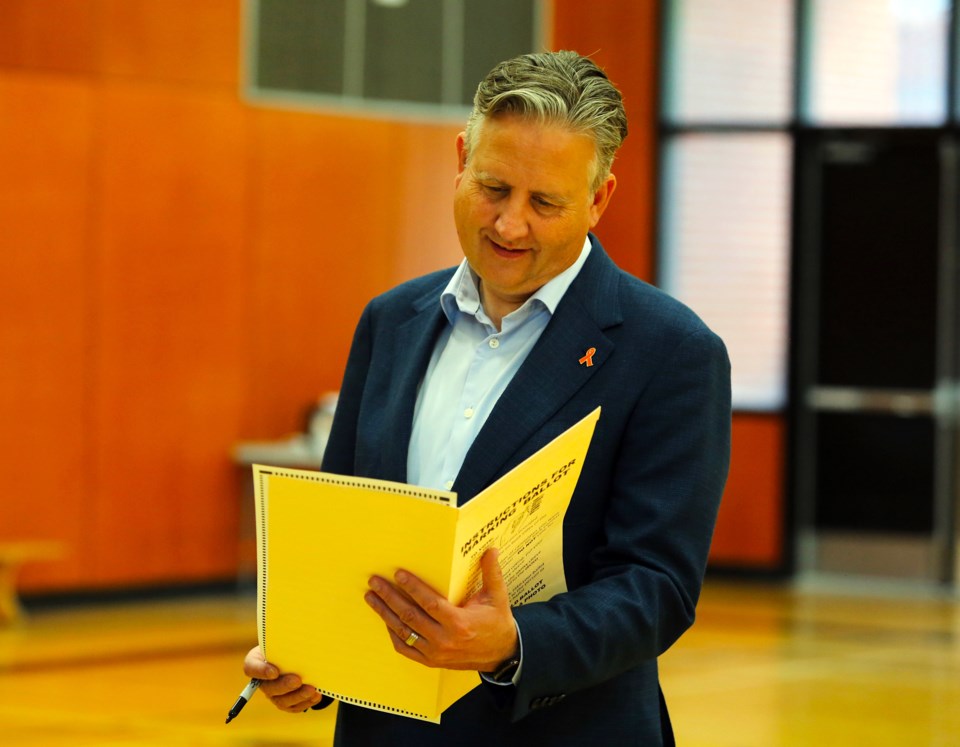 Stewart promises to fully fund police budget requests
Recent public opinion polls show a tight race between Sim and Mayor Kennedy Stewart of Forward Together, who spoke to reporters Thursday morning from David Lam Park in Yaletown before casting a ballot at the Roundhouse Community Centre.
Stewart, who beat Sim by 958 votes in the 2018 race, has promised to fully fund future budget requests from the Vancouver Police Board and create non-police crisis interventions teams for people in distress.
Stewart accused Sim of not providing details on housing targets or how he would protect renters, which make up more than 50 per cent of the city's residents, with 75 per cent of newcomers living in rental accommodations.
The mayor, who was endorsed by the Vancouver Fire Fighters Union, said Vancouverites have an opportunity on election day to choose what they want for the city over the next four years.
"Sim's vague, non-existent — or worse — simplistic solutions to the housing crisis, the climate emergency and public safety, or Forward Together's bold, credible plan which will significantly increase the amount of rental and affordable housing, get the right services to the most vulnerable, reduce polluting greenhouse gases, double childcare spaces and extend the strongest renter protections in Canada."
With files from Graeme Wood
@Howellings