Metro Vancouver gas prices have soared well above the $2 per litre mark, setting another record high for the region.
On Friday (May 6) morning, several outlets were selling gas for 216.9 cents per litre, passing the previous record of 214.9.
Kamesh Goundar shared an image of the sky-high price on Twitter, quipping that the "$110 check is going to solve everything."
The frustrated resident refers to the one-time rebates of $110 for personal drivers and $165 for commercial drivers that the B.C. government will distribute to drivers.
The provincial government is raiding the surplus at ICBC to provide rebates to drivers to offset skyrocketing gas prices.
Metro Vancouver gas prices surpassed the $2-per-litre mark for the first time on March 4 and have continued to climb.
At the time of this writing, even the cheapest outlets across the Lower Mainland are selling gas for over $2 per litre. According to GasBuddy.com, the cheapest option is a Canco in Aldergrove, which is selling gas for 203.9 cents per litre.

Will Metro Vancouver residents see some relief at the pumps this summer?
Patrick De Haan, head of petroleum analysis at GasBuddy.com, tells Vancouver Is Awesome that the long-term forecast isn't looking great for local drivers due to the war in Ukraine.
"We may continue to see increases, varied in timing and amount, as oil prices are likely to see additional upward pressure after the EU indicated it will sanction Russian oil," he explains in an email.
"The long-term outlook is not positive, in that prices are to remain high and volatile with only limited and short-term relief possible for many months, barring improvement in the situation between Russia and Ukraine."
Metro Vancouverites looking to fill up their tanks for under $2 per litre ahead of the weekend won't find any local options.
The cheapest options in Metro Vancouver start at 205.9 cents per litre, according to GasBuddy.com. There is an option in Surrey at a Husky located at 18398 Fraser Hwy and one in the city at an Esso & 7-Eleven located at 688 SE Marine Dr.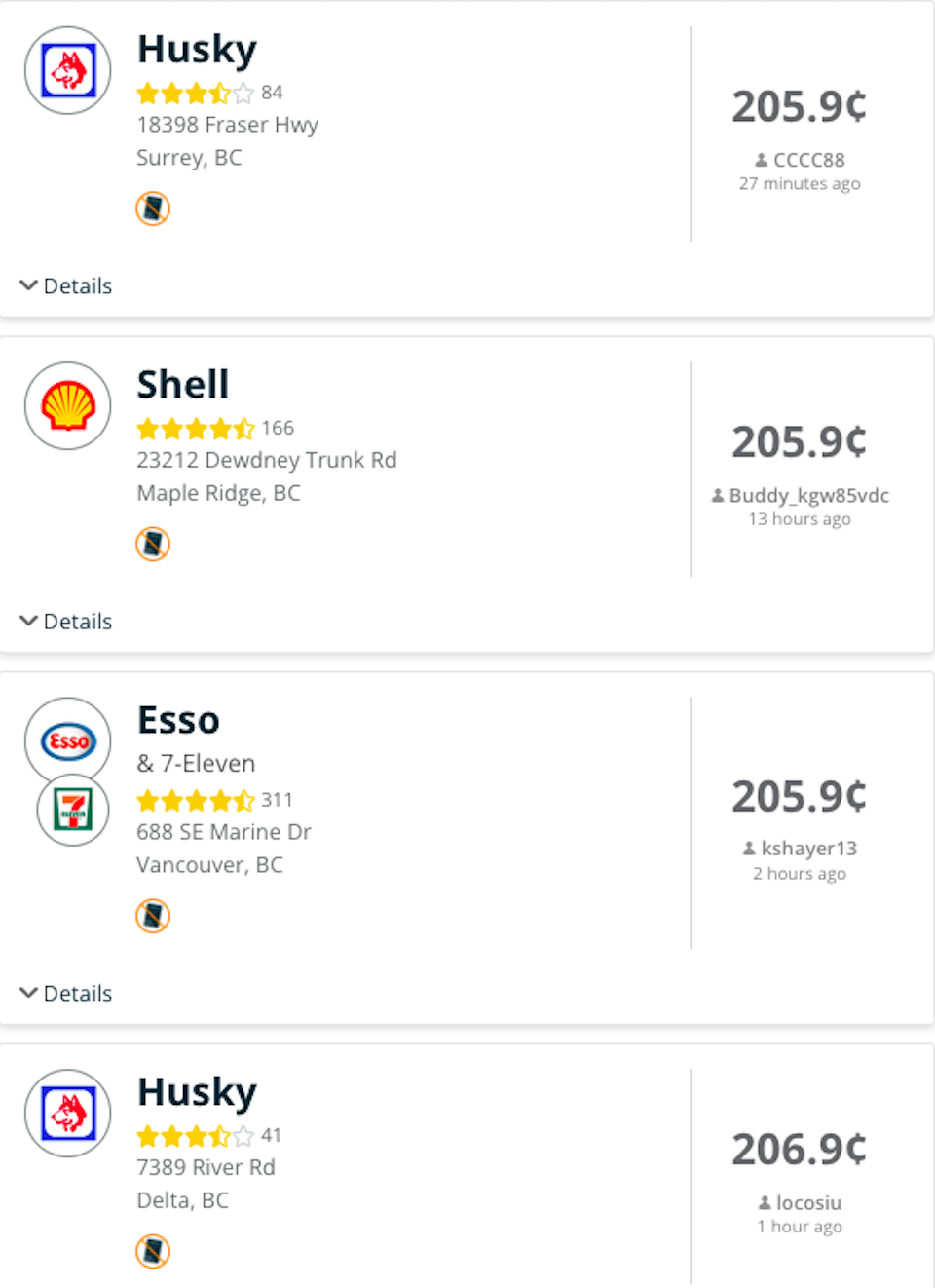 Uber increases costs
In March, Uber announced it was increasing prices to help drivers and delivery people due to the surging cost of gas.
Rideshare riders now pay a $0.50 surcharge on every ride and, on Uber Eats where trips are shorter, consumer fees were adjusted to cover the equivalent of a $0.35 surcharge on every delivery.
Uber stated that 100 per cent of its new surcharge will "go directly to drivers and delivery people" and is temporary. It will be in place for "at least 60 days" as the company monitors gas prices.
With files from Colin Dacre