Vancouver's integrity commissioner has recommended the mayor and 10 councillors be eligible to spend up to $5,000 each per year to obtain independent legal advice on such matters as conflict-of-interest.
The aim of the recommendation and nine other less controversial requests outlined in Lisa Southern's annual report is to help council "make informed decisions on complex matters" and reduce breaches of the city's code of conduct bylaw.
"Many of our recommendations are fashioned out of our philosophy that education, advice, and shared understandings are proactive and preferable ways to approach this important work," said Southern in her report, which was recently posted to the city's website.
What other B.C. municipalities have in place for elected officials is unclear, although communications representatives in Burnaby and Surrey said Thursday there is no dedicated fund for politicians to seek independent legal advice.
Michael Wiebe case
Former Vancouver Green Party councillor Michael Wiebe, who spent "a lot" of money over two years defending himself in a conflict-of-interest case, said he wished such a fund would have been in place when he was in office.
Wiebe ended up in court because of allegations brought forward by 15 citizens that he was in a conflict of interest when he voted in May 2020 on a temporary patio program for restaurants, bars and breweries.
At the time of the vote, Wiebe owned the Eight ½ restaurant in Mount Pleasant and was an investor in Portside Pub in Gastown. Both businesses received temporary patio licences after council unanimously approved the program.
The petitioners wanted Wiebe disqualified from office, arguing the councillor stood to gain financially from voting on the patio program, which was put in place to help businesses attract customers during the pandemic.
'Tens of thousands'
In July 2021, a B.C. Supreme Court judge dismissed the court action against Wiebe. The matter then went to the B.C. Court of Appeal and has since been terminated, according to Wiebe, who said all parties agreed just prior to the Oct. 15 civic election to end the legal battle.
"Residents of Vancouver shouldn't have to spend tens of thousands of dollars to take a councillor to the B.C. Supreme Court," Wiebe told Glacier Media. "It didn't work for either side. It was an inefficient system that didn't provide an outcome."
The initial complaint against Wiebe was forwarded to the mayor's office, which is the first step in the order of proceedings outlined in the code of conduct that governs councillors. A lawyer was then hired to investigate the complaint, which then led to the court battle.
Had a legal fund been available to Wiebe at that time, he believes all parties could have reached a resolution earlier and avoided going to court.
"I would have been brought in early and been interviewed, and there would have been a process with both sides to talk about what had happened," he said, acknowledging $5,000 in legal fees adds up quickly.
"Doing it incrementally [with $5,000] is not a bad thing because it's much better than we had before, and you can see early on what's working, or not working."
'No experience in public governance'
Wiebe's former Green Party colleague, Pete Fry, who was re-elected in October to a second term, said he has never sought independent legal advice while in office. But, Fry added, he respected Southern's recommendation, describing her as an expert.
"I note that we have a number of newly elected with no experience in public governance — and as I reflect on the stressful situation for Michael Wiebe in the last term, largely brought about because he didn't get independent legal advice, I think it's prudent to have that sort of policy," he said in an email.
"I wouldn't wish what happened to Mike on anyone else."
For Southern's recommendation to become a reality, the mayor or a councillor would have to successfully introduce a motion at a council meeting. Fry said he would first canvas the ABC Vancouver majority to gauge support on such a resolution.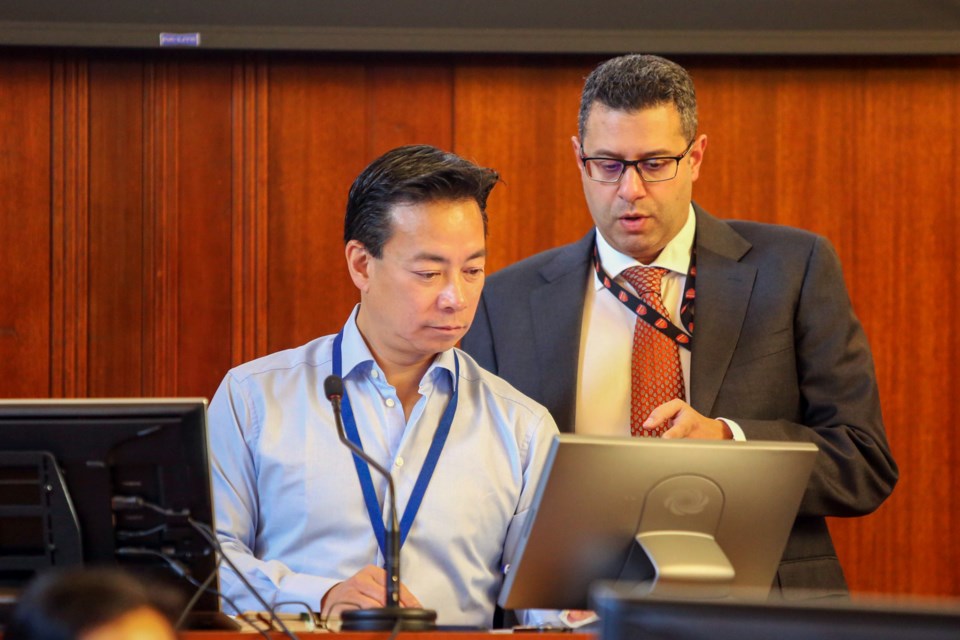 'May not be adequate'
Kareem Allam, Mayor Ken Sim's chief of staff, said in an email that "we will be seeking a second opinion regarding budget access for legal fees to determine whether the amount outlined in the report is sufficient. Five thousand dollars counts for only 10 hours of legal advice in most cases and may not be adequate."
Southern was appointed the city's first-ever integrity commissioner in January 2022. Other recommendations in her annual report, which also apply to city advisory board members, include:
• Integrity commissioner educational presentations should be made mandatory. If council members fail to attend, this would be reported in the annual report.
• Advisory board members must complete a minimum of four hours of compulsory education on key topics of conflicts of interest, the code of conduct and communications each year. If advisory board members fail to meet this requirement, this would be reported in the annual report.
• The code of conduct bylaw should be clarified to explicitly allow the integrity commissioner to provide their opinion or make recommendations regarding indemnification of legal fees of a council member.
• The code of conduct bylaw be amended to clearly allow the integrity commissioner to pause the formal investigation timeline in the event that either the commissioner, or the parties, identify that mediation may be an option for resolution.
Southern noted the $5,000 in legal advice could also be used when the mayor or councillors have questions about accepting gifts from citizens.