While we all love casually scrolling through 1000s of images on our phones, the digital landscape makes it challenging to establish a true connection to what we're seeing. Even if we throw it a 'like' or two.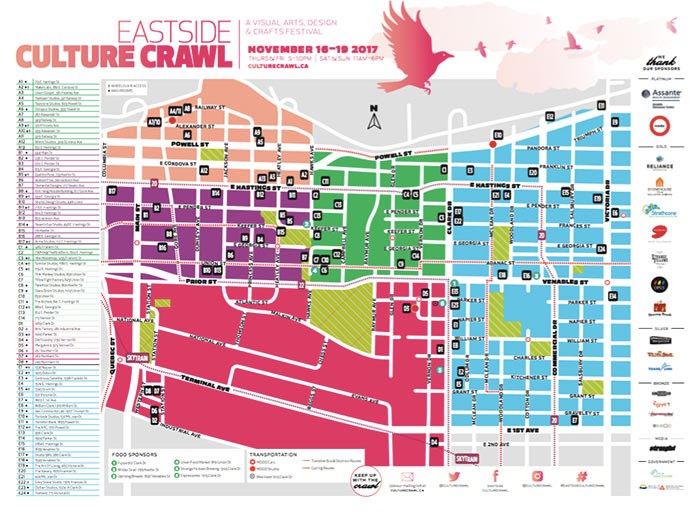 The Eastside Culture Crawl (ECC) is an annual 4-day visual arts festival where artists in Vancouver's Eastside open their studios to the public. The event aims shine light on Vancouver's creative community while celebrating those who contribute to it.
This year's event takes place across 80 buildings in the area bounded by Columbia Street, 1st Avenue, Victoria Drive and the waterfront in Vancouver, Canada. You can explore the work of all participating artists HERE.
The Eastside Culture Crawl officially began in 1997 with 45 visual artists in 3 Strathcona area studio buildings. Since then, the event has grown to include over 500+ artists, craftspeople and designers attracting an audience of more than 30,000 each year, making it one of the largest culture crawls in the country.
The ECC brings together both creators and appreciators of art, in the very setting where the art is made. Admire the art, see how it's made, meet the artist, have a drink, laugh, move, talk, meet new people and head off to the next studio to do it all again. Simply put, ECC is about building a real-life community around Vancouver's art scene.
The Eastside Culture Crawl takes place November 16 - 19, 2017. For more information on the Eastside Culture Crawl, visit culturecrawl.ca 
ECCS acknowledges and pays respect to the Musqueam, Squamish and Tsleil-Waututh First Nations on whose unceded traditional territories our organization and our work is based.