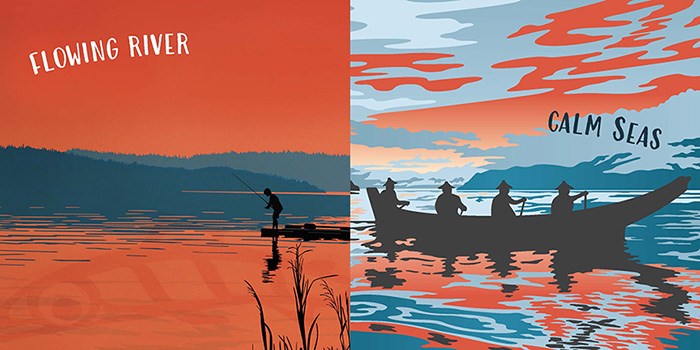 Here are BC's 10 bestsellers of the month! For more info, visit http://books.bc.ca.
The seasoned columnist offers a hilarious view of Canadian life from the "Island of Misfit Toys" AKA Vancouver Island. Hard Knox is a truly local account of life on the West Coast. For those interested in: biographies, personal opinion and comedy.
9. I'm Right and You're an Idiot by James Hoggan
The David Suzuki Foundation chair takes discusses the importance of reframing our arguments with empathy. For those interested in: sociology, philosophy and politics.
8. Hello Humpback! By Roy Henry Vickers and Robert Budd
A bright and bold celebration of the magical West Coast. Ideal for babies and toddlers who are beginning to recognize their natural surroundings. For those interested in: children's literature and nature.
7.  The Last Gang in Town by Aaron Chapman
The Last Gang in Town uses unpublished photos and police documents to tell the story of the infamous Clark Park street gang, the Vancouver police department and Vancouver's post-1960s counterculture. For those interested in: local history and investigative journalism.
6. Vancouver Tree Book: A Living City Field Guide by David Tracey
Designed for outdoor use, the Vancouver Tree Book offers its readers a guide to the history and culture of Vancouver's definitive trees. Includes 10 tree tour walks and information on over 110 species. For those interested in: science, environment, civic history and city planning
5. The Queen of the North Disaster by Colin Henthorne
A first-hand account of a modern marine disaster. The captain of the Queen of the North offers insight on what happened when the BC Ferries passenger ship sank. For those interested in: memoirs and local history.
4. Stepping Stones by Margriet Ruurs, illustrated by Nizar Ali Badr
A beautiful picture book inspired by the stone artwork of Syrian artist Nizar Ali Badr. Stepping Stones tells the story of Rama and her family, who are forced to flee their once-peaceful village in Syria as war rages closer to their home. For those interested in: art, history, politics and current affairs.
3. British Columbia Lullaby by P.L. McCarron
A beautifully illustrated portrait of BC's whimsical wilderness. ?For those interested in: children's literature.
An extraordinary and well-curated selection of reflections from one of Canada's most important First Nations authors. Richard Wagamese extracts life lessons and philosophical musings from daily life, showcasing how we are connected to the universe in every moment. For those interested in: philosophy and spirituality.
1. The Hidden Life of Trees by Peter Wohlleben
Author Peter Wohlleben makes a convincing case that trees are social beings that behave like human families. Wohelleben shows how groundbreaking scientific research has revealed how trees communicate, support each other, share nutrients, and even warn each other of impending danger. For those interested in: science, nature and sociology.