The collaboration between Canadian pop-star Justin Bieber and Tim Hortons that graced Canada with "Timbiebs" has online sellers marking up the associated merch by ridiculous margins.
The celebrity endorsement deal was two years in the making and resulted in the release of three new Timbit flavours in late November – which the V.I.A. Fast Food Panel tasted recently. The highly-anticipated doughnut drop was met with mixed feelings. No matter how they taste though, the associated merchandise has been selling like hot… donuts?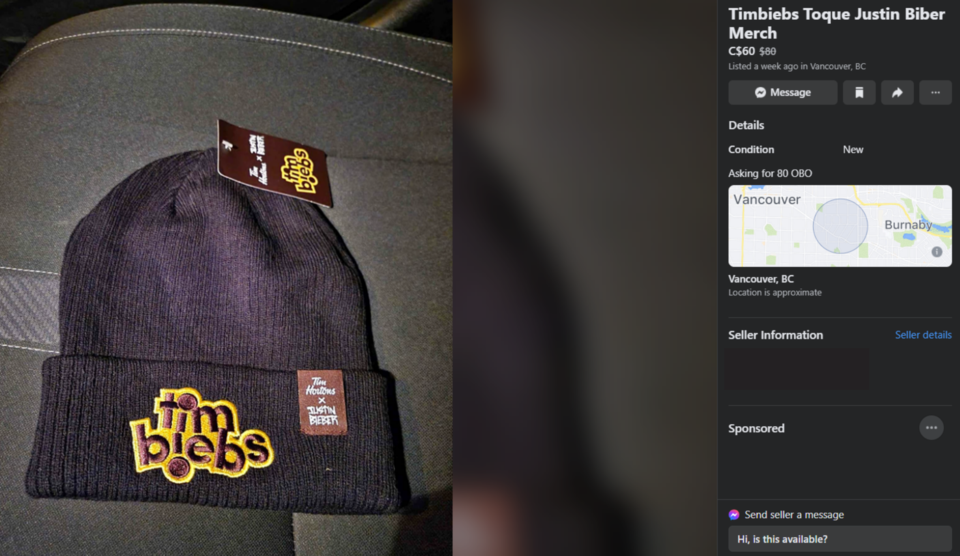 A quick search on Facebook Marketplace, Craigslist and eBay will result in many listings for the Timbiebs-branded beanie, tote bags, corduroy fanny packs and cardboard boxes the Timbiebs come in. A bidding war in Ontario for one of these boxes ended when a bid reached over $10,000.
In Metro Vancouver though, a seller in Burnaby wants $20 for a Timbiebs box, sans donuts. The retail price for a box of 10 Timbiebs is $3.17, meaning the listing presents a hefty 530 per cent markup.
A seller in Vancouver is looking to get $200 for both a Timbiebs beanie and tote bag, each worth $29.99. This sweet deal makes for an only slightly less outrageous 233 per cent increase.
This isn't the first time Metro Vancouver sellers have cashed in on the pop-star/fast-food aftermarket. Earlier this year the collaboration between BTS and McDonald's gave way to listings for still-greasy paper bags and nugget boxes priced at nearly $1,000.