Who has the right to sell vendor spots at Vancouver's annual pot "protest" on April 20, aka 4/20?
Several vendors who participated in this year's unsanctioned event at Sunset Beach say they were misled by the organizer because no one technically owns the rights to sell space and that wasn't made clear to them.
But the event organizer argues that the money raised goes toward funding the massive demonstration and furthering cannabis deregulation.
Robert Moore founded World Cannabis in 2014 with a couple of other marijuana advocates in Vancouver but is now the sole proprietor of the organization.
Despite Canada's legalization of cannabis in 2018, the city's 4/20 gatherings draw marijuana enthusiasts from across the Lower Mainland. Many of them are protesting Canada's current cannabis regime, which Moore says suppresses minority users and has several restrictive guidelines.
Moore told V.I.A. that his 4/20 event is non-profit and that all of the money vendors pay for space is considered "donations" to support the protest.
4/20 vendor: 'I did not think it would be an unsanctioned event'
For vendor Enrique Blanc, however, the event was advertised as more of a cannabis celebration or gathering rather than an actual protest. He also believed that he was guaranteed a preferred location based on the amount of money he paid for the event.
"The wording they used was very specific...it made me feel like it was an approved event. I did not think it would be an unsanctioned event," he told V.I.A. of a pre-event conversation on Facebook with a representative of World Cannabis to discuss vending options and payment.
Blanc paid $500 for a preferred location that was close to the stage and in a corner, which he believed would garner more business since people frequently walk past it. He sells light-up clothing and merchandise for raves. Vendor spaces were priced based on location, starting at $200 with "preferred" vendor booths selling for $500 if they were purchased early. After the initial tickets were sold, vendor prices changed from $400 to $600 based on location.
World Cannabis has a map on its website that showed how the event would be organized, displaying the vendor area in coloured squares in front of the stage. "Free spots on beach" also appears in small black writing over a shady spot with trees in one area under the vendor zone.
Due to significant rainfall, many of the vendors had to move from their designated spot since the grass was soggy and because the city partitioned an area that was originally allocated as part of the World Cannabis vendor zone.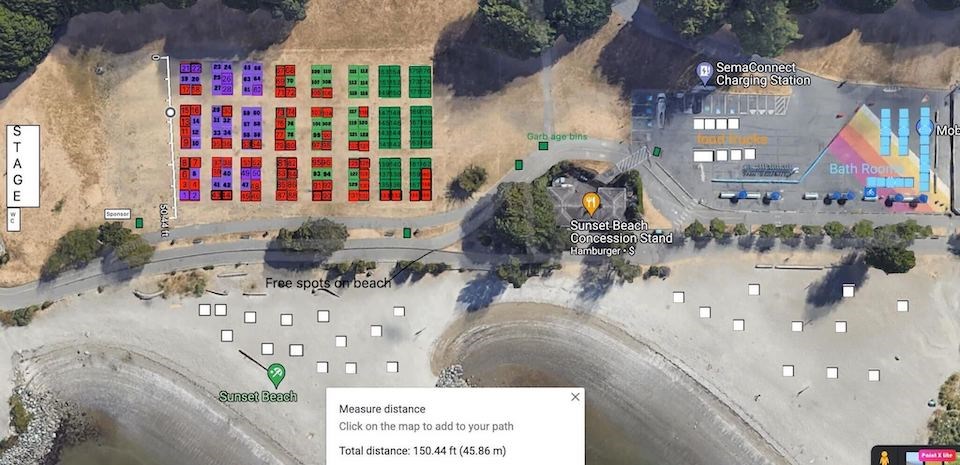 Vancouver 4/20 protest vendor says World Cannabis misled him
Blanc said he didn't realize there was a free option, arguing that the way the organizer's website is set up doesn't spell out that vendors can sell for free. The vendor adds that during his conversation with a World Cannabis member via chat on Facebook, he wasn't told the event was a protest and the payments were "donations." Instead, he was told about the pricing of vendor units and why certain locations in the park cost more money.
While the rainfall dampened the spirits of many of the vendors, some report they enjoyed the experience and made a profit.
According to Vancouver Police Department Const. Tania Visintin, roughly 1,000 people attended the Sunset Beach event.
But Blanc said he was moved to an area that saw far less foot traffic due to the rain. While he purchased "spot number one" in the corner near the front, he said the dreary weather forced him to relocate down by a walkway where he didn't have the corner space anymore.
"I paid $500 for a certain booth. When I came for my spot, [Moore] said, 'Pick wherever you like,' which made me go, 'What am I paying for?" he said.
"It felt sketchy," Blanc added.
After a dismal day in the wet weather culminating in him standing in "an inch of water" and shivering, the frustrated vendor wanted to pack up his booth and leave. However, he claims he was told by organizers that he had to stay until the event was scheduled to end at 10 p.m.
When he was finished packing up, he asked some nearby event promoters to watch his gear and merchandise, which he had packed into several large boxes. But when he returned with his vehicle, everything had been stolen.
"I lost $3,000 when I went to get my car," he said, adding that they were the "most valuable" items.
Blanc's girlfriend filed a police report with VPD that night after the event. Visintin confirmed that a report was filed and that it specified which items were believed stolen.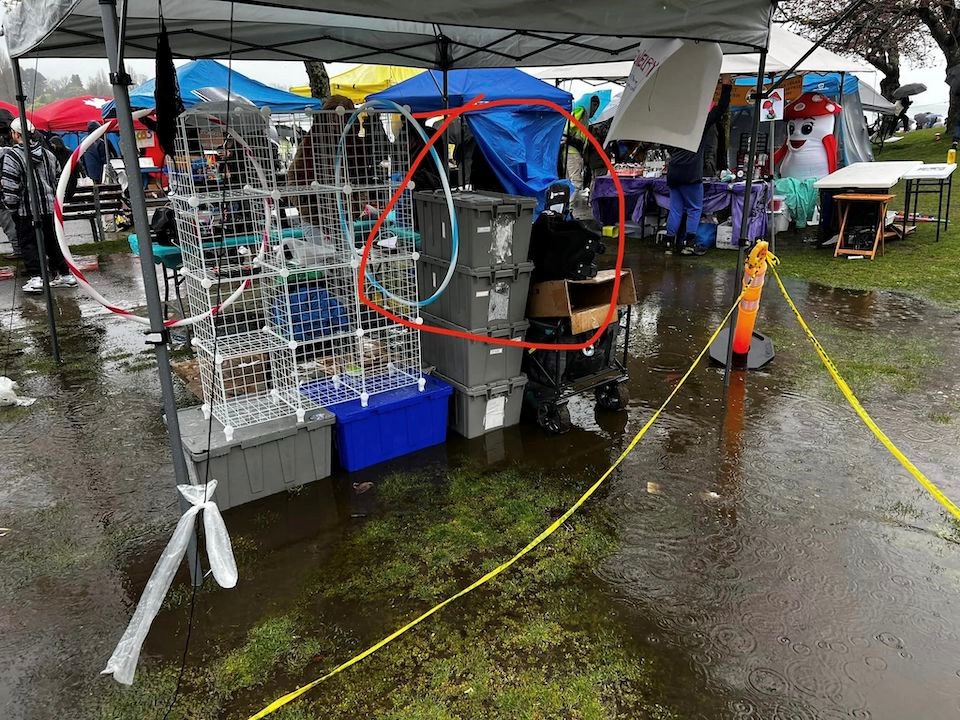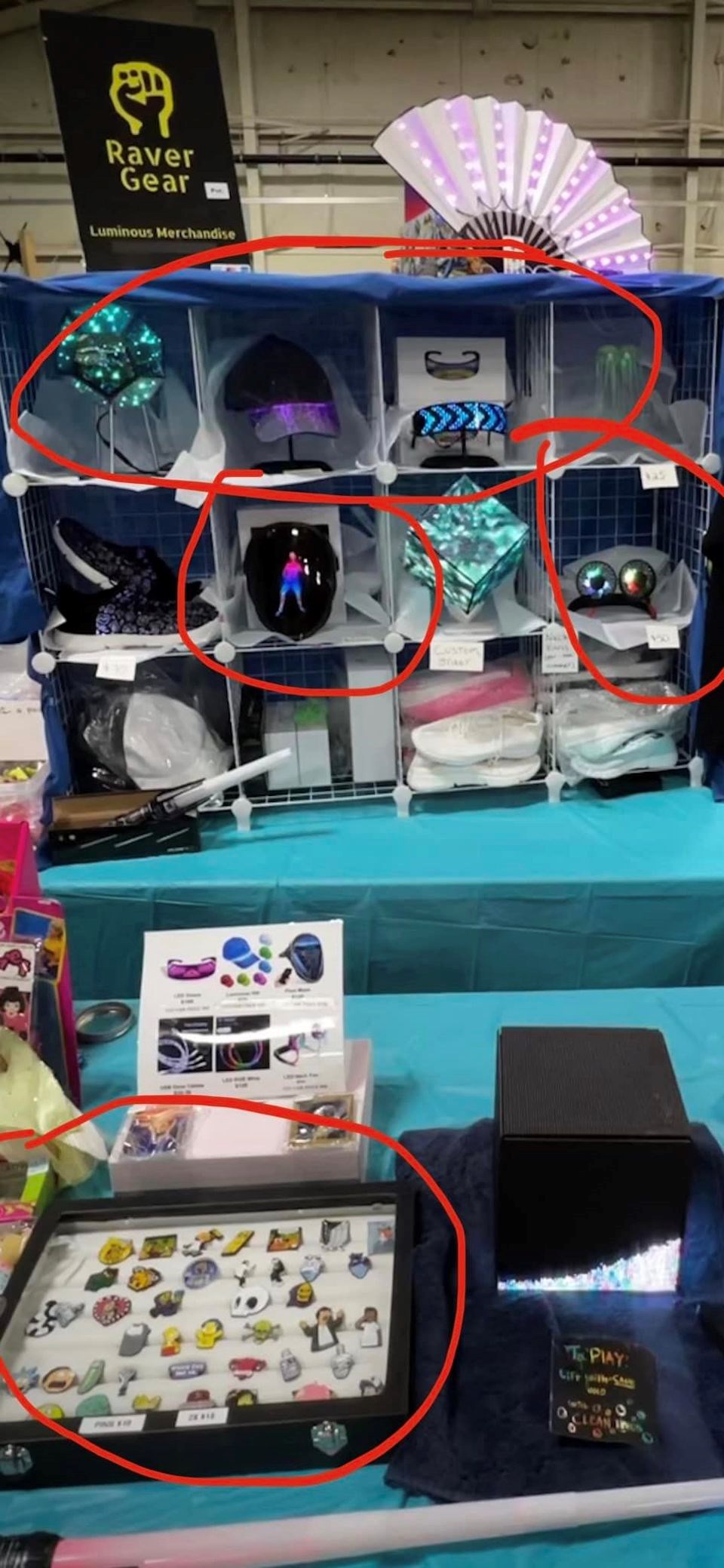 World Cannabis president says the city is partly responsible for protest issues
Following the event, Blanc said he couldn't sleep or eat and was having nightmares. While he told Moore in person at the event that his stuff was stolen, Moore reportedly told Blanc he couldn't help him. The vendor later reached out to Moore again on Facebook, requesting the money he paid for the spot back since he didn't get the location he paid for and since he felt misled about the money being a "donation."
Moore eventually blocked him on the platform and told V.I.A. that the discussion between them was heated. He also said that he wasn't responsible for the weather and that the city was responsible for many of the issues that prevented vendors from having a positive experience.
Blanc said that Moore has now unblocked him and refunded him the money. His friends also launched a GoFundMe for him, which has raised $1,650 as of this writing. Moore also shared the fundraiser on his Facebook page which has a following of upwards of 240,000 people.
Moore claims that he had several consultations with the city prior to the event and that many of their agreements were broken.
The Vancouver Board of Parks and Recreation respected the attendees' right to protest but said that "Vancouver parks are not suitable spaces for large, unsanctioned gatherings, such as these."
The city confirmed that the Park Board received communication from World Cannabis organizers dating back to January that involved information sharing and expectations.
Moore also stated that the city told him to refund the food truck vendors and not have them on-site since due to "safety concerns." He said his group was promised 20 bathrooms in exchange for doing so but that only nine portable toilets arrived at the event in "inconvenient locations" and there were no handicap options.
The Park Board refuted this statement, saying it had no knowledge of World Cannabis' agreements with food truck vendors.
"We informed the organizers that, in line with previous 4/20 protests at Sunset Beach, no access would be provided for unsanctioned food truck operations," explains a statement to V.I.A.
"The Park Board added portaloos to the site for park users to minimize impacts on the neighbourhood, since Sunset Beach washrooms are not adequate in supporting such a large gathering of people."
Moore also said that the Park Board gave the demonstrators very little time to clean up, resulting in a significant amount for the city to handle the next day. The city also refuted this statement, noting that they were told the event had to end by 8 p.m., "as per previous years."
Other vendors express frustration following Vancouver 4/20 event
Blanc isn't the only vendor who feels misled or let down by World Cannabis.
Part-time vendor Anshul Gundawar, who lives across from the event location, said in February he booked a stall near the stage for $500.
"I saw the post on Instagram for the booking and the website looked flimsy but I thought it was okay and they had a map showing the tents," he told V.IA.
Gundawar planned to set up a "small convenience" store selling chips, chocolate, energy drinks, pop, and other items. He spent about $700 on merchandise and obtained a credit card machine. But the spot he booked was in an area blocked by the city so they told him to go to another place.
"They don't even own the space. They don't have the right," he said of Moore and World Cannabis. "I tried to contact the information desk and they kept saying, 'Talk to Rob.'"
Gundawar claims Moore told him in an in-person conversation to find another place. When he asked for his money back, he says that was "out of the question at that time."
The vendor, who ultimately left before setting up, said his table was stolen, which cost about $80. He also paid $500 for his vendor spot.
"It feels like you are being cheated. I wasn't expecting to take a loss," he said. "These events are not permitted. You can go into the area and set up for free.
"He's just taking advantage of people who don't know this," accused Gundawar.
Vendor Celina (who declined to use her last name for safety concerns) told V.I.A. that she paid over $420 as part of the early ticket selection and was "supposed to be right in front of the stage," adding that "the Park Board came along and taped off the whole pit area" and they were moved to an area where she "got next to no customers."
Celina, who operates Concentreatz, sells THC edibles, cookies, brownies, distilled lemonade, and iced coffee and said she gave "a bunch" of her items away as "donations" to the event organizers in order to get a shout-out on the main stage during a musical "cakewalk" game.
But the Concentreatz owner said the game never happened and she didn't hear a shout-out.
As she was packing up to go home, two of her tables, a display case, an umbrella, and a canopy tarp were stolen, despite her having "four people watching" the area for her.
"It was a very chaotic event with no security. I go every year it is held and this year my car was towed. So I was left with all my products and canopies and had to Uber home," said the frustrated vendor.
Celina said that she reached out to Moore via Facebook to ask for a refund and that his response was simply: 'The rain ruined everything.'
"He definitely lost a vendor because I will never do one of his events again," she added.
World Cannabis president says free spaces were an "obvious" choice for prospective vendors
When asked if he feels he makes that clear to people purchasing vendor space, Moore told V.I.A. that it is on the map where vendors select a spot and that it is "obvious." He also said that everyone understands the money they pay is a donation.
When asked why the donations don't go toward hiring security, Moore said there was "a large police presence."
Moore also said donated items were distributed from the stage at 4:20 p.m. and he didn't keep them. However, he also said he doesn't do the hosting from the stage and couldn't comment on vendors getting shout-outs.
Moore told V.I.A. that he will give anyone who was unhappy with this year's 4/20 event a free spot at his next event. However, as multiple vendors have noted, there are already free spots available to anyone who wants to sell at the unsanctioned event.
Vendors are told to review a code of conduct but they do not sign a contract.
Vancouver Lawyer Kyla Lee said collecting revenue for spots at an unsanctioned event with no permit is illegal.
"At a high level of technicality, it could be characterized as fraud. It's really no different than me saying 'I will sell you my car' when the car actually belongs to another person," she told V.I.A.
"Do I expect criminal charges? No. I also think there is no public interest in charges for fraud in these circumstances and it's not as though the vendors who purchased space were completely blind to the risks they were taking," Lee explained.
Lee said the vendors knew the event is unsanctioned so it complicates their position in arguing they should be entitled to a refund.
"This is just the risk of doing business in a non-regulated way," she noted.
World Cannabis plans to host a "Global Marijuana March" and "pop-up market" on May 6 and it does not have a permit for this event. It also advertises space but does not indicate in the advertisement that these payments are donations.