Fentanyl has gained a notorious reputation for being one of the most lethal drugs on Vancouver streets — but is it?
While numerous British Columbians have died after using fentanyl, many of them did not know they were taking it. And, even if they do take it, they often have no idea how much of it they are using.
A new program launched by the Portland Hotel Society (PHS) provides people who use fentanyl with a place to access it for the price they would pay for it on the street without the risk of accidentally consuming a higher or contaminated dose.
The program, called Enhanced Access (EA), commenced in early April. Fentanyl powder is offered to patients in capsules and they can open them to smoke or inject the powder.
Other programs in Metro Vancouver offer similar services, where patients receive drugs that they then use at the clinic. What differentiates EA from these programs, however, is that patients are able to take the drug with them to use at their convenience.
"This is a way for people to have a step out of the Downtown Eastside."
The ability to take the drug with them is a significant step forward in allowing people use who use drugs to lead normal lives, Portland Hotel Society Director Dr. Christy Sutherland tells Vancouver Is Awesome in a phone interview.
When the program starts, a nurse observes a patient using a lower dose of fentanyl. The dosage is gradually increased over three or four days to establish an individual's tolerance. Once stability is established, patients purchase their fentanyl from a pharmacy at the PHS for a price on par with "street" value, removing any financial incentive to sell on (diversion).
"What had happened in the past is [a patient] would say, 'Dr. Sutherland, I got a job, I can't come here every day, throughout the day to have all my witnessed dosings. How can I get this drug otherwise?'"
"There [was] no other option. Either you come here and be witnessed or you don't get it," she explains. "This is a way for people to have a step out of the Downtown Eastside, back to work, find housing, back to stability, back to their family."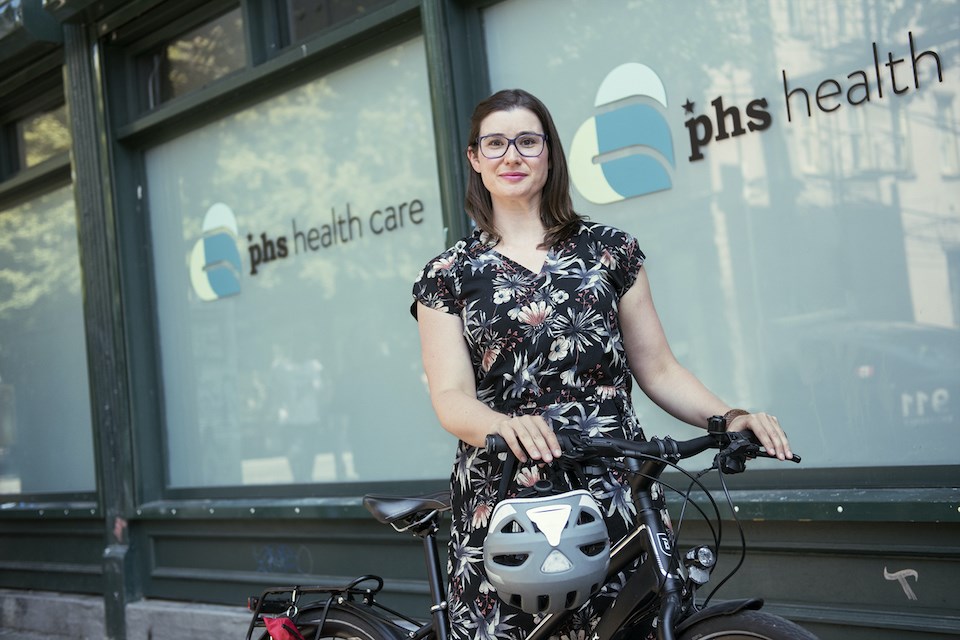 When asked about the risk of a patient taking all of their doses at once, Sutherland notes that each individual has their own specific prescription and pick-up schedule. In other words, one patient may receive a small amount of fentanyl that they will use for a week but someone who is on a higher dose may have to return daily.
Ultimately, however, the doctor wants to prevent her patients from turning to the street to access fentanyl. Not only could the supply be tainted, but the process of accessing the substance puts them in harm's way.
Old medications, such as methadone, that doctors have used for decades in B.C., are no longer effective treatments for many patients due to fentanyl saturation, she adds.
But how dangerous is using fentanyl?
While using fentanyl can be dangerous, other drugs, such as alcohol, also have risks, Sutherland explains. "When we look at alcohol, it causes cancer, it causes dementia and it causes liver failure. And when we looked at opioids...they cause low testosterone and some bone mineral density loss to be on chronic opioids," notes the doctor.
Using opioids "actually is less harmful than alcohol, but the harms are coming from because it's illegal: that you are having to share needles, that you're using dirty water and getting endocarditis, that you're having to interact with a drug dealer...and especially for women," continues Sutherland. "You know, I feel so much for the women in my practice, that they are so susceptible to violence and assault at all times as they're trying to interact with this organized crime system in order to obtain drugs."
Sutherland and her team hope to increase the scope of the safe supply program in the months to come. But the doctor stresses that the legalization of all drugs will prevent billions of dollars from facilitating a network of organized crime.
"I think that people should be buying fair trade cocaine direct from farmers and just cutting out organized crime and the billion-dollar industry of violence and profit that they have locally," she says.
"We need to set up the world in a different way. Using drugs is a normal part of being a human and we shouldn't have this shame-based system for people who use drugs."