Two Chinatown leaders concerned with increased street disorder, racism and graffiti in the historic community have made a plea to Vancouver Police Chief Adam Palmer and his deputy chiefs to provide more police foot patrols in the neighbourhood.
Jordan Eng, president of the Vancouver Chinatown Business Improvement Association, and Carol Lee, chairperson of the Vancouver Chinatown Foundation, voiced their concerns Feb. 24 to Palmer and his executive at a Vancouver Police Board meeting.
"This neighbourhood is too valuable to lose," said Eng, whose presentation included images of defaced murals, broken windows, graffiti and human feces left outside the Chinese Cultural Centre on East Pender Street.
A combination of COVID-19-triggered anti-Asian racism, a continuing spillover of drug-fuelled street disorder from the East Hastings Street strip and widespread graffiti have made many locals and tourists afraid to visit Chinatown, Eng said.
'The threat is real'
Seniors, in particular, don't feel safe, he added, noting the safety of a community should be measured on whether someone like his grandmother can freely walk down a street without fear.
Which is not the case, he said, adding that neither he nor Lee feel at ease in the neighbourhood, where both run businesses. Lee was also behind the recent opening of the Chinatown Storytelling Centre on East Pender Street and has plans to re-open Foo's Ho Ho restaurant on the same strip.
"When Carol and I walk down the street and we have to be cognizant that we're not going to be randomly attacked by somebody, that threat is real," said Eng, who noted some of Lee's staff were assaulted in Chinatown.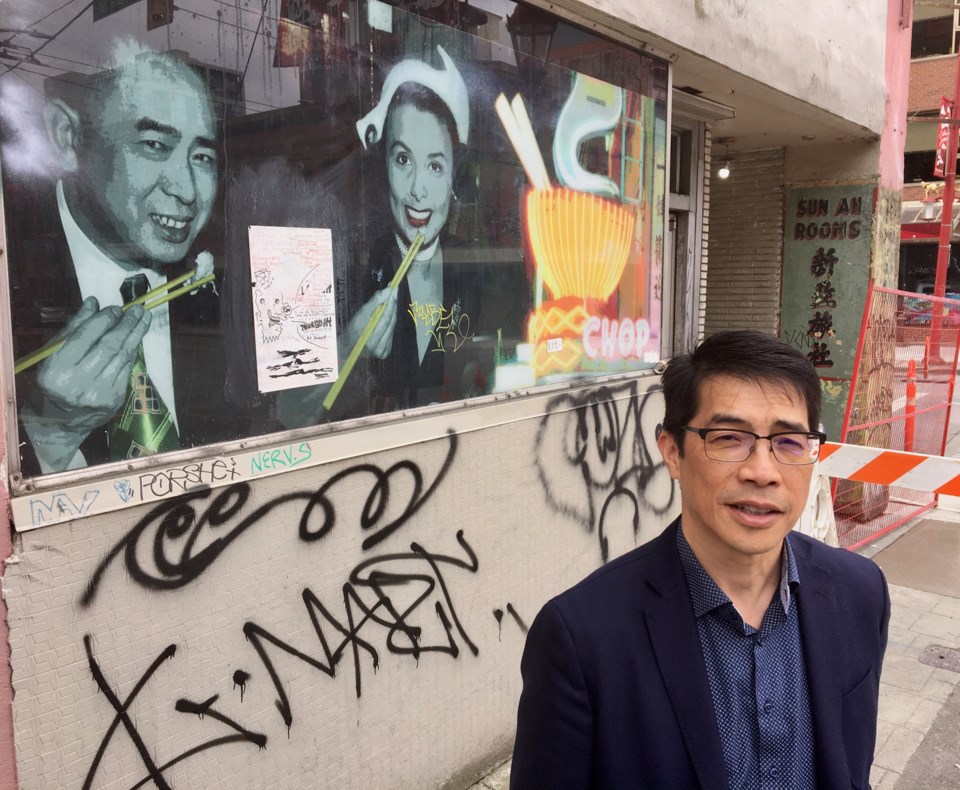 Lee said some businesses have been "hanging on by a thread" because of the combination of pressures facing Chinatown. Graffiti, she added, is an ongoing problem and the tagging of businesses returns almost immediately after it is cleaned off.
"It's an onslaught," Lee said.
Palmer and Deputy Chief Howard Chow were empathetic to the leaders' concerns, with Chow describing Chinatown as a "community in crisis." Palmer also acknowledged not all crime, street disorder and graffiti is being captured in crime statistics.
"A lot of that stuff just becomes a way of life and day-to-day stuff, and people don't even bother reporting it anymore, and that is a concern," the chief said. "As police officers down there every day on the ground, we see it and we know, and we feel that pain."
Although more police are on foot patrol in the neighbourhood, Palmer said he knows "it's never enough" — a comment that led to a wider discussion about the need for more government investment and programs directed at people living with a mental illness, drug addiction, or both.
'Heartbreaking'
Palmer and previous chief, Jim Chu, have pushed governments for more than a decade to respond better to the crises of mental illness, drug addiction and homelessness — a push based on officers often relied upon to be the first point of contact for people with chronic health issues and living in poverty.
Chow likened the lobbying to "pushing water up hill."
At the same time, he said, the department has "a strong track record" in Chinatown and good relationships with business and cultural associations.
Chow noted high-profile arrests have been made related to anti-Asian racism incidents and several police projects continue to operate in Chinatown.
He took to Twitter after the meeting, saying it was "heartbreaking to see what's happening in Chinatown."
In the same tweet, Chow said "increased police resources and foot patrols are helping, but far from "fixing" the problem. This is on top of Asian hate crime incidents, which are up 50-plus per cent from 2019, and an increase in graffiti."
Glacier Media published an in-depth feature story in June 2021 that examined the issues facing Chinatown.
It can be read here.
@Howellings