Lino Pasqualini couldn't help but get emotional when he stood with Mayor Kennedy Stewart and city councillors at city hall Wednesday.
His eyes welled up.
"Thank you," he said, as he exchanged words with the politicians.
Pasqualini had just heard the mayor read an apology to Italian-Canadians for historical wrongs enacted and perpetuated by city council in the 1940s — specifically a motion in 1942 that referred to Italian-Canadians as "enemy aliens."
"The city hopes that this official apology creates space for healing and will work to prevent similar injustices from happening again," said Stewart in the council chamber, before declaring June as Italian Heritage Month.
Following Canada's declaration of war on Italy in 1940, the Canadian government instructed the RCMP to round up Italian Canadians who were perceived as a threat because of their association with the Fascist Party in Canada.
In Vancouver, approximately 33 Italians, including Pasqualini's father Santo, were included in the roundup and interred at camps in Kananaskis, Alta. and Petawawa, Ont. Santo spent more than a year in custody.
Paris Bakery
At the time of his arrest, Santo was running the Paris Bakery at Hawks Avenue and Powell Street. Business was going well. Then he lost it all, said Lino in an interview after the event.
"He died with a chip on his shoulder because he lost his beloved bakery," said Lino, who explained that his father's reason for joining the Fascist Party was to unite family in Vancouver with relatives in Italy.
"He didn't join the Fascist Party for political reasons. He joined because Mussolini promised all expatriates a free trip to Italy for a golden jubilee. And he wanted so badly to introduce my older sister and myself to our grandparents, who we never had the pleasure to meet."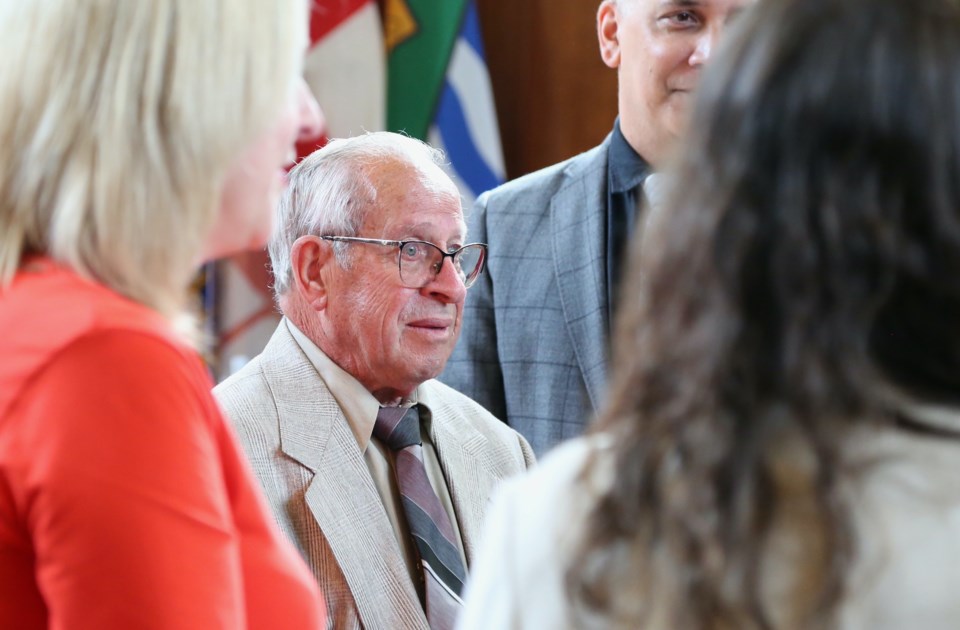 'Heartwarming'
Lino said the apology read by the mayor — and by Coun. Melissa De Genova at a separate event June 3 at the Italian Cultural Centre — was important for him and the wider Italian-Canadian community to hear.
He noted Prime Minister Justin Trudeau delivered an apology last year in the House of Commons, but that gesture didn't hit him emotionally like Wednesday's did at city hall.
"The apology by the federal government didn't have any effect on me, but this one — with me coming in person — was heartwarming," said Lino, who was joined by Ray Culos and Fred Carotenuto in the council chamber.
Carotenuto's father was also rounded up in the 1940s, a period that Culos, an author and celebrated historian of the local Italian community, has documented. In fact, Culos' father wrote to Ottawa on behalf of the Pasqualini family to ask for Santo to be released.
Culos said council's apology means a great deal to him.
"It's made me feel good to see the sons of two of [the incarcerated men] here today," said Culos, referring to Lino and Carotenuto.
"They have told me that they just feel differently now that they've been recognized for those problems that existed many years ago. And so it's a new beginning for these people. I'm delighted for them."
Consul General of Italy in Vancouver
The mistreatment of Italian-Canadians at the time was not solely directed at the men who were incarcerated.
The RCMP, with the cooperation of the Vancouver Police Department, instructed between 1,300 and 1,800 Italians to report monthly to the now-defunct RCMP headquarters at 33rd Avenue and Heather Street.
It is a history that Fabio Messineo, Consul General of Italy in Vancouver, said should not be forgotten. Messineo attended city hall Wednesday and commended Culos, De Genova, Celso Boscariol and others for their work and perseverance to have the piece of dark history daylighted.
"It is important to keep the memory alive and to transmit that memory to the next generation," Messineo told Vancouver Is Awesome after the event.
Lino's father, nor any of the other men interred at the camps, were ever charged with a crime, making the reason for the roundup all the more senseless and emotionally damaging to the incarcerated and their families.
Asked what his father's reaction would be to the apology, Lino replied:
"He was pretty bitter," he said, adding that his father didn't discuss that period of his life with him. "He had just purchased his fifth [delivery] truck when he was taken away, and we lost everything. No remnants of it whatsoever."
@Howellings