Vancouver council voted 8-3 Tuesday to approve a 129-unit social housing tower on a piece of city property in Kitsilano that will cost $64 million to build and provide homes for a mix of homeless people and low-income residents.
Council's move came after BC Housing's CEO Shayne Ramsay made a rare appearance at city hall to urge the 11 politicians to approve the 13-storey project for which the agency will provide construction and operating funds.
Ramsay opened his remarks by telling council he had never spoken at a public hearing for the rezoning of a BC Housing proposal in his 22 years as CEO of the provincial government's housing branch.
"To me, this is about a crossroads we are facing as a society," he said. "We support this development — and not to put too fine a point on it — but it will save the lives of our friends and neighbours by putting a safe, secure roof over their head."
Ramsay was heckled by a member of the audience during his speech, which caused Mayor Kennedy Stewart to caution people in the gallery to be quiet while the CEO spoke.
Shortly after, Stewart then cautioned Ramsay about his concerns related to "NIMBYISM" — a reference to many residents who spoke to council in opposition of the project.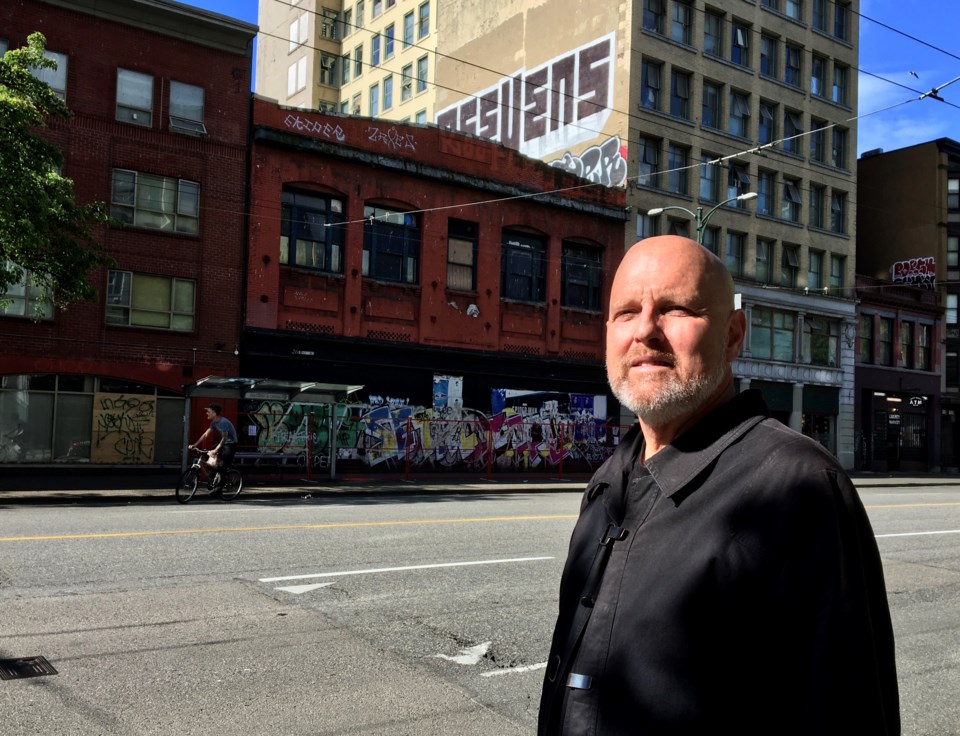 'Something better'
In the end, after council added a series of amendments to city staff's original recommendations for the project, Stewart and councillors Pete Fry, Adriane Carr, Michael Wiebe, Rebecca Bligh, Lisa Dominato, Christine Boyle and Jean Swanson voted to push the proposal ahead.
Councillors Sarah Kirby-Yung, Melissa De Genova and Colleen Hardwick voted against, with Hardwick issuing a news release after the meeting saying the vote was "just one more reminder that council has distanced itself from the residents, taxpayers and voters of the city."
Close to 300 people registered to speak to council over several days and nights of the hearing, with Hardwick estimating 75 per cent opposed the project, which will be built on a vacant site between Seventh and Eighth avenues at Arbutus Street.
"The fact is we can and should do better for people needing housing, particularly those with severe mental health and addiction issues," said Hardwick, who is Team for a Livable Vancouver's mayoral candidate in the Oct. 15 election.
"That's what we should have been pushing for — something better — but instead council folded in front of BC Housing, instead of standing up for the people of this city."
'I'm just disappointed'
Kirby-Yung pointed out in her closing remarks that many people opposed to the project were not against social housing on the property, but wanted a mix of people to be included in a five or six-storey building.
"What I heard loud and clear from the community was a yes to social housing, was a yes to social housing in this neighbourhood, was a yes to social housing on this site but was a no to this specific project, but was a yes to building it better," she said.
"I'm just disappointed, and disappointed around the process. I'm disappointed that I don't think we've responded to the feedback [from residents]."
Fry said he acknowledged the concerns of residents but argued that he didn't think council had "failed them" in pushing the project ahead.
Fry pointed to the series of amendments passed by council, which included having the non-profit housing operator — MPA Society — "use all reasonable efforts" to form a community advisory committee that includes representatives from St. Augustine's School, St. Augustine's Parish, Sancta Maria House, neighbours and the area's business improvement association.
'Proof and comfort'
Other amendments included:
• A requirement that the housing operator use the "vulnerability assessment tool" or other relevant assessment tools in assessing tenants for the housing "to ensure a balanced and successful tenant mix."
• A requirement that BC Housing explore funding an on-site wraparound services team with medical, social and vocational expertise.
• A requirement that BC Housing explore partnering with an appropriate agency to offer mobile health services on site.
• Require a flashing pedestrian-controlled traffic light at Seventh Avenue and Arbutus Street.
• Review and mitigate transportation safety concerns in the area around the development.
• A requirement that BC Housing will report to the city annually on "outputs and outcomes" related to the supportive housing, including tenanting, operations, maintenance of public realm, community safety and the community advisory committee.
"Those commitments to working with the community should provide some proof and comfort, I think, to folks who have been worried about this — that knowing that the process does work, and that they have been heard," Fry said.
'This proposal will save lives'
In outlining her support for the project, Boyle said she wanted to reaffirm her deeply held belief that housing is a human right and that there is no justification for people sleeping on the street in a wealthy city.
"This housing and the support [tenants] will receive will be life-changing, will give them a chance to stabilize their physical and mental health to seek the support they need — maybe even to reconnect with family and begin the process to regain custody of children," she said. "This proposal will save lives."
The 129 studio apartments will go to a combination of people without homes, at risk of homelessness or those displaced from low-income housing, as well as citizens who may be working and earning low incomes.
Ramsay said Indigenous peoples — who have long been overrepresented in homeless counts in Vancouver — will get priority.
Total capital cost of the project is estimated at $64 million with a $3-million annual operating budget, Ramsay said.
Approximately half of the units will be operated as supportive housing with on-site support services. The remaining half will be affordable rental housing for residents who are ready and able to live more independently.
Supportive housing means tenants who need it will have access to mental health care, substance use services that could include a safe consumption room, education, life-skills training and help accessing income assistance, disability benefits and pensions.
Five-storey alternative design
Ramsay said it was "normal" for supportive housing to be adjacent to schools and other typical neighbourhood amenities. More than half of BC Housing's supportive housing developments across the province are within 500 metres of schools, across the street from a site, or next door, he said.
While concerns from many people at the hearing were related to housing homeless people living with mental health and drug use challenges in the neighbourhood, the scale of the project was another reason cited by detractors of the project.
The Kitsilano Coalition, which was formed to oppose the project, launched a months-long campaign via regular news releases that featured area residents, a university professor and a prominent retired judge who once presided over a court that aimed to steer petty criminals from addiction.
Cheryl Grant, a spokesperson for the coalition, spoke to council Monday and included a video complete with a three-dimensional alternative proposal to the project that would support a mix of people, including women, children, seniors and people living with a disability.
"This model also integrates the system of bringing in people who are experiencing homelessness, but it's on a smaller percentage," Grant said of the five-storey design. "So that's really what we're focused on is how do you build housing that makes sense for the community."
The 13-storey project was supported by NDP MLAs David Eby, George Heyman, the Aboriginal Housing Management Association and the nonprofit Women Transforming Cities.
Homeless count
Kitsilano resident Paxton Bach, who has two young children who attend daycare a block from the proposed site, wrote to council in support of the project.
"Our family is wholeheartedly in support of this project and others like it, we look forward to welcoming the residents to our community," Bach said.
"Concerns voiced around its proximity to schools and daycares are a non-issue from my perspective as a parent with young children who live, play, and attend school in the immediate surrounding area."
The tower will be built using modular, pre-fabricated steel units to reduce construction time. The building will include laundry, a dining room, program space and parking.
Vancouver last conducted a homeless count in March 2020 and found 2,095 people were without a home. City staff has since said the pandemic and other factors may have increased the homeless population in Vancouver.